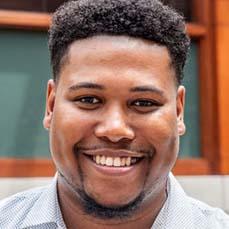 "Miguel is inspiring. Out of his desire to solve problems for others, he is creating new pathways to use a law degree to advance the common good. Our world needs more Miguels!"
— Kellye Testy, LSAC President and CEO
Are you ready to discover law?

The Law School Admission Council is excited to announce the "Building the Future of Justice" HBCU Tour. The tour includes a series of seminars by Miguel Willis, LSAC's Presidential Innovation Fellow, with the goal of demystifying the legal education application process and inspiring students at HBCUs to consider a career in law.
The tour is free and open to all students interested in exploring a career in law. Each event is designed to provide attendees with clear and concrete information and to connect them with the resources that can best prepare them for the law school admission process, including a deep dive into preparing for and taking the LSAT. Miguel will share his own experience as a first-generation college graduate navigating the law school admission process and the many challenges he overcame throughout his law school journey.
The "Building the Future of Justice" tour is part of LSAC's commitment to advancing access and equity through law and legal education. We strongly believe the idea that the legal profession should reflect the ever-increasing diversity of our society.
Tour Dates
More details will be provided when available.
Oakwood University
Tuesday, October 29, 2019
Location: Moran Hall Auditorium
Time: 6-8 p.m.
North Carolina A&T State University
Monday, November 4, 2019
Location: General Classroom Building, Room 213
Time: 6-8 p.m.
Bennett College
Tuesday, November 5, 2019
Location: Global Learning Center
Time: 6-8 p.m.
Delaware State University
Tuesday, November 12, 2019
Location: Bank of America Building, Room 113 (Auditorium)
Time: 6-8 p.m.
Fayetteville State University
Thursday, November 14, 2019
Location: Rudolph Jones Student Center, Room 242
Time: 6-8 p.m.