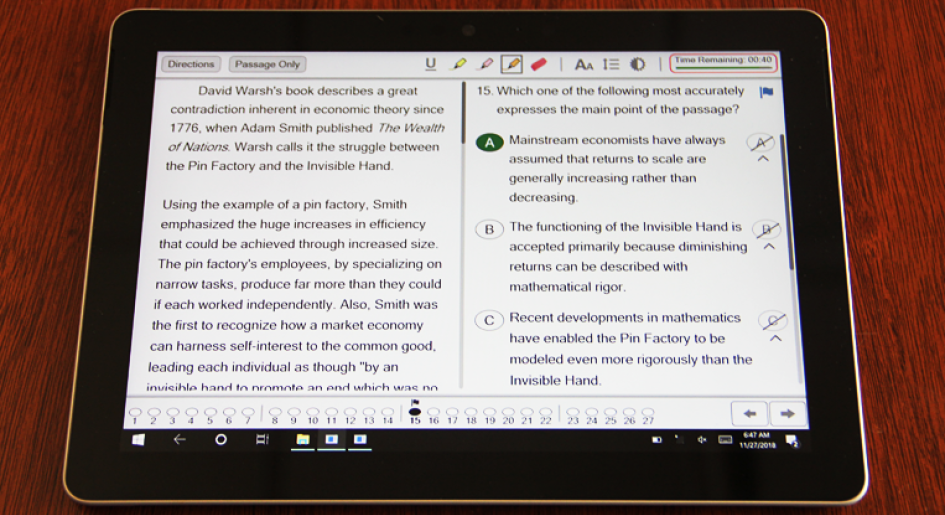 Counting Down to the Launch of the Digital LSAT
On Monday, July 15, thousands of prospective law school students will walk into hundreds of classrooms, auditoriums, and hotel conference rooms across the U.S. and Canada to take the Law School Admission Test, better known as the LSAT.
On the surface, it's perfectly normal: about 100,000 people take the LSAT each year, and LSAT scores are submitted by more than 99% of law school applicants.
On another level, however, July 15 represents a huge turning point for those of us who create, develop, and administer the test and for the test takers themselves.
That's because the July 15 test is the start of our transition to a digital format for the vast majority of North American LSAT test takers.
After years of planning, we are moving from a paper-and-pencil test to one that, for most test takers, will be delivered on touchscreen tablets. The content of the test will remain exactly the same — five sections of multiple-choice questions that assess the test takers' critical reading and reasoning skills. The sections will still consist of Analytical Reasoning questions, Logical Reasoning questions, and Reading Comprehension questions. Only the delivery mechanism will change.
Years of Planning
The launch of the Digital LSAT is the culmination of many years of research and planning. We were not satisfied with the current electronic testing formats available. We wanted higher security and a better user experience, so we invested the time and effort to create a new testing mode, original to the LSAT.
In addition to rethinking the entire approach to computerized testing, we knew we had to set high standards for the actual device prospective law students would use. We tested scores of individual tablet devices and in the end, we chose the Surface Go tablet from Microsoft. We preferred this tablet because of a variety of features, including overall performance and reliability, size and weight, screen quality, and the built-in kickstand, which helps ensure that test takers have a comfortable and effective reading experience under a wide range of desk and lighting conditions at testing centers.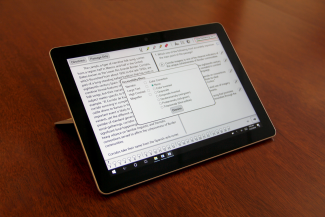 Microsoft's leadership in accessibility was also a key factor for our selection of the Surface Go, which includes important capabilities like a built-in screen reader, text and icon magnifier, and many other accessibility features. LSAC and Microsoft have worked together to ensure the Digital LSAT on Surface Go tablets provides a wide range of accessibility features and functionality for test takers who need them and will continue to work hard in this important area.
LSAC is committed to making law school more accessible to people from all backgrounds. As we considered moving to a digital test, we were committed to doing everything possible to ensure that the new format did not inadvertently create new barriers for candidates from disadvantaged backgrounds. We have been surveying test takers for over five years to understand their familiarity and comfort with technology. In the latest testing cycle, more than 96% of the 60,000 test takers surveyed said they are comfortable using touchscreen technology, and the percentages were even higher among African American, American Indian, and Puerto Rican test takers.
Our field tests have repeatedly indicated that test takers across all ages and backgrounds find the Digital LSAT easy and intuitive to use. Our familiarization tutorials and practice tests are available from any internet-connected device, including laptops, desktop computers, and tablets. And our free Khan Academy Official LSAT Prep is another great way for candidates to get comfortable with the LSAT in a digital environment.
How will the Digital LSAT work?
In keeping with well-established best practices, approximately half of the July test takers will take the test in digital format and half will take the test in the traditional paper format. This is an industry practice whenever a standardized test moves from one format to another.
Test takers who are taking the Digital LSAT will experience a streamlined check-in process on test day. All of their registration information will be preloaded on the tablet, so there won't be time spent filling in identifying information.
Additional benefits from the digital format will become clear as the exam gets underway. It's no wonder that the vast majority of participants in our field testing preferred the Digital LSAT to the traditional paper-and-pencil experience. The tablets will revolutionize the experience of taking the LSAT. Gone are the separate answer sheets and bubbles that need to be filled in with a No. 2 pencil. Also gone is the nightmare scenario of accidentally skipping a row of bubbles on the answer sheet, which has been made obsolete by the ability to simply tap on the answer choice on the tablet. An optional clock on the screen will keep test takers aware of how much time they have left. Onscreen notifications will remind test takers when they have only five minutes remaining for the section they're in. Test takers will be able to organize their thoughts by easily highlighting and underlining text. They can also rule out answers.
What if something goes wrong?
But what if one of the tablets malfunctions during the test? What if the battery somehow wasn't fully charged, or the machine stops working? Well, for starters, every tablet will be fully charged at the start of the exam, and the battery life should be far more than enough for the test. And every test center will have extra tablets on hand, so a test taker can get a new machine if needed. The supervisor's hub will be able to tell if a tablet is running low on battery, so a new machine could be provided between test sections. And because our proprietary system automatically saves each test taker's work every 10 seconds or so on the supervisor's secure hub, all the test takers' work will be preserved in the unlikely event that a machine stops working in the middle of a section. The supervisor will be able to swap out the malfunctioning tablet almost immediately.
We know how important this test is for candidates, so we have worked hard to ensure we are ready for any potential issues and can address them smoothly so test takers can focus on doing their best work without any added stress.
More to Come
Please visit LSAC's Law:Fully blog to check out additional posts about the Digital LSAT and more! In the coming weeks, we will be delving into more details about the Digital LSAT, including availability of scores, special considerations we're extending to the first group of Digital LSAT test takers, new ways to prepare to take the LSAT, and the overall accessibility of the Digital LSAT.