DAY ONE – LSAC 2022 Annual Meeting & Educational Conference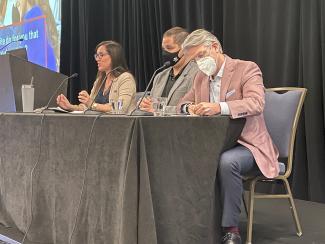 Day One of LSAC's 2022 Annual Meeting and Educational Conference in Aurora, Colorado, kicked off this morning with the Unite Preconference Workshop. Unite is an ambitious reimagination of law school admissions technology and a powerful enrollment management tool that perfectly reflects the conference's theme of ELEVATE.
The Unite platform will ELEVATE law school admission procedures, processes, and capabilities.
Speakers Susan Krinsky, LSAC executive vice president for operations; Troy Lowry, chief information officer and senior vice president of technology products; and JoAnn Sabol, director of school services and product development, welcomed law school admission professionals from throughout the U.S. and introduced the key features of this platform that will streamline law school office processes and enable more robust marketing capabilities.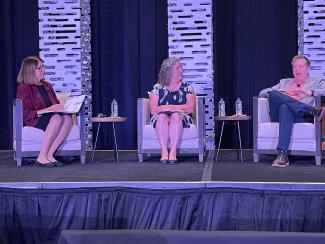 Leading off a number of concurrent sessions on Unite, the Goals of Status and Sub-Status concurrent session, with speakers Riva Medina, associate director of admissions at the University of Miami School of Law, and JoAnn Sabol, addressed how Application Status and Sub-status values tell Unite users where the applicant stands in the process and how to build these Statuses and Sub-Statuses to better capture information about applicants.
In the concurrent session titled The Power of Grids in Unite: How to get the most of Grids and Reports, speakers Peter Eraca, director of admissions at University of California, Irvine School of Law; Dierdre McKee, learning and development specialist at LSAC; Erin Van Dorn, director of admissions at the University of Southern California, Gould School of Law; and Nicole Vilches, assistant dean for admissions at Chicago-Kent College of Law, Illinois Institute of Technology, described how grids are one of the most powerful aspects of data management in Unite. Grids enable users to organize, filter, group, export, and connect directly to their applications and review data in nearly every screen. In contrast with ACES2, where data could only be extracted as a report that was as accurate as the last runtime, Unite grids give users the power to customize their information in real time.
Other concurrent sessions today featured conversations and presentations on Leveraging Unite as an ADM, Microsoft Dynamics, Onboarding, and Reviewer Functionality.
The Unite Preconference Workshop ensured that LSAC's 2022 Annual Meeting and Educational Conference began by showcasing the power and promise of this impressive technology that will ELEVATE law school admissions.