DAY TWO – LSAC 2022 Annual Meeting & Educational Conference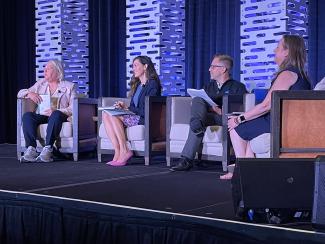 It was a sunny morning for DAY TWO and the official opening of LSAC's 2022 Annual Meeting and Educational Conference in Aurora, Colorado.
LSAC President and CEO Kellye Testy opened the day with welcoming remarks that noted ways that LSAC is helping to ELEVATE legal education and the profession. She emphasized her pride in how quickly LSAC pivoted in response to the pandemic to keep the legal education pipeline strong and ultimately, together with the legal ed community, deliver the most diverse class in law school history with 35% of the class representing people of color.
Kellye also made clear that while LSAC doesn't agree with the ABA Council's test optional proposal, we do ultimately want the same things, including a more diverse legal profession, responsible flexibility for law schools, and fair protection for aspiring students trying to decide if law school is right for them, especially given its high cost and frequent debt burden. Kellye stressed that LSAC was created for law schools by law schools and that LSAC's commitment to them is inviolate and manifests through Unite, LSAC University, the RISE Alliance, our various webinars and Law School Forums, the LSAC Annual Meeting and Educational Conference, and so much more.
Kellye concluded her remarks by emphasizing how excited she is for the changes coming in legal education — changes not just for the sake of change, but changes that will better millions of lives by ensuring equal application of the law and justice for all.
"We're standing strong together. It's all of us in one community. I want you to know how much we value that community we created together and how much effort we will continue to put into nurturing it, into being what you need, when you need it. You can count on us for that."
Following Kellye were numerous concurrent sessions covering topics such as Geographic Trends in the International LLM Applicant Pool; Taking Stock & Taking Action: Preparing for SCOTUS Decisions in SFFA v. Harvard and SFFA v. UNC; The Business of Law School—Behind the Scenes; Race-Neutral Admissions: Enrolling a Diverse Class Without Knowing Your Applicant's Race; Rethinking Debt; and Understanding Law School Rankings.
After a day that began with a terrific keynote address and proceeded through numerous insightful and educational concurrent sessions led by industry experts, DAY TWO concluded with an End-of-Day Roundup. LSAC President and CEO Kellye Testy led panelists Rebecca Scheller, associate dean, admissions and financial aid, University of Wisconsin Law School; Alan Schieve, director of admissions, University of Colorado Law School; and Gisele Joachim, executive director for education and ambassador programs, LSAC, in a look back at the day's key sessions and an audience Q&A on favorite learnings from the day. The Roundup also included a preview of exciting plenary sessions on Friday and many of the concurrent sessions that conference attendees could anticipate.