Key Skills Needed for Law School, and How They Continue to Shape the LSAT
While some people may think of the LSAT as a timeless, never-changing rite of passage for anyone pursuing a legal education, the fact is that we are continually evaluating the test and looking for ways to improve it as well as the entire enrollment and learning journey for law candidates and member schools.
As part of our effort to continually evaluate and improve the LSAT, we recently completed a new content validity study of the LSAT. This validity study consisted of an updated survey of the skills students need for success in law school, which included responses from faculty teaching required classes at about 90 law schools across the U.S. and Canada. 
We will be publishing a full study of the survey results later this month, but here are some of the key takeaways: 
The key skills currently assessed by the LSAT — critical reading, logical reasoning, and analytical reasoning — continue to be critical to success in law school. 

Out of 70 different skills evaluated, the top 10 skills needed for success in law school, according to law school faculty who participated in the survey, include:

Reading critically (92% of those surveyed said this is highly important)

Applying a case, rule, principle, or statute to a new or hypothetical set of facts (90%)

Identifying the principle, rule of law, or statute operating in or applicable to a case or legal problem (89%)

Identifying the key facts in a case (86%)

Inductive reasoning (86%)

Reading class materials (85%)

Organizing evidence into argument (84%)

Arguing logically and persuasively in writing (84%)

Deductive reasoning (83%)

Writing with good organizational structure (82%)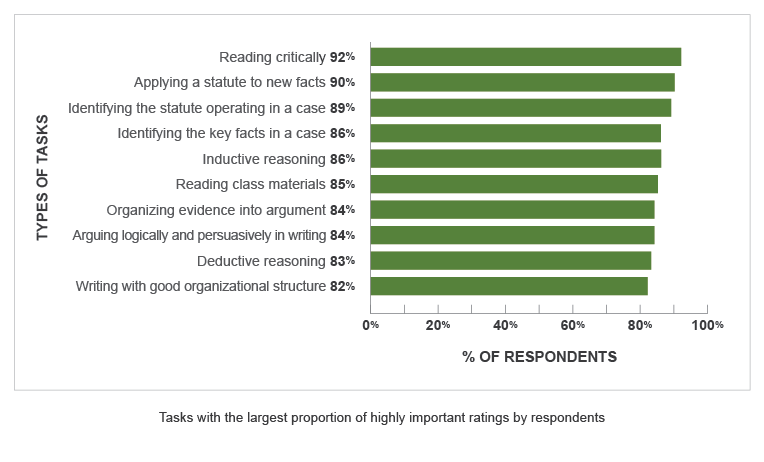 Skills measured by other standardized tests, such as basic algebra, geometry, and vocabulary, are viewed by law school faculty as far less relevant. 

Indeed, basic geometry, algebra, interpreting graphs, and making calculations were all rated among the bottom 10 skills needed for success in law school. 

Interpreting basic graphical representations (only 8% of law school faculty surveyed said this is highly important to success in law school)

Making calculations (6%)

Basic algebra (4%)

Basic geometry (2%)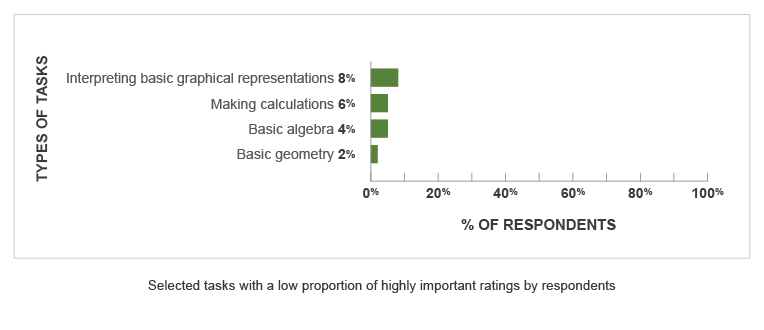 The study also identified areas that are growing in importance for law school, including some noncognitive skills such as identifying academic goals and priorities, allocating available time based on priorities, self-monitoring progress, working well in a diverse environment, and demonstrating cultural competence. 
Together with the research insights we will derive from the Digital LSAT, as well as other inputs, this skills assessment study provides important information that we will use as we consider changes to the LSAT in the months and years ahead. Among the areas we will be looking at:
The overall length of the test. Can we achieve the same levels of insight, validity, and fairness with fewer questions?

Can we assess the critical reading and analytical skills in different ways, that maintain the focus and validity of the test, but simultaneously make the test more accessible to an even wider range of potential candidates?

Can the assessment of core skills such as analytical reasoning be woven into other types of questions, rather than requiring a stand-alone Analytical Reasoning section?

How can we assess other skills, including noncognitive skills such as teamwork and time management, that law schools are increasingly telling us are critical to success?
Our commitment to constantly evaluating and improving the LSAT is twofold: 
First, we want to ensure the LSAT continues to be the most effective, fair, and valid assessment of candidates' potential for success in law school. We have made a number of changes to the content and format of the test over the years, and we will continue to make changes to keep pace with the needs of legal education. 
Second, and equally important, we want to ensure the LSAT continues to play a vital role in expanding opportunity and access to the widest diversity of students possible. Historically, the test was created to provide an objective tool to enable all students to demonstrate their skills, particularly students who might not have come from elite schools or highly-resourced environments. To further the goals of access and opportunity, LSAC and its member schools partner with national and community-based organizations, and we provide a wide range of programs to support candidates from underrepresented communities, including prelaw programs, test and application fee waivers, free personalized LSAT test preparation through Khan Academy, and many other programs and services. We are committed to expanding access to justice by helping create a legal profession that truly reflects the breadth and diversity of our society.
In the months ahead, we will be exploring a variety of new ways to design and deliver the LSAT, and we will be working with a number of experts and organizations to think broadly about how to bring forth the most innovative assessment tools and strategies to help candidates and member law schools. 
We will continue to share our thinking in the months ahead as this process continues. 
It's going to be exciting!
NOTE: The LSAT Skills Analysis Study is now available. Download a copy of the study.