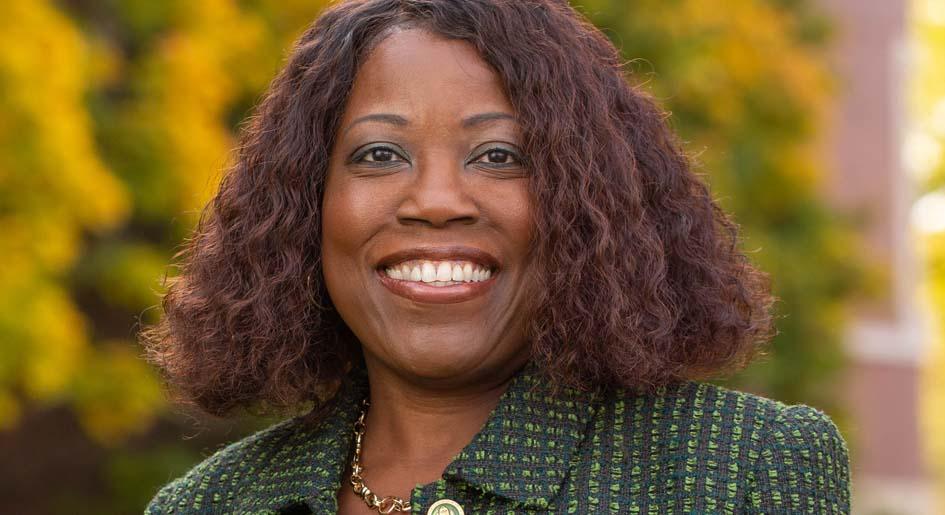 LSAT or Other Tests? Some Law Schools Say Giving Applicants an Option Improves Diversity
As the administrators of the Law School Admission Test — the only admission test validated for and accepted by every law school — we at LSAC are proud to partner with member schools as part of a holistic process to expand access and opportunity to students from all backgrounds who want to pursue legal education. 
How is the LSAT used by law schools in the admission process? I spoke with Marcilynn Burke, dean of the University of Oregon School of Law, about what makes a law school student successful — and how the LSAT can help predict that success.
Kellye Y. Testy: Marcilynn, thank you for speaking with me. From your perspective, previously as a law professor and now as a law school dean, which skills are needed for a student to be successful in their first year of law school?
Marcilynn Burke: The most important skill is the ability to read critically — to be able to analyze the material and pull out what is most relevant to the analysis. Our students spend a year in legal research and writing, so critical reading ability is essential.
KYT: What makes the LSAT the best tool for predicting that first-year success?
MAB: I think the LSAT is geared toward reading comprehension in a way that other standardized tests are not. Reading legal text is more difficult than reading other types of text, and the LSAT focuses on that ability in a unique way, in my opinion.
KYT: How do you and your team use the LSAT as part of overall admissions decisions?
MAB: The key point here is that an LSAT score doesn't provide a complete picture of a candidate; it's only one consideration in making good admissions decisions. We look at many other factors, including undergraduate GPA, work experience, and life experience. What does the candidate bring to the table that makes our learning environment a rich and diverse one is also a question we seek to answer in the decision-making process.
KYT: Let's be frank. All standardized tests have issues related to the score gap. How should we think about that with regard to the LSAT and students of color?
MAB: When I first encountered the LSAT as a prospective student and learned about the score gap, I never thought I would one day be a person who was speaking in favor of the LSAT. But then I learned a few things — about how the LSAT should be used as part of a holistic admission decision to make the admission process fairest, but also about how the LSAT came into being because law schools were looking for a more predictive exam. I learned about how the test could be used to level the playing field and allow candidates to be assessed by one standard, rather than admission officers comparing GPAs, majors, and other factors from disparate schools. Without the LSAT, the admission process is far more prone to bias.
As I learned more about it, I came to value and appreciate the LSAT more. When it comes to the score gap, though, we have to first recognize that the gap exists, and then figure out what that tells us about a student. We have to ask: Is this a student who can successfully complete our program, pass the bar on the first try, and go out and be a great lawyer? But the score gap continues to trouble me, and we continue to work on it to figure out ways to close that gap. The best way to close that gap is to work on pipeline programs that help candidates achieve the level of readiness for law school necessary for success. Studying for the LSAT is part of that readiness because the skills it builds and tests are the skills necessary for law school success.
KYT: What would you say to someone who claims that preparing for the LSAT is too expensive?
MAB: I'm very excited about the free LSAT prep that LSAC now offers through its partnership with Khan Academy. I tell everyone I meet about this initiative. If part of the problem in terms of the score gap is access to test prep, then having this free resource available is going to carry us a long way. So, I believe part of our priority is to keep getting the word out and encouraging people to use this resource. Additionally, things such as fee waivers can help make the test affordable for everyone. There are now over 50,000 users of the Khan platform every month — that's amazing!
KYT: Clearly, all of us care about diversifying the legal profession. Is there anything we should think about with regard to the LSAT and that goal?
MAB: LSAC does a lot of work on many fronts to try to provide broad access to the legal profession. Some have recently suggested that other standardized tests can help diversify incoming classes, but I haven't seen any data that supports that claim, at least as it relates to underrepresented groups. Obviously, much work remains to be done in terms of increasing access to justice, but the most important thing standardized tests can do for diversity is provide a level playing field for candidates. In my opinion, when it comes to law school admissions, there's no better test for that purpose than the LSAT. My advice to candidates is that their time spent preparing for the LSAT is not only their best investment in law school admission, it's also their best investment in law school success. And that's what matters — we want not only access but also success in school, licensure, and career.