Florida Coastal School of Law
The information on this page was provided by the law school.

Official Guide to LLM, Master's, and Certificate Programs
---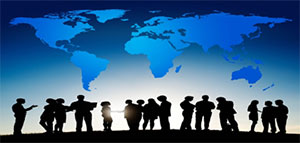 Florida Coastal School of Law (Coastal Law) is located in Jacksonville, Florida, in the United States. Coastal Law's JD program is accredited by the American Bar Association (ABA), and Coastal Law's online Master of Laws (LLM) programs have the acquiescence of the ABA. Coastal Law students come from approximately 46 states and numerous countries, representing more than 300 colleges and universities. They bring with them many diverse backgrounds and professional experiences from across the country and around the world. Coastal Law offers our online program, an LLM in US Law for International Lawyers.
LLM in US Law

Coastal Law was the first US law school to offer the LLM in US Law for International Lawyers degree entirely online. Using the latest virtual classroom technology, students can listen to prerecorded lectures at their convenience. Students also have the opportunity to join distinguished US law professors in live, interactive review sessions.
Unlike other US Law for International Lawyers LLM programs, Coastal Law does not require students to leave their jobs and families for a year to come to the United States. Instead, Coastal Law offers a high quality legal education that is available to students who live anywhere in the world. All students need is a computer, an Internet connection, and the desire to advance in their careers with a US law degree.
Coastal Law's JD program is accredited by the ABA, and the online US Law LLM program has the acquiescence of the ABA. The 26 credit-hour program typically takes one year to complete and provides a comprehensive overview of US law, enhancing the ability of students to meet the academic qualifications required to take a US bar exam. The courses and the program are designed, specifically, for foreign-educated attorneys and take into consideration that most of the US Law LLM students are not native English speakers. The program covers core academic subjects commonly tested on US bar exams, including constitutional law; civil procedure; evidence; contracts and sales; criminal law and procedure; real property; professional responsibility; business organizations; torts; wills, trusts, and successions; and legal analysis, reasoning, and communication.
Coastal Law's US Law for International Lawyers LLM curriculum meets the requirements for both the California and Washington State Bar Exams.
There are three semesters each year in the US Law for International Lawyers LLM program: fall, spring, and summer. Students may begin the program in any of these three semesters. Coastal Law accepts applications to the US Law LLM program on a rolling basis.
The faculty of the US Law for International Lawyers LLM program consists of a distinguished group of professors from Coastal Law and other ABA-accredited law schools. These professors are leading scholars in their fields, and many are also former practitioners who bring the combination of practical experience and legal scholarship into the online classroom setting. Our professors enjoy interacting with their students and sharing their experience and knowledge of US law. All of our US Law LLM professors have completed training in online teaching and have substantial experience teaching in an online setting.
General Information
Suggested Schedules and Completion Requirements 
This program is self-paced with suggested schedule/pacing of 5-week per 1 credit; 4-month maximum. The program starts on the first Monday of each month. All students have 2 years to complete the LLM program.
Tuition and Fees
The tuition for degree-seeking students in the LLM (Master's) in U.S. Law Program for International Lawyers ("LLM in U.S. Law" or "Program") is $765 per credit hour. The tuition for non-degree seeking students who enrolled in the LLM in U.S. Law is $765 per credit.
Any LLM in U.S. Law graduates who are returning to enroll in supplemental courses for the Washington State Bar will be charged the per credit tuition rate for degree-seeking students. Thus, tuition for LLM in U.S. Law graduates is $765 per credit hour.
Payment Terms
Students must pay tuition when registering for courses. Students will have a Drop period of up to five business days from registration to drop a course for a refund. Students should direct questions related to tuition payment to Law Student Online. Please note there is no financial aid available for the LLM in U.S. Law program.
The program is 26 credits with monthly starts available.  
More information on the LLM Curriculum can be found here: https://www.fcsl.edu/curriculum/.
Florida Coastal School of Law is now reviewing applications and will offer admission on a rolling basis. Your application must be submitted electronically. There is no application fee.
Please see the appropriate checklist below to ensure you have submitted all necessary documents. Your file will not be reviewed, and a decision cannot be made until we have received all required documents.
 
Checklist for Application for Admission as an LLM in US Law Program Student:
A fully completed and electronically signed application.
Transcripts from all colleges and universities attended
International transcripts must be evaluated by a NACES approved service and results sent to:
US Law LLM Program at the Office of Admissions, Florida Coastal School of Law, 8787 Baypine Road, Jacksonville, FL 32256.
If you answered "yes" to any of the questions in the "Character and Fitness" section, you must also attach an explanation.
Contact Us
Email: LLMUSLaw@fcsl.edu
Phone: 904-204-6377