The Pennsylvania State University, Penn State Law
The information on this page was provided by the law school.

Official Guide to LLM, Master's, and Certificate Programs
---
Introduction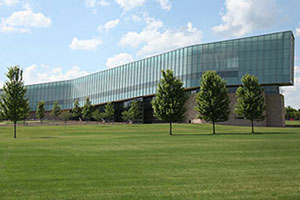 Situated on the largest campus of one of the world's great public universities—and recognized as one of the top universities in the world—Penn State Law students develop a critical foundation of legal knowledge and skills to be applied in any environment, anywhere in the world. The extraordinary Lewis Katz Building is driving distance from Pittsburgh, Philadelphia, New York City, and Washington, DC, and minutes away from mountain trailheads and a lively, safe campus community, consistently regarded among the best in the United States. Upon graduation, Penn State Law students join more than 650,000 Penn State alumni—the world's largest alumni network.
LLM Programs/Areas of Specialization
The Penn State Law LLM program is open to individuals who hold a first degree in law from an accredited institution outside of the United States. With the assistance of experienced faculty members, LLM students create their own course of study that supports their individual career goals. LLM students enroll in courses available to Penn State Law JD students and share classes with JD students. Students are not required to select a specialized field of study, but with Penn State Law's diverse faculty interests and access to all of the resources of Penn State, the possibilities for a customized educational experience are vast. The list below illustrates only some of the possible areas of law that students can focus on:
Application Information
The Graduate and International Programs Admissions Office reviews applications on an ongoing basis. We offer fall (August) admission. LLM and Pre-LLM applications for fall admission are available September 15 through June 10. SJD applications for fall admission are available September 15 through March 1.
Applications must include:
Application Fee: $75—waived if using LSAC's e-app service.
Transcripts: Applicants are required to submit official transcripts from all relevant academic institutions previously attended. Transcripts must include both the original and a certified English translation. LSAC LLM Credential Assembly Service is preferred.
Two Signed Letters of Recommendation (three signed letters of recommendation for the SJD program): Letters of recommendation should come from professors or employers of the applicant. Letters of recommendation should describe the length of time and context in which the recommender has worked with the applicant. The recommender should also specifically address the applicant's aptitude for advanced law study in an English-language environment by providing specific examples of the applicant's qualifications in law study and/or legal practice.
Personal Statement: Applicants must submit a 500- to 550-word personal statement that explains their reasons for pursuing an LLM degree as well as their future plans and goals. Applicants are encouraged to highlight significant experiences as a lawyer or law student. Please note that a personal statement is not required for our SJD application.
Résumé: Applicants are asked to submit a résumé outlining all relevant work experience and education.
English Proficiency: LLM candidates are required to earn a minimum paper-based score of 575 or an Internet-based score of 88 on the Test of English as a Foreign Language (TOEFL). A score of 6.5 on the International English Language Testing System (IELTS) is also accepted.
Contact Information
For additional information, please visit LLM Admissions, or contact:
Ms. Brenda Johnson
Admissions Coordinator
Lewis Katz Building
University Park, PA 16802
USA

Phone: 814.867.2373
Email: llmadmit@pennstatelaw.psu.edu
Pre-LLM Program (Two-Year Program)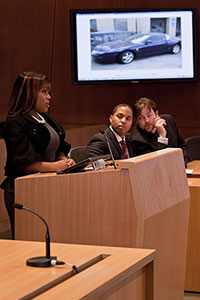 Penn State Law's Pre-LLM One-Year Certificate program for foreign-trained lawyers is designed exclusively for international attorneys. The rigorous one-year certificate program is intended for Pre-LLM studies, with the opportunity to apply to the Penn State Law LLM program or any other LLM program in the United States for the subsequent year. The certificate program will assist students in developing reading comprehension skills, case briefing skills, legal analysis and synthesis skills in the US common law system, increased proficiency in legal English, basic research and citation skills, and exam-writing skills. The Legal English Certificate requires students to be full-time, in-residence students during the two semesters of study.
Students pursuing the certificate work within a small program, but maintain the benefits of a large university and established law school. The certificate program specializes in providing the legal English skills necessary for success in an LLM program and in global legal practice. The program relies on a close working relationship between law professors and applied linguistics professors that has been ongoing for over five years. The collaboration between these two groups of professionals gives students the opportunity to explore and better understand legal topics from two points of view: those of legal minds and those of experts in legal English.
SJD Program
The Penn State Law SJD (Doctor of Juridical Science) degree is intended for lawyers who seek advanced and specialized knowledge in a particular area of law. The course of study required for the degree offers students with outstanding academic or professional credentials an opportunity to pursue sustained, supervised study and research and writing leading to the production of a dissertation that makes an original and valuable contribution to legal scholarship.
SJD students are required to be physically resident at Penn State Law, on the University Park campus, for two academic years (excluding summer session). While resident, the student must maintain full-time student status.
Students are required, during their first academic year, to enroll in a Research Methods Seminar. Students will typically be in the program three to five years.
Location
Penn State Law is located on Penn State's 21-square-kilometer University Park campus in State College, Pennsylvania. The campus is the academic home of a diverse population of about 46,000 graduate, undergraduate, and professional students, including many international students. In addition to major athletic events, students enjoy a lively music and arts community and a wide range of other entertainment. The University Park campus is pedestrian- and bike-friendly with an eclectic mixture of historic classroom buildings and cutting-edge modern architecture. State College, Pennsylvania, is consistently recognized as being among the nation's smartest, safest, and best cities by a variety of organizations and publications. State College is within a three-hour drive of Pittsburgh and Baltimore, and about four hours from New York; Washington, DC; and Philadelphia.
Physical Facilities
Penn State Law's Lewis Katz Building reflects the serious academic nature of the study of law, with an award-winning library, classrooms, and gathering spaces that enhance opportunities for learning, spontaneous discussions, and passionate debate.
The focal point of the Lewis Katz Building is its glass-enclosed H. Laddie Montague Jr. Law Library. The law library has a volume capacity of 100,000 and seating for 294 students. Additional building features include
the 250-seat Gregg Sutliff Auditorium;
a courtroom equipped with the latest in trial technology, including videoconferencing and electronic evidence display monitors for judges, counsel, jurors, and witnesses;
four 75-person classrooms and several seminar rooms;
legal clinics and student-organization suites;
a full Career Services office to assist students in researching internships and jobs;
outdoor terraces and reading gardens;
plentiful student study space;
state-of-the-art technology that allows every class at Penn State Law to be video recorded (LLM students are given access to their class recordings to review class discussions); and
advanced videoconferencing technologies allowing for meaningful interaction with faculty and peers around the globe.
Housing
On-campus graduate housing is available for both single law students and law students with families at the White Course Apartments. A supportive staff and an excellent safety/security program help to make graduate life easier and more comfortable. Additionally, special activities and programs help residents get to know one another and form friendships that will last a lifetime.
Single-student apartments house four students per four-bedroom apartment on campus. Students with families may also apply for on-campus housing, which includes one-, two-, or three-bedroom apartments, depending on family size. Each apartment has its own kitchen and laundry facilities, and utilities, phone service, cable, and Internet access are included in the rent. There are various other housing opportunities in the surrounding areas close to campus.
Faculty Guidance on Academics, Career, and Professional Development
When students join the Penn State Law LLM program, they become a vital part of the law school community. Students work with experienced professors who help them make the right curriculum choices to achieve their specific goals. They participate in conversation groups with JD students, the Student Bar Association, JD moot court trainings, and law journals. Penn State LLM students enjoy a full range of services available to them to ensure their success. These unique services include
individual consultation with a language specialist;
access to the Penn State Law Graduate Language Center;
field observations in US courts, including a visit to the United States Supreme Court; and
academic success workshops.
With over 40 student organizations, Penn State Law provides a wide variety of opportunities for students who wish to become involved in the law school community outside of the classroom. Additional opportunities exist on campus for international students to become involved in numerous academic and professional organizations, international student government, and nationality clubs, as well as intramural sports like rugby, soccer, or tennis.
Bar Exam Preparation
The Penn State Law LLM curriculum allows students to take a course of study that helps them meet state bar exam application requirements.
Third-Semester Option
A select number of LLM students at Penn State Law apply to stay an additional semester in the LLM program. During this final, third semester, students take more bar-related courses and begin intensive study for the bar exam.
Another benefit of the third-semester option is that some students are able to find research positions with law professors or other internship opportunities over the summer between the second and third semesters that allow them to gain valuable practical experience.
Career Services and Practitioner-Focused Programs
LLM students have access to a wide variety of resources in their search for career opportunities. Students work with experienced faculty and career advisors who serve as mentors and provide personalized guidance on career options. The Career Services staff assists students in identifying internship and job opportunities both within the United States and globally. Other resources include assistance with US-style résumé and cover-letter writing, networking, and successful interviewing techniques.
LLM students are required to take a practitioner-focused legal analysis, writing, and research course in the fall semester. Additional skills-development courses are also encouraged, including an advanced research and writing course for LLM students in the second semester.
LLM students may also work as research assistants for Penn State Law professors to gain work experience.