The information on this page was provided by the law school.

Official Guide to LLM, Master's, and Certificate Programs
1505 W. Cumberland Avenue, Knoxville, TN 37996-1810, United States

Visit School Website

---
Introduction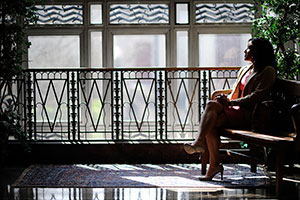 The University of Tennessee College of Law, located in Knoxville, enjoys a rich tradition of providing sound legal education and boasts the longest-running legal clinical program in the country. Founded in 1890, the college prepares tomorrow's lawyers through clinical and skills training, innovative classroom teaching, legal writing, and professional values. UT Law is accredited by the American Bar Association and is a charter member of the Association of American Law Schools.
UT Law students begin their careers while they're in law school. Before graduating, you'll have the opportunity to learn while practicing the law and solving real-world problems. You'll help others in need, fight for justice, and negotiate disputes or business transactions, all with the support of expert faculty with significant legal experience.
Welcome to the University of Tennessee College of Law. Your life as a lawyer starts here, from day one.
Welcome to Your Future
Going to law school is an investment, but it's one well within reach. UT Law is among the top public law schools for graduating students with the least debt, which means you can reach your financial and personal goals more quickly after graduation.
Your investment in law school will afford you countless career opportunities. Our staff in the Bettye B. Lewis Career Center will help you market your unique skills, prepare for your career, and network with employers nationwide—including the immense family of UT alumni eager to work with fellow Vols in the legal profession. Even if you decide to pursue a career outside the law, you can be sure the skills you gain at UT Law will be in high demand everywhere, from Wall Street to the White House.
Welcome to the Family
The legal profession is highly competitive, so it's nice to know UT Law offers a true family atmosphere with a diverse group of supportive classmates, faculty, and staff. Our small, close-knit community allows you to meet lifelong friends and future colleagues and gives you the chance to work closely with faculty who become involved in your professional development. And when our students graduate, they're still family. You'll have access to UT's vast alumni network for mentoring opportunities and career connections.
We're also proud of our historical commitment to diversity, which has allowed generations of students from different backgrounds to foster positive connections and broaden their horizons in preparation for an increasingly global legal market.
Welcome Home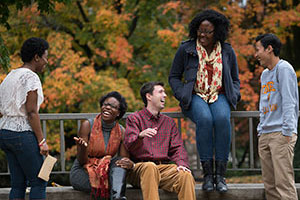 The University of Tennessee College of Law calls Knoxville its home. And oh, what a great home it is.
Knoxville boasts plenty of Southern charm, with live music, eclectic restaurants, cultural attractions, and a low cost of living. In fact, it has been recognized as one of the most affordable cities in America.
You can also lose yourself outdoors in our urban wilderness, with 86 miles of greenways and nature trails. And in our backyard, you'll find the Great Smoky Mountains, the country's most visited national park, perfect for a weekend hike or scenic drive.
No wonder, then, that Knoxville has been regarded as one of the best cities to relocate to in the nation and is viewed as one of America's favorite cities.
The Volunteer Spirit
Tennessee is known as the "Volunteer State," a nickname earned in the Mexican–American War, when Governor Aaron Brown issued a call for 2,800 soldiers—and 30,000 Tennesseans volunteered.
As Tennessee's flagship institution of higher education, UT not only claims the state's Volunteer nickname for its athletic teams, but also makes the concept of volunteerism—initiative, selflessness, compassion, collaboration, civic responsibility, and leadership—a central part of the university's identity. A true Vol follows the Volunteer Creed: "One that beareth a torch shadoweth oneself to give light to others."
That's the Volunteer spirit, and it's something we take seriously at UT Law. The best lawyers, the best leaders—the best people—possess this Volunteer spirit deep down, whether or not they realize it. Vols stand up for what's right, help others, and improve the world in big, small, and meaningful ways.
Law School Enrollment
The College of Law enrolls a small, selective, and diverse class each August. The student body is typically between 400 and 450 students, of which approximately 20 percent are students of color. Enrollment goals for 2016 include an entering class size of 120 students, an equal distribution of men and women, and a significant population of students of color. A typical entering class attracts candidates from 15 to 20 different states and 50 to 70 different undergraduate degree-granting colleges and universities. While the largest percentage of students are traditional age, the College of Law welcomes candidates with advanced degrees and significant life and work experience. Detailed information about the demographics of the student body and recent employment outcomes may be found in the ABA-required disclosures on the College of Law website.
LLM Program in United States Business Law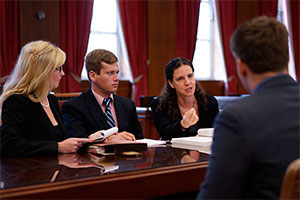 The Master of Laws (LLM) in United States business law is an advanced law degree for practicing lawyers with a Juris Doctor (JD) or its foreign equivalent (for example, a Bachelor of Law degree). UT Law's LLM program brings non-US lawyers together for a one-year program that will enhance their ability to practice in a global marketplace by providing specialized knowledge in United States business law.
LLM students will benefit from the resources of UT Law's specialized curriculum in business law and its reputation for training business lawyers in the Clayton Center for Entrepreneurial Law. Graduates will be eligible to sit for the Tennessee and New York bar exams, provided they satisfy each bar's requirements. They may also be eligible for admission in other jurisdictions.
The program also offers students an immersive experience in American culture and legal and business dialogue in Knoxville, Tennessee, and its environs, which are affordable locations to pursue higher education.
For more information, contact
George Kuney
Director, Clayton Center for Entrepreneurial Law
1505 W. Cumberland Avenue
Knoxville, TN 37996-1810
USA

Phone: 865.974.2500
Email: gkuney@utk.edu
Physical Facilities
The law center at the University of Tennessee—a melding of the old with the new—is an exceptional setting for education in the 21st century. The 110,000-square-foot facility was completed in 1997 and is located on Cumberland Avenue, just across from the Student Union, in the heart of the campus. The law center includes the Joel A. Katz Law Library, dedicated to a distinguished corporate and entertainment lawyer and alumnus.
Housing
Campus apartment housing is open to law students. Knoxville also offers ample private apartment housing at a reasonable cost within walking distance or a short drive from the law school.
Student Activities and Programs
Students can choose from a variety of student programs, activities, publications, and organizations. A complete listing is available on our website.
Participation in UT's Moot Court program enables students to compete in intracollege and national competitions. UT's team placed first in the 2015 National Moot Court Regional Competition and won the Harrison Tweed Bowl for best brief at the national finals. A Tennessee team member was named Best Advocate in the regional competition. UT's 2013–2014 PAD Mock Trial Team won the National Championship. UT won three Jerome Prince Evidence Moot Court national championships and was the first team in the history of that competition to win back-to-back titles in 2000 and 2001.
The Tennessee Law Review offers participants an excellent opportunity to conduct legal research and produce writings of a scholarly and practical nature. Transactions provides an opportunity for students to write about topical issues and legal developments of interest to the business bar. Students participating in the Tennessee Journal of Law and Policy analyze the latest developments in law and public decision making. The Tennessee Journal of Race, Gender, and Social Justice provides an interdisciplinary academic platform that focuses on legal issues affecting people of different races, genders, and other social forces. The Student Bar Association and various other student organizations offer numerous programs, services, and special events. The national honor society, Order of the Coif, and two leading professional fraternities—Phi Delta Phi and Phi Alpha Delta—have local chapters.
UT Pro Bono is a student-directed community service organization. Working with local attorneys and legal aid organizations, UT Pro Bono serves as a resource by providing law students for research, educational, and investigatory assistance. UT's mentoring program matches students with alumni who share common practice goals for structured experiences.
Career Center
Recruiting and hiring practices in the legal job market suggest that making career decisions should be an ongoing, developmental process that begins in the first year of law school and continues through and after graduation. UT students acquire the skills and knowledge necessary to research, select, and seek the right career path for them and gain necessary information about the professional areas in which a law degree can be used.
The staff of the Bettye B. Lewis Career Center offers a comprehensive menu of services for employers who seek to recruit Tennessee students through formal and informal recruitment methods, off-campus job fairs, and recruiting consortia. First-year students are introduced to career-development and job-search strategies through individual counseling and small-group training sessions through UT's 1L Career Integration Program. Students are coached in the development of individual job-search strategy plans throughout their law school careers.
The Career Center taps the extensive resources of nearly 8,000 alumni living and working throughout the United States and in several countries. Alumni serve as sources of information and networking and, frequently, as employers of UT law students. Most graduates choose to stay in the southeastern United States. For detailed information about recent employment outcomes and salaries for Tennessee Law graduates, please see the College of Law website or contact the Career Center at lawcareer@utk.edu.