3120 East Fourth Place, Tulsa, OK 74104, USA
Phone: 918.631.3540 | Website: law.utulsa.edu/academics/degrees/masters-of-law-llm
Introduction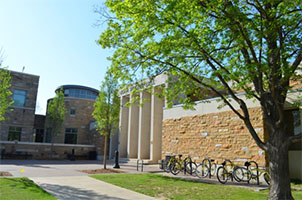 The University of Tulsa College of Law is a fully accredited American Bar Association (ABA) institution. TU College of Law is located on the beautiful, 200-acre University of Tulsa campus, within minutes of the city's major arts, entertainment, and restaurant districts. The city is a geographic and economic center for energy exploration, research, and education, as well as Native American law and policy. TU Law boasts a low student-to-faculty ratio (9.1:1) and offers every student a world-class legal education.
LLM Curriculum and Specializations
Three LLM degrees are offered for both JD and internationally educated attorneys at the University of Tulsa. At TU Law, LLM students enroll in and share classes alongside JD students.
Energy and Natural Resources Law LLM
TU College of Law's Sustainable Energy and Resources Law program was established in 1974 and stands apart nationally and globally for its longevity and balance of energy and environmental law and policy. This LLM is open to both JD-trained and internationally trained attorneys, and provides students with the ability to
examine legal and policy approaches for balancing and achieving the important goals of energy reliability, sustainable supplies of natural resources, and a healthy environment
study with faculty experts on a range of topics, including

International Environmental Law
Climate Change
International Energy and Natural Resources Law
Water Law
Oil & Gas Law: Basic and Advanced
Energy Regulation
International Business Transactions
Energy Writing, Research & Analysis

have opportunities to interact with leaders and alumni in the energy sector and with energy and environmentally focused programs, law journals, and organizations at the law, engineering, and business schools
Tuition
Tuition for the Energy and Natural Resources Law LLM program is $31,796.
American Law for Foreign Graduates LLM
This LLM program is specifically designed to allow non-US trained lawyers a flexible US legal education experience. The LLM program consists of a full course of study over two semesters, equaling a minimum of 24 credit hours. LLM degree candidates learn US law and US legal methodology (Constitutional Law, Contracts, and Civil Procedure), and complete an additional six to eight courses. Students are invited to choose from courses offered by TU College of Law and the other graduate departments of the university, such as in the colleges of business and engineering. This LLM degree provides the greatest flexibility in course selection to those internationally trained LLM students who are interested in sitting for a US bar examination.
Required Courses
Introduction to United States Law
Legal Research & Writing for Foreign Students
Civil Procedure I
Tuition
Tuition for the American Law for Foreign Graduates LLM program is $31,796.
American Indian and Indigenous Law LLM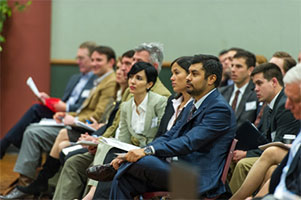 TU offers one of the few LLM degrees in American Indian and Indigenous Law. The LLM program is designed to train international and US lawyers in the issues critical to understanding and representing indigenous peoples and Native Americans. Students are able to work on an individual basis with faculty members who are experts in federal Indian law, tribal government, tribal economic development and natural resources law, utilizing TU College of Law's resources and opportunities, which include
specialized Indian law courses, including gaming, tribal government, and natural resources law
professors who specialize in Indian law and make pivotal contributions to the field, such as contributing to Cohen's Handbook of Federal Indian Law and writing an advanced Indian law casebook
the Gilcrease Museum—created by Thomas Gilcrease, a member of the Muscogee (Creek) Nation and now operated by TU—an internationally renowned museum containing significant collections of Native American art and history and artifacts of the American West
opportunities to work with nearby tribal governments
alumni who serve, or have served, tribes throughout the United States as elected officials, tribal judges, attorneys, and in other capacities
Tuition
Tuition for the American Indian and Indigenous Law LLM program is a flat rate of $22,712 or $946 per credit hour.
Professors
Recognized nationally and internationally for their expertise, TU College of Law professors are always accessible to their students. Specializations and practical experience in areas as diverse as international trade, energy regulation, family and juvenile law, criminal law, constitutional law, sports law, Native American tribal jurisdiction, trial advocacy, and health law confirm the rich learning experience available to TU Law students. The ability to develop strong relationships with professors will strengthen students' law school experiences and their future legal practice in remarkable ways.
Library and Physical Facilities
The Mabee Legal Information Center (MLIC) is an ideal locale for group study and collaborating, preparing for class or exams, working on journal scholarship, conducting extensive research, conferring with reference librarians, or preparing for a moot court competition. More than 50 computers are available for use throughout the information center, including several laptops that are available for checkout. Quiet study is available in the two main reading rooms, which offer inviting, wide-open spaces with natural lighting. TU College of Law has wireless access available throughout the building. Classrooms are equipped with a full array of technology, including dual wide-screen HD projectors/screens, computers, VGA and HDMI connectivity, wireless microphones, and built-in classroom capture, recording, and videoconferencing capabilities.
The modern Price & Turpen Courtroom has state-of-the-art capabilities to facilitate training for trial and appellate advocacy. These outstanding facilities are available to TU Law students as they prepare for future legal practice and train for many regional and national moot court competitions.
Housing
Law students at TU may choose to live on or off campus. On-campus housing includes well-maintained and modern apartments in single or family-friendly units. Located within five minutes walking distance from the law school, each apartment unit includes computer connections, off-street parking, spacious living room and dining areas, and full-size kitchens with utility areas for washers and dryers. Many apartments also have fireplaces and/or vaulted ceilings, and all have a patio or balcony.
Ranked as the #1 Most Affordable City in 2014 by ApartmentGuide.com, the city of Tulsa also offers a great variety of affordable housing opportunities outside the TU campus.
LLM Application Requirements
Rolling admission with April 1 priority review deadline; August start date
Online applications, only through LLM.LSAC.org
Complete official transcripts (all applicants must submit through LSAC)
An 800-word personal statement (in English)
A writing sample (brief, law review article, or any scholarly work in English)
Two letters of recommendation
Résumé/CV
International Applicants Only
Minimum TOEFL iBT score of 90 or IELTS score of 6.5
Confirmation of Financial Resources (CFR) form completed after admission
Student Services and Professional Development
LLM students are a vital and welcome part of the TU College of Law community. LLM faculty works individually with students to tailor their academic plans to their ambitions. Students also work with faculty advisors who serve as mentors and provide guidance to help LLM students make the most strategic decisions for their academic and professional goals. Prior to the start of classes, LLM students join a weeklong intensive, practical, and collegial orientation to US legal education, the College of Law, the university, and the city of Tulsa. Students meet with professors, staff, the LLM class, and JD students to build a sense of community and a strong start to the academic year.
The University of Tulsa also has an on-campus ESL program for internationally educated law graduates who need to improve their English language skills prior to entering the law school. These students must first apply to be considered for conditional admission to the College of Law.
TU College of Law is committed to fostering LLM success from admission and beyond. LLM students have access to writing workshops, training and panels, online job-bank listings, guest lectures, and conferences with national and international experts. They benefit from ongoing legal-skills training opportunities at the law school. TU LLM students have opportunities to network with TU law graduates working in private firms, the government sector, public policy, and legal academia.
Leadership and Involvement
Student organizations offer opportunity for leadership roles and engagement with the local community. Organizations like the International Law Students' Association; Resources, Energy, and Environmental Law Society; Energy Law Journal; Women's Law Caucus; and Native American Law Student Association allow students to be involved while cultivating relationships with colleagues and community leaders.
Location: The City of Tulsa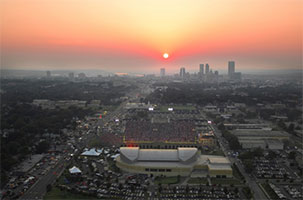 The University of Tulsa's 200-acre campus is located on historic US Route 66, two miles east of downtown Tulsa. Tulsa, a truly American city with its own unique charm, has a greater metropolitan area of approximately one million people.
LLM students have access to the array of quality-of-life activities found in any vibrant urban environment, yet with greater convenience of everyday life and a lower cost of living than those of most US metropolitan areas. LLM students take periodic breaks from studying to enjoy Tulsa's riverfront parks, international and gourmet grocery stores, national and locally owned boutiques, restaurants, farmers markets, ballet, opera, symphony, museums, drive-in movie and independent film venues, golf, hiking, and professional ice hockey, baseball, basketball, and soccer teams, as well as on-campus sports and social activities.
Contact Information
For additional information, please visit the LLM Admissions website, or contact:
Monique Garmy, Office of Admissions
3120 East Fourth Place
Tulsa, OK 74104
USA

Phone: 918.631.5480
Email: llm@utulsa.edu
Additional Law Master's Degrees (Non-LLM)
In addition to the LLM program, The University of Tulsa College of Law offers two online master's degrees:
Master of Jurisprudence in Energy Law (MJEL): The MJEL program is a unique resource available to any person, executives and professionals who work in energy and the natural resources area or have a desire to transition and launch a career within the field without obtaining a JD. The program incorporates three important components that coincide with national and international interests: providing reliable and affordable energy, protecting human health and the environment, and ensuring sustainable supplies of other important natural resources.
Master of Jurisprudence in Indian Law (MJIL): The Master of Jurisprudence in Indian Law (MJIL) program is for individuals who work in a variety of disciplines and positions that in some way require a solid knowledge of the field but do not require a law degree. With the online MJIL, tribal lawyers and judges, as well as tribal leaders and administrators who possess a bachelor's degree, will be able to expand and improve their knowledge of Indian law without having to leave Indian Country.