Western Michigan University Thomas M. Cooley Law School
The information on this page was provided by the law school.

Official Guide to LLM, Master's, and Certificate Programs
---
Introduction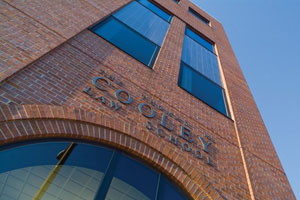 Western Michigan University Thomas M. Cooley Law School was founded in 1972 and is accredited by the American Bar Association (ABA) and the Higher Learning Commission (HLC). The school's mission is to educate law students and lawyers in the knowledge, skills, and ethics needed for successful practice. The school carries out this mission by offering a rigorous and practical education.
Law School Enrollment
Total JD enrollment: 1,742
Total LLM enrollment: 138
Physical Facilities
WMU-Cooley Law School has three campuses in Michigan: Lansing, Grand Rapids, and Auburn Hills. A campus in Tampa Bay, Florida, opened in May 2012 offering JD classes. Cooley's distinct campuses are unmatched in size and functionality. Each campus has a full complement of faculty, staff, libraries, and services. WMU-Cooley's buildings and technology were designed to meet the academic and research needs of today's legal community. High-tech courtrooms and classrooms are equipped with the latest technology to enhance the educational experience. WMU-Cooley's library facilities are among the nation's largest and finest. The 600,000+ volume collection includes research materials from all 50 states as well as federal and international materials.
Housing
Information on housing can be found on the Housing Services website.
LLM Programs/Areas of Specialization
Five LLM programs are delivered online, live and interactive, in a virtual classroom environment; these include
Corporate Law and Finance
Homeland and National Security Law
Insurance Law
Intellectual Property Law
Tax
Two LLM programs are delivered on campus, either in-person or via campus-to-campus video conference; these include
General Studies
US Legal Studies for Foreign Attorneys
All programs are designed for busy professionals and may be completed in a manner, pace, and location conducive to balancing family and work schedules. WMU-Cooley's Graduate Programs provide recent law graduates and practitioners an opportunity to develop excellence through a practice-oriented curriculum with expert faculty. The graduate programs are designed for both part-time and full-time study with classes primarily offered on nights and weekends. Students can complete the 24-credit-hour program requirements in one to three years of study. The US Legal Studies LLM program is designed for full-time study for one calendar year.
Tax
The Graduate Tax Program's focus is to provide courses that give lawyers the knowledge and skills they need to accelerate their careers. All faculty have significant experience in a variety of tax practice settings and specialties. The curriculum focuses on the practical aspects of tax practice through the use of problem-oriented teaching.
A mix of requirements provide broad exposure to tax as a subject. Specialization is available through a combination of electives and independent study for those who wish to have an emphasis in either estate planning or state and local taxation, or to become corporate counsel. The tax program includes the opportunity to obtain practical experience through externships with the Internal Revenue Service, state taxing entities, or specialty tax practices.
WMU-Cooley takes the pulse of the marketplace to enhance the quality of the educational offerings and the career paths of the program's graduates by maintaining open lines of communication with the state's top tax attorneys.
Intellectual Property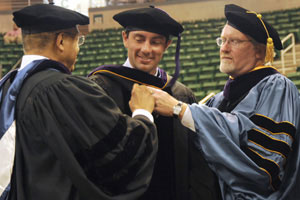 WMU-Cooley's Graduate Program in Intellectual Property Law prepares students to launch a career as an intellectual property attorney, or to focus an existing practice on IP law. The program is designed both for attorneys with scientific or engineering backgrounds seeking to gain the skills necessary to succeed on the US Patent and Trademark Office registration examination, and for attorneys with nontechnical backgrounds seeking to become proficient in copyright, trademark, licensing, and e-commerce issues.
Through an experienced faculty and innovative, practical instruction, the curriculum provides a sound foundation in intellectual property law while exploring the latest emerging developments in this rapidly changing field. Courses are designed to address the legal issues that arise when advising corporations and individuals in the fields of patents, copyright, trademarks, and trade secrets. Students learn the fundamental principles of intellectual property law, including the requirements for establishing IP rights. The curriculum also emphasizes legal issues relating to the commercial exploitation of IP rights, including licensing of IP, e-commerce, and IP management. Students may earn credit for developing skills in a practice setting through externship placements.
Corporate Law and Finance
The WMU-Cooley Law Graduate Program in Corporate Law and Finance provides students with an opportunity to solve challenging, real-world business problems with guidance from faculty of actively practicing litigation and transactional business law professionals. WMU-Cooley provides classroom access to legal experts who not only understand the challenges confronting their business clients in today's economy, but also offer constructive and practical advice regarding the efficient delivery of legal services to both in-house and private-practice clients.
This curriculum emphasizes the financial aspects of corporate practice, filling a gap that is often identified by employers as missing in today's pool of future leaders. This program prepares students and lawyers to become more accomplished practitioners in the dynamic corporate arena, by providing a basic foundation in corporate law as well as a competency in the broader legal issues that impact a business.
Insurance Law
The Master of Laws Insurance Law curriculum has been developed in consultation with industry experts and is intended to provide exposure to the many and varied aspects of insurance and risk management. Upon completion of their studies, students will be able to form companies and oversee the regulatory and governance aspects of insurance company operations.
In addition to the practical aspects of insurance law practice, students will graduate with a deep background in the issues and challenges confronting clients in the property and casualty, life, health and disability, reinsurance, and surplus line of insurance. Students have access to insurance experts who not only understand the industry and the challenges of the future, but also offer constructive and practical advice regarding the efficient delivery of legal services to insurance clients both in house and in the private practice of law.
US Legal Studies
The US Legal Studies for Foreign Attorneys LLM Program is intended for well-qualified lawyers and law graduates from countries outside the United States who desire to immerse themselves in the study of the common law and then plan to return to their country to practice law. The 24-credit degree blends common law subjects with elective courses chosen by the student. LLM students choose 12 credits from common law courses typically studied during the first year of law school—contracts, property, and torts. In addition, they study US constitutional law and legal research, analysis, and writing in classes specifically designed for foreign attorneys. The remaining eight credits consist of elective courses from WMU-Cooley's curriculum chosen by the student and approved by the director.
General Studies
The General Studies LLM Program provides US lawyers and US law graduates the flexibility to study a wide range of legal subjects or focus on specific legal areas. Degree candidates design their own course of study based on their needs and objectives.
The General Studies LLM degree is earned by successfully completing 24 credit hours with an overall cumulative grade-point average of 3.0 or better.
Scholarly Writing for LLM Students is a two-credit course required for General Studies LLM degree candidates. (This course is waived if Scholarly Writing was successfully completed as a JD student.)
The remaining 22 elective credits are composed of JD and LLM courses. Students may opt to participate in an externship earning as many as 4 credits.
Homeland and National Security Law
WMU-Cooley Law School is one of the first law schools in the country to offer an LLM degree in Homeland and National Security Law (HNS).
This master of laws degree includes intensive study in air and transportation security, border security, military operations within the United States, intelligence and privacy issues, and technology and cybersecurity. Practical courses on federal contracting and administrative law are also included.
The unique and compelling courses within this program were developed through program director Michael McDaniel's diverse experience, both civilian and military, and federal and state senior positions. Students within this program have the opportunity to serve on the prestigious Homeland and National Security Law Review, a student-edited legal periodical that is published twice yearly.