Candidate Enrollment Survey
Law School Applicants Share Their Plans for
Fall 2020
by Susan Krinsky, Connie Ballou, Gisele Joachim, Mark Walzer, Debra Langer, and Ann Gallagher
Updated August 5, 2020
The June Candidate Enrollment Survey was designed to determine law school applicants' plans for matriculating to law school in fall 2020. The initial invitation email was sent on June 15, 2020, and the survey remained open through June 22, 2020.
Out of 44,611 applicants to JD and LLM programs, 44,455 applicants were successfully invited to take the survey. Of those invited, 4,459 applicants (approximately 10 percent) completed at least part of the survey. This sample consisted of 4,114 JD applicants (92 percent of the sample) and 345 LLM applicants (8 percent of the sample).
Respondent demographic information was obtained from LSAC databases. For respondent race/ethnicity, Figure 1 shows that most JD applicants self-identified as white. Most LLM applicants did not provide this information because it was not required; these records are coded as Not Indicated in Figure 1.
Figure 1: Respondent race/ethnicity by applicant subgroup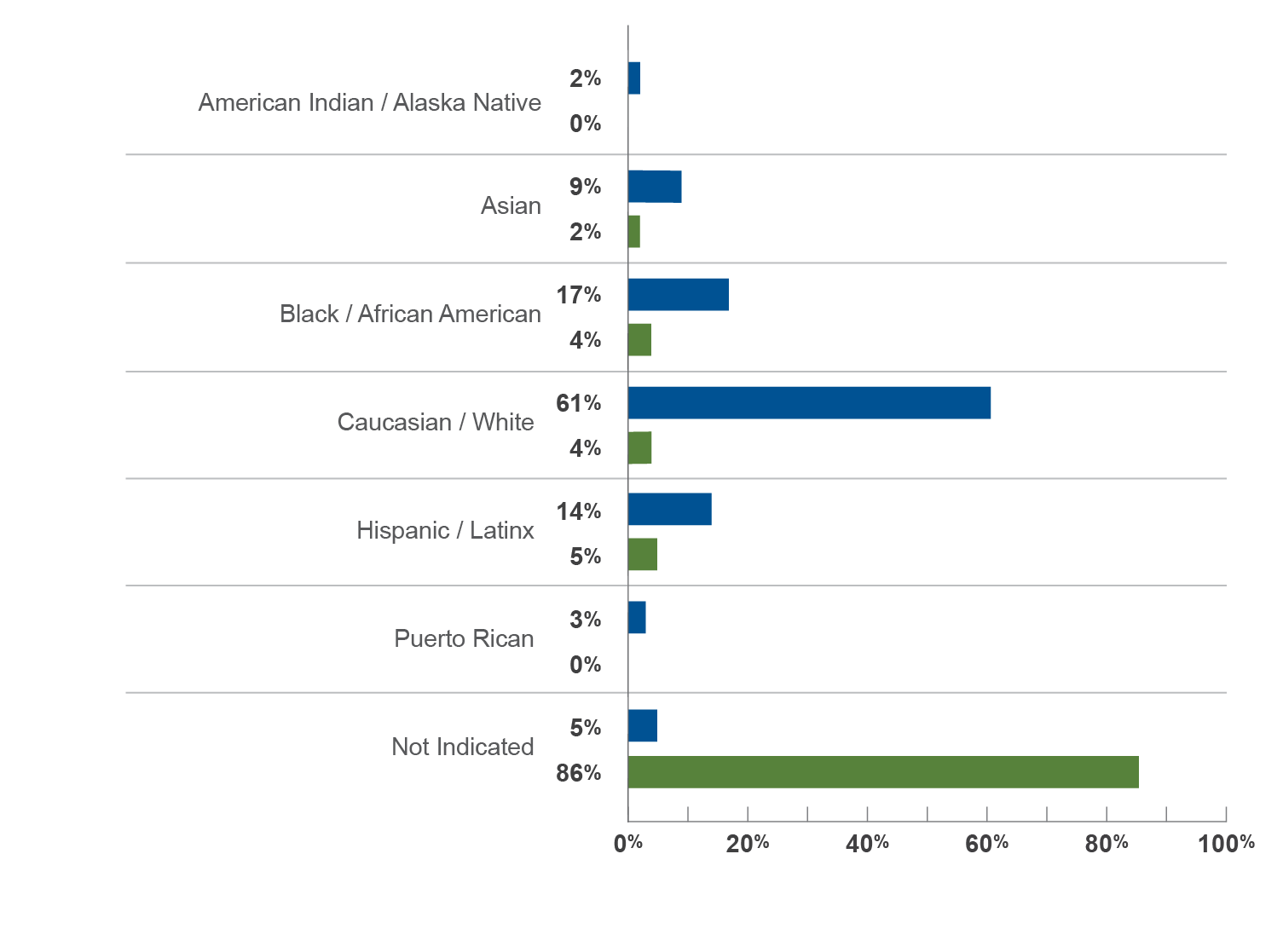 JD (n=4,114) LLM (n=345)
Note: A small number of respondents identified as Native Canadian or Native Hawaiian/Pacific Islander. Respondents could select multiple ethnicities.
Figure 2 shows that most of the respondents in both applicant subgroups identified as female.
Figure 2: Respondent sex by applicant subgroup

JD (n=4,114) LLM (n=345)
Figure 3 shows that more than three-quarters of the respondents reported applying to up to 10 schools.
Figure 3: Number of applications by applicant subgroup

JD (n=4,114) LLM (n=345)
Figure 4 shows that around one-third of the sample of 4,114 JD applicants reported receiving funding through Pell Grants.
Figure 4: Pell Grant status of JD applicants
No/No Response Yes
The first survey question asked whether respondents were already admitted to a law school program. Figure 5 shows that most applicants in both applicant subgroups had already been admitted.
Figure 5: Admission to at least one law school program by applicant subgroup

JD (n=4,114) LLM (n=345)
The second survey question asked about plans to attend law school in fall 2020. Figure 6 shows that more than two-thirds of JD applicants were "definitely" planning to attend. Most LLM applicants were "probably not" or "definitely not" planning to attend. This may be due to the fact that many LLM students are international and have run into issues trying to get visas.
Figure 6: Plans to attend law school in fall 2020 by applicant subgroup

JD (n=4,114) LLM (n=345)
Respondents who indicated that they were admitted to at least one program were asked about what steps they had taken in the enrollment process. Figure 7 shows that two-thirds of JD applicants and more than one-third of LLM applicants had submitted all deposits, but fewer than half of the sample reported engaging in activities related to housing.
Figure 7: Steps taken in enrollment process by applicant subgroup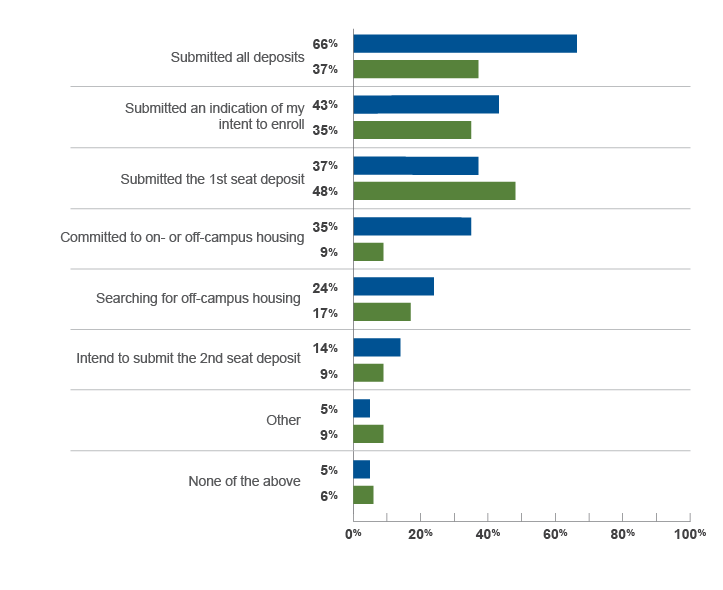 JD (n=2,925) LLM (n=292)
Among the 139 JD candidates, respondents who chose "Other" for steps taken regarding the enrollment process, most often indicated that they had already begun their legal education, with some detailing either that their planned programs had already started, that they are taking a matriculating course, or that they were enrolled in some type of summer conditional admittance program. Some JD candidates also mentioned that they were deferring or had made a request to do so and/or that they had received an offer or had taken steps to secure financial aid. In contrast, the 24 LLM candidates who selected "Other" most often indicated that they had received or applied for deferral.
Respondents who did not report engaging in any of these activities but who were admitted to a law school were asked why they had not submitted any deposits or other indications of commitment. Figure 8 shows that waiting for an admission/waitlist decision was a major concern for JD applicants, while concern about traveling during the COVID-19 crisis was a greater concern for LLM applicants. Compared with the survey conducted in April, waiting to find out about scholarships or financial aid was not as great a concern.
Figure 8: Reasons applicants did not commit by applicant subgroup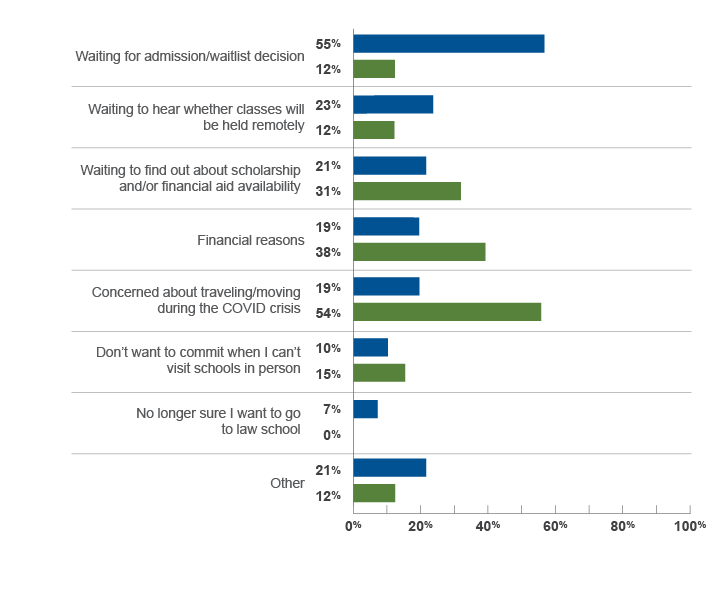 JD (n=174) LLM (n=26)
Thirty-four JD students and three LLM students who chose "Other" provided follow-up comments, which included references to deferral, waiting on an admission decision, COVID-related concerns (such as being immunocompromised and future uncertainty), a desire to improve their LSAT score, and/or their intent to reapply for fall 2021 admission. LLM candidates mentioned receiving a deferral, already being enrolled, and losing a parent.
Respondents who were not definitely planning on enrolling in the fall were asked about factors that had influenced their decision. Figure 9 shows that the effects of the COVID crisis and not wanting to take online classes in the fall were a concern for both JD and LLM applicants. JD applicants were also waiting for admission decisions from at least one additional school.
Figure 9: Factors influencing decision on law school enrollment by applicant subgroup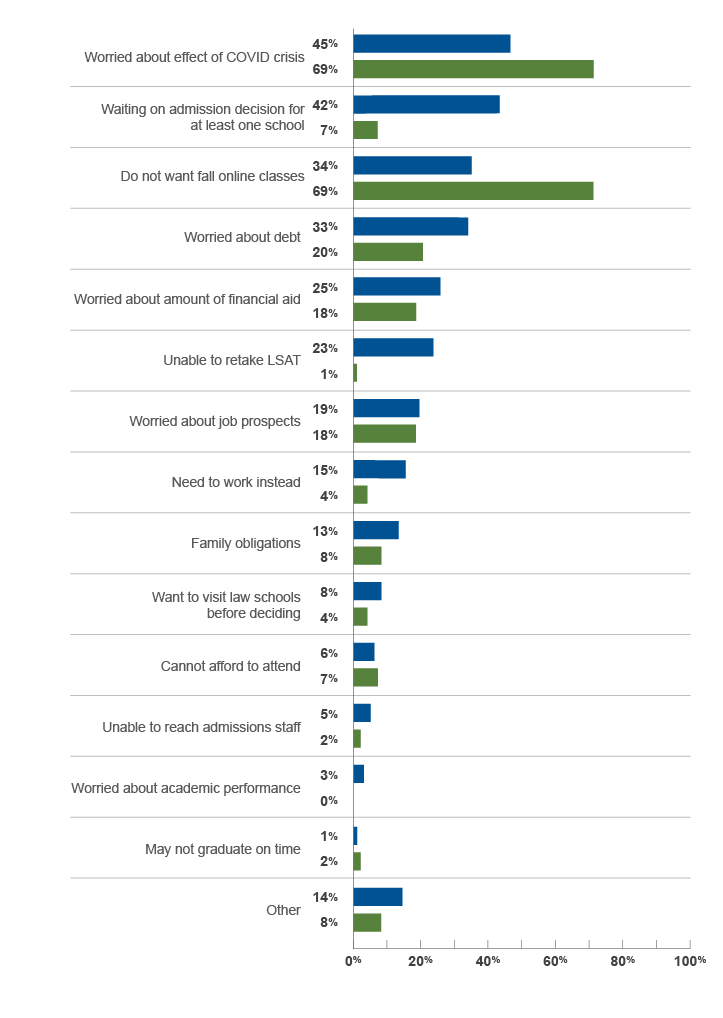 JD (n=960) LLM (n=230)
Of the 126 JD candidates who chose "Other," the largest proportion (n=44) explained that they had not been admitted to any law school, a preferred law school, or a preferred law school that they could afford at this time. JD candidates also commonly mentioned issues related to the LSAT, such as the fact that they did not score high enough to get an admission offer or needed financial aid from their preferred school, and schools not accepting a delayed LSAT score; desire to pursue other opportunities, such as graduate school, a job, or volunteering (e.g., AmeriCorps or Teach for America); and personal circumstances that might prevent them from attending law school, such as the possibility of needing to facilitate online learning for school-aged children, prior military commitment, and the ability to find a job in the same location as their chosen law school. Eleven JD candidates commented that they had always been intending to apply for admission in fall 2021. A few mentioned financial concerns, such as not being able to afford law school, not wanting to pay regular tuition for online classes, and limited availability of scholarships; and concerns about the method of instruction, with some wanting online or hybrid programs and others indicating that they believed online learning would be detrimental to their education.
Eighteen LLM candidates also provided follow-up comments, with a majority citing issues related to being international students, including an inability to obtain a visa due to embassy closures or in-person class requirements for students on F-1 visas, travel restrictions, and worries about hate crimes against Asian students. Two of the three candidates who expressed concerns related to online classes were specifically worried about whether online classes would disqualify them from sitting for the bar exam.
Respondents who had not ruled out attending law school were asked when they would want to enroll if they could not start in fall 2020. Figure 10 shows that more than half of the respondents wanted to enroll as early as possible, in spring 2021. These results are very similar to responses in the April Candidate Enrollment Survey.
Figure 10: Preferred law school start time after fall 2020 by applicant subgroup

JD (n=3,829) LLM (n=223)
The same respondents were also asked whether having to take courses online would affect their law school plans. Figure 11 shows that most JD applicants reported that online-only instruction would not affect their decision to enroll. More LLM applicants reported that they would defer enrollment until they could attend in-person classes.
Figure 11: Effect of online-only instruction on decision to attend law school in fall 2020 by applicant subgroup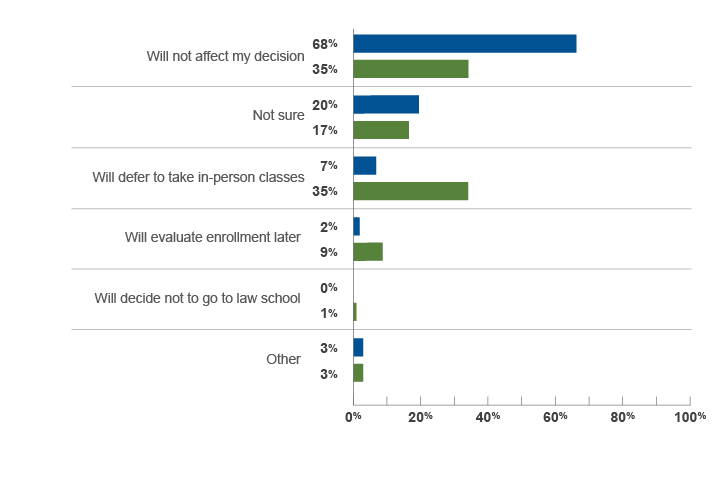 JD (n=3,835) LLM (n=223)
A total of 103 respondents (JD, n=97; LLM, n=6) provided a follow-up explanation to their choice of "Other." Thirty-five JD candidates indicated that they would definitely attend, while some were angry or unhappy about the prospect of online classes and how missing out on in-person classes would negatively affect their 1L experience. Others said they would prefer online instruction, with some adding that it would make them more likely to attend. JD candidates commonly expressed a preference for online learning, with many mentioning safety concerns related to COVID-19. As one JD candidate explained, "I am hoping they are all offered remotely. I don't think it is safe to be on campus during a global pandemic. If remote learning isn't offered for the 2020-2021 school year, I will probably never go to law school. I have a heart arrhythmia, so being remote is of utmost importance to me. I am sure I am not the only student with health-related issues." Other JD candidates mentioned that the cost of their education would be a significant factor in their decision to attend if classes are offered online. Most of these respondents said they would only attend online classes if there was a tuition reduction, with a few mentioning that if they did not have a full scholarship, they would not be willing to pay full tuition costs. Nine JD candidates noted that their schools had already announced that their classes would definitely be in-person in fall 2020.
Among the responses from the LLM candidates, two mentioned financial issues, two preferred online classes, one said it would depend on how classes were conducted online, and one said they were not planning to start until fall 2021.
All respondents were asked about alternate options if they do not attend law school in the fall. Figure 12 shows that over half of JD applicants indicated that they will not consider alternatives to law school. Another one-third of these applicants reported that they would work if they did not attend law school. More LLM applicants responded that they would work if they chose not to attend.
Figure 12: Alternatives to attending law school by applicant subgroup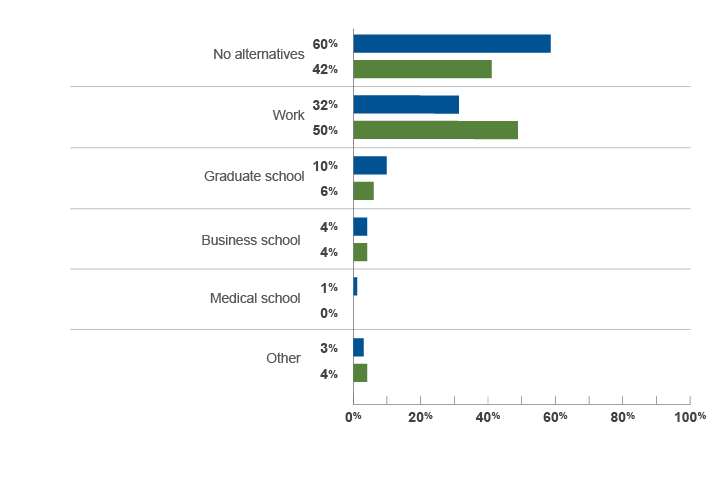 JD (n=4,045) LLM (n=339)
For the "Other" responses, out of 124 JD comments, the most commonly mentioned alternatives to law school were additional (nonlegal) schooling such as graduate school or specific certifications, work (a few of whom specifically mentioned legal-related jobs), and personal responsibilities such as the possibility of needing to remotely school their children or taking a gap year to travel. Nine of the JD candidates stated that they were deferring law school but offered no other indication of what they would be doing during their deferral.
The twelve comments from LLM candidates commonly mentioned deferral. Others were planning to pursue different educational opportunities not in the U.S., or to take a state bar exam as a foreign lawyer.
The next few questions addressed financial concerns. Figures 13 and 14 show that two-thirds to three-quarters of both applicant groups considered the amount of merit-based aid to be an important factor, and 60 percent of both groups considered the amount of need-based aid to be important.
Figure 13: Significance of the amount of merit-based scholarships in law school decision by applicant subgroup

JD (n=4,045) LLM (n=339)
Figure 14: Significance of the amount of need-based scholarships in law school decision by applicant subgroup

JD (n=4,045) LLM (n=339)
Respondents also reported the amount they currently owed in educational loans. Figure 15 shows that approximately half of JD applicants and over 70 percent of LLM applicants had no debt. Most JD applicants who indicated that they had some level of debt reported owing less than $60,000.
Figure 15: Amount owed for educational loans by applicant subgroup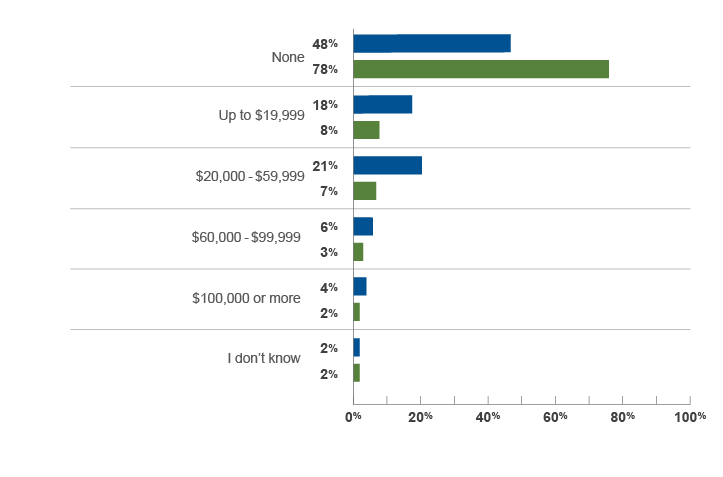 JD (n=4,045) LLM (n=338)
When asked about the highest education level completed by at least one parent or guardian, most respondents selected postsecondary degrees (Figure 16).
Figure 16: Highest level of education completed by at least one parent or guardian by applicant subgroup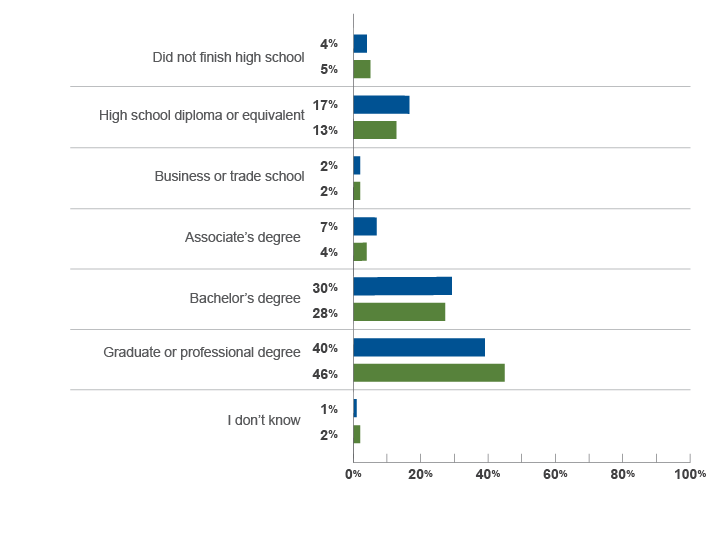 JD (n=4,045) LLM (n=339)
At the end of the survey, candidates were asked to share comments about their decision to attend law school. Because many of the comments echoed ideas expressed in previous responses, the summary of general comments is provided to further develop some of those issues and to share candidates' own words.
As seen in responses to previous open-ended questions, cost and financial aid were commonly mentioned. As one JD candidate explained, "As a first-generation woman of color, this was a huge step for my family and I to attend law school. This milestone is met with financial challenges and as much as I am committed to my goals I am not sure what this will mean for me long term." Another JD candidate specifically linked financial concerns to the current situation. "I just hope this mess ends soon so life can go back to normal. Law school is stressful enough; having to learn the law/navigate the law school experience remotely can completely change the game. I'm just hoping schools will do more to recognize this unique experience when making admission decisions and with providing aid. Many of us haven't been able to work and unemployment/stimulus monies haven't been enough. If I don't get a good financial aid package, I may defer attending altogether. It's all about the money more than ever right now."
Another JD candidate also mentioned the impact of the COVID-19 situation, pointing to an issue that many students have mentioned over multiple surveys: the inability to visit schools. "Given the current circumstances, I was unable to visit any of the schools I was accepted to. As such, my decision reflected this reality. I chose a school that is in an area I'm familiar with and one that is much cheaper than others to attend. I feel as if this should be known. If I could have visited the schools, I may have been more willing to take a chance with a new area/spending more money. Moving forward, transfers after 1L should be something that schools are more open to due to reasons such as this."
While many respondents indicated their intent to attend law school no matter what, often noting that the pandemic has not derailed their plans in any way, many others took the opportunity to, once again, express their concern about the mode of instruction in fall 2020. Candidates who supported in-person classes cited factors such as networking opportunities, quality of the education, and the likely negative effect that online classes would have on the 1L experience. As one JD candidate explained, "I am dreading the possibility of online classes. I would rather take my chances and get sick then [sic] not get a chance at a quality education, and online lacks quality." Another JD candidate pointed to the nonreplicable nature of the 1L in-person experience, saying, "I have been told by a few current lawyers that being on campus and in person for classes is essential for 1L students since it is the time to get to know peers and professors very well. It does not seem as easy to do so via online." International respondents who stated their desire for in-person classes (many of whom are LLM candidates) were concerned about the fact that online classes would not meet visa requirements.
"I am high risk for COVID 19- but I do not want my education to be delayed. I want to attended [sic] law school this fall and I would love online options- delayed start would be second choice for everyone's wellbeing- or the option of delayed starts but some optional class offered in the fall for student [sic] who want to use the time."
Candidates who supported online classes were concerned about putting themselves or others at risk and liked the fact that they would not need to move in the midst of a pandemic in order to attend school. As one international JD candidate explained, "Honestly I prefer remote education. I do not feel safe in the midst of COVID19 and the health insurance system of the US is not as decent as the one in my home country. I feel much safer here. If I were a recent college graduate, I would have deferred. Every university in my home country is doing remote education even if COVID-19 is being handled much better than the US. I do not quite understand why many American schools are pressing for on-campus education when the safety of the students is at risk. I do not think they are being responsible. They do not seem to put the safety of the students as top priority even if they say so." Another JD candidate cited the health risks stating, "I am high risk for COVID 19- but I do not want my education to be delayed. I want to attended [sic] law school this fall and I would love online options- delayed start would be second choice for everyone's wellbeing- or the option of delayed starts but some optional class offered in the fall for student [sic] who want to use the time."
There were a number of respondents who identified themselves as international candidates; it is important to capture the needs of this group, diverse though they may be, especially in light of changing travel restrictions and visa requirements. As mentioned above, international students are quite concerned about visa requirements and online classes. Some who expressed concern about remote learning explained that they likely could not participate in online classes due to huge time differences, while others cited worries that they would not qualify to take the bar exam and/or participate in Post-Completion Optional Practical Training, their primary reason for attending law school in the U.S.
Cost and availability of scholarships and financial aid were also mentioned, although it was clear that international students may face additional financial constraints not experienced by others. An LLM candidate explained, "Considering that the pesos suffered a devaluation, it is really important to get the most scholarship possible. If I were coming from Argentina where the dollar was $60 pesos in February, and now is $130... I could not study since my real cost for studying would be almost double." Some international candidates also pointed to worries about coming to the U.S. due to the current civil unrest and fears of discrimination, although issues of discrimination were also brought up by U.S. students. One LLM candidate explained, "I am concerned about safeguarding my health in light of the pandemic and about my personal safety as a Black male commuting to and from a law school, particularly at night, in a predominantly White locale."
Although many candidates expressed concern and dismay over the currently ever-changing situation while grappling with the uncertainty of how law schools and their educational opportunities will be affected, many respondents provided comments that showed their determination to attain their goals of attending law school to make a positive change in the world. Below are just a few of the inspiring comments that candidates provided as to how they want to help others through law.
"Although deeply meaningful, my involvement with a reputable Chicago law firm and I'm Not Forgotten has only skimmed the surface of my legal passion and thirst for advocacy. Obtaining my Juris Doctorate will elevate my impact on lives as well as induce social change in the inner cities across America." (JD Candidate)
"I come from a very female oppressed family. I am the only female ever on both sides of the family to have a bachelors. I also have a severe history of sexual assault and law school for me gives me the opportunity to not only advocate for justice, but to pave a way for others who are in a similar position that I was in to get an education." (JD Candidate)
"I feel like law is one of the most effective ways we can change our society for the better or worse. I want to be a lawyer to be able to protect people from exploitation due to their status in our society. We all know the law works in the favor of those with more resources and higher status. And I want to fight against that." (JD Candidate)
"I wish to attend law school in order to serve my country as a more effective Human Rights Defender. My country's Human Rights record is not good at all hence it needs forceful Human Rights Defenders who can work hard to cultivate a culture of promoting, protecting and respecting Human Rights and Freedoms." (LLM Candidate)
You may be interested in these reports...