Real Stories
"I am a lifelong learner."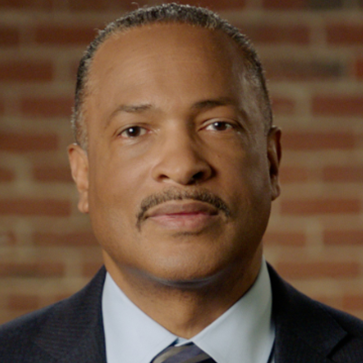 Equal
Access
Social
Justice

My Progress
My Story
The desire to never stop learning is in my blood. I joined the fire service with a high school diploma, and by the time I retired as commissioner, I had earned my master's degree. Along the way, I completed my associate's degree in fire science and a BA in public safety. I also graduated from the National Fire Academy, attended the John F. Kennedy School for Government at Harvard, served on a few committees for the National Fire Protection Association, and became certified as a fire officer, fire instructor, and fire inspector. My next stop is law school.
I believe you're more successful when you do things not because you owe someone a favor, but because they're the right things to do. I also believe in helping people whenever I can — a candle loses nothing when it lights another candle.
Why is law so important?
Law affects everybody. Laws we're not even aware of affect us. They affect how we behave every single day. They govern what I can and cannot do as a fire chief. Federal law, state law — I don't think people understand the level of detail, from home life to vacation to work.
What inspired you to pursue law school?
I chose to go to law school because of the personal and professional development opportunities it offers. I plan to learn more about HR laws as they pertain to fire services. It's a niche. I plan to use my legal education to help me do a better job at getting codes and standards passed. And I plan to study how policy is made and how it ultimately impacts the codes and standards that govern the fire prevention industry. On a personal level, I'm a lifelong learner, and I believe in constantly enhancing skills and abilities. I believe law school will certainly do that.
I believe my legal education will also help me become a better resource for two groups that are important to me. While the fire service has been around for years, women have yet to be totally embraced. We need to make sure they have a seat at the table so that policies and procedures are truly inclusive. I also plan to continue mentoring young men from impoverished backgrounds who are community college students. I know you don't always start out in the position you want to be in — I started my career with a high school diploma. I also know that none of us can do anything alone.
What are the most important skills for success in law school?
You have to be a critical thinker. And you have to be able to think analytically. And you have to know how to be collaborative in order to reach consensus so you can get through legal hurdles.
What would you tell a young person at the beginning of their journey to law school?
Stay the course and stay resilient. Make sure you write down your goals and objectives, and every time you're feeling discouraged, take them out and remind yourself to keep working toward your law degree.
What advice would you offer to someone getting ready to take the LSAT?
I would tell them to develop a plan and stick to it. Also, if they become discouraged, they should focus on some of the other challenges they have had in life and think about how they overcame those.