Law School Forum in New York City
Grand Hyatt New York
109 E. 42nd Street
New York, NY 10017
212.883.1234
Get Transportation & Driving Directions
Friday, October 23, 2020
Meet with Law Schools: 1-6 p.m.
Saturday, October 24, 2020
Meet with Law Schools: 11 a.m.-4 p.m.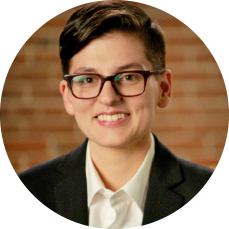 "The conventional law student's kind of a myth. I think there are an infinite number of faces to the law," says Charlie, a law student who believes empathy is the most valuable skill to develop when pursuing a law degree.
Watch Charlie's Story: BE IndiVISIBLE
Why should you attend a Law School Forum?

Meet 1-on-1 with over 180 law schools.
Get advice and interact with experts at exclusive workshops, including:
Forum 101 — learn how to navigate a Law School Forum
About the LSAT — get tips from an actual LSAT writer
Why Law School and Why Now?
The Application Process
Financing a Legal Education
Diversity Information Panel
What Do Lawyers Do?
Workshop for Applicants to LLM Programs
Try out the new Digital LSAT format on a Microsoft Surface Go — the tablet that's used to administer the test.
Law School Forum Updates
We plan to open registration for the New York Forum on July 10, 2020, but will continue to monitor the COVID-19 situation throughout the summer and fall.
If you would like to be notified about when you can register for this forum, please fill out the form below: