Law School Forum in Washington, D.C.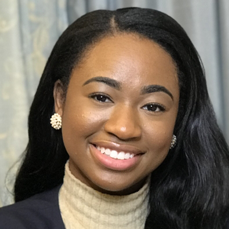 What's surprised Kendeil most about law school is how interested she's become in actually practicing law after graduation. "I came in with the idea that I didn't want to practice law. My plan was to sit for the bar and then go work for an accounting firm or go in-house." A summer associate position she accepted opened her mind to new possibilities...
Read Kendeil's Story: Why Choose Law? A First-Generation Perspective
Why should you attend a Law School Forum?

Meet 1-on-1 with over 100 law schools.
Get advice and interact with experts at exclusive workshops, including:
Forum 101 — learn how to navigate a Law School Forum
About the LSAT — get tips from an actual LSAT writer
Why Law School and Why Now?
The Application Process
Financing a Legal Education
Diversity Information Panel
What Do Lawyers Do?
Workshop for Applicants to LLM Programs
Try out the new Digital LSAT format on a Microsoft Surface Go — the tablet that's used to administer the test.