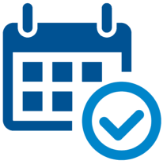 2020 Event Dates
Saturday,
September 26
Register by Sept. 23
Tuesday,
October 13
Register by Oct. 10
Wednesday,
November 4
Register by Nov. 1
Saturday,
December 12
Register by Dec. 9
Meet with law school reps from 3-7 p.m. ET
Attend live workshops from 2-7:30 p.m. ET
Thinking about law school?
Each year, LSAC Law School Forums serve as invaluable opportunities for candidates to learn about law school and connect with law school representatives. Due to the evolving COVID-19 pandemic, we're shifting the 2020 forums to a convenient online format. By attending an LSAC Digital Law School Forum, you'll be able to safely connect one-to-one with law school representatives from across the country and get important information and answers to any questions you may have.
If you're thinking about law school, we encourage you to attend one — or all four! — of these engaging live events. From the comfort of your own home, you'll have the opportunity to meet law school admission professionals from 100+ law schools, ask questions about financial aid, and learn about the LSAT directly from our test developers. Candidates interested in JD and LLM programs, as well as those who are considering law-related master's degrees and certificate programs, are encouraged to attend.
By hosting the forums digitally, we hope to broaden access to these educational events, giving even more law school candidates a chance to begin their enrollment journeys with the insights that an LSAC Law School Forum provides.
Register for the Digital Forums
Digital LSAC Law School Forums are free to attend. Register for one — or for all four — through your LSAC account.
To register, log in to your account using the links below and click the Register button associated with each digital forum you'd like to attend. (You're welcome to attend as many as you like, but please complete the registration process for each date.) Review the Forum Registration form and click Register to complete the registration process.
JD Applicants – Log In to Register
LLM, Master's, and Certificate Applicants – Log In to Register
Please note: An LSAC account is required for forum registration.
What to Expect During the Digital Forums
Exclusive Educational Content
The Digital Law School Forums offer exclusive workshops covering the application process, diversity in law school admissions, and much more.
Easy-to-Use Platform
You can access the Digital Forums' intuitive platform through your computer, mobile device, or tablet. There is no software to download. Simply log in and begin navigating the event.
Meet Admission Representatives
You can speak to law school admission professionals one-on-one via chat, video, or phone call.
Financial Aid Advice
Get advice about financing your legal education from a financial aid expert.
Get Your Questions Answered
Visit the networking lounge to ask questions about the LSAT, diversity in the law school admission process, and your law school application journey.
Collect Important Resources
See a document you'd like to keep for future reference? Simply add it to your virtual swag bag.
---
COVID-19 Update: In light of the resurgence of COVID-19 in many areas of the country, LSAC has made the difficult decision to cancel the in-person 2020 Law School Forums with one exception. The New York Forum scheduled for October 23 and 24 is not yet officially canceled, but it is unlikely to take place. For more information, please visit COVID-19 Law School Forum Updates.
New to LSAC?
Sign up to get started on your legal education journey.
LSAC's services and programs are offered to ease the application process for all who wish to pursue a legal education. We're here to help you along every step of your journey as you prepare, apply, and — ultimately — choose where you want to go to law school.
With your free LSAC account, you can register for the LSAT and the Law School Forums, apply to any ABA-approved law school, and more.
If you're interested in pursuing a JD degree, create a JD applicant account.
If you're interested in pursuing an LLM, Master's degree, or legal certificate, create an LLM & Other Law Programs account.
If you're undecided about which law degree to pursue, visit Types of Law Programs to learn more about options and availability.