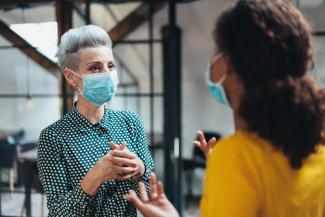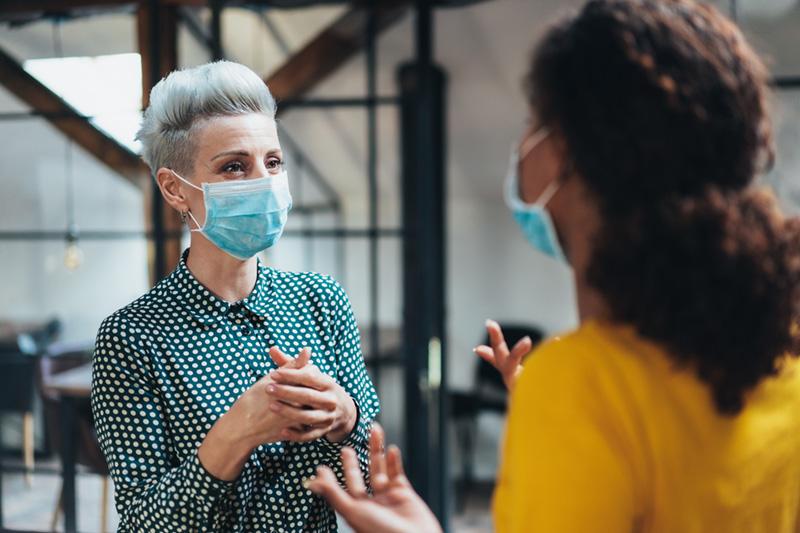 LSAC Law School Forums are open-house style recruitment events for prospective JD law students and those thinking about pursuing an LLM, law-related master's, or legal certificate program. At the forums, you have an opportunity to connect with representatives from law schools around the country and ask questions to help you further your application process.
If you have questions about what to expect at the LSAC Law School Forums, please review the FAQs below. For additional questions, feel free to reach out to events@LSAC.org.
When and where are the LSAC Law School Forums being held this year?
Friday, September 10, DIGITAL
Saturday, September 25, Chicago
Friday, October 8, San Francisco
Friday, October 22, Atlanta
Friday and Saturday, November 5 and 6, New York City
Saturday, November 13, Los Angeles
Saturday, December 4, DIGITAL 
Saturday, February 5, DIGITAL
What can I do at the LSAC Law School Forums?
Whether you attend the forums in-person or digitally, forum attendees will have the opportunity to: 
Speak directly with law school representatives. At the in-person forums, you can speak with representatives face-to-face during a timed-entry window. At the digital forums, you can speak with representatives in groups or request a private video or chat. 
Get expert advice about financial aid, the LSAT®, and more. 
Watch exclusive educational content. In-person forum attendees are encouraged to attend the Law School Admission Essentials workshop one hour prior to their entry time window. At the digital forums, several live workshops will be available throughout the day. 
Download important resources and access on-demand webinars at any time throughout the rest of the forum season. 
All LSAC Law School Forums are free to attend. We encourage you to register for every forum date that interests you. 
I'm interested in pursuing an LLM, law-related master's degree, or legal certificate program. Are there any forums I can attend?
Anyone interested in pursuing an LLM, master's, or certificate program is welcome to attend any forum! Law school representatives will be available to talk personally with you about the application process for U.S. or foreign-trained LLM candidates. 
An LLM workshop will be available for forum registrants to view on-demand in the digital forum platform, and a live Graduate Law Programs Workshop will be available during the digital forums. However, there won't be any LLM, master's, or certificate program workshops at the in-person forums. 
How many law schools will be represented at a forum?
The number of law schools represented at each forum varies at each event. Lists of participating schools at each forum are available below:
Saturday, December 4, DIGITAL (coming soon)
Saturday, February 5, DIGITAL (coming soon)
How do I prepare to talk with the law school representatives?
Your time with the law school representatives is the most important activity of the day. The representatives you'll meet could be an admission dean, a faculty member, a recent graduate of the law school, or even a current student. These representatives will not speculate on your chances of admission, although you can ask general questions about the qualifications and profiles of admitted students. Law school representatives can also speak with you about their programs, facilities, student body, and answer other questions that will help you decide whether to apply.
You can use LSAC's law school guides to learn more about schools and programs that interest you, and to help you create a set of questions to ask law school representatives.
Tips: Interacting with Booth Representatives at the Digital Forums
Each school will have a booth and a chat room. Visit both to make the most of your experience.
Read the notifications that schools post at the top of their chat rooms to get helpful guidance on how to navigate their booth. School booths are not all set up the same, so it's important to follow their instructions.
Check out the booth representatives' profiles before direct messaging them to ensure that you are chatting with the correct representative from that school.
You may be able to use video chat with booth representatives, but you must request this by sending a direct message.
Be sure that you do not post any personal information in public chats.
If you plan to use the video chat feature, be sure to dress appropriately.
Tips: Questions to Ask
Consider questions that would provide you with information beyond what you can find on the law school website, such as:
What do you look for in a personal statement?

What is the law school experience like for diverse students?

How would you describe faculty-student relationships?

What percentage of graduates practice in the region around your school?

What do students like most about your school? Least?

What on- and off-campus housing opportunities are available for students?
Will brochures be available to take away from the event?
Yes. At the digital forums, you'll be able to view brochures and other downloadable resources at each law school's booth. LSAC will provide general resources on the LSAT and law school admission process as well. You can gather any documents that you'd like to refer to later in your virtual swag bag. Then, email them to yourself after the event. At in-person forums, you can collect materials from LSAC's Resource Center and the law school tables.
Registering for the Forums
Is there a fee to register?
No. LSAC Law School Forums are 100% free.
Do I have to set up an account at LSAC.org to attend a forum?
Yes, an LSAC account is required for forum registration. Additionally, your account will allow you to take other steps needed in your law school admission journey. With your account, you can:
Gain access to free, Official LSAT PrepTests™ and tutorials through LSAC LawHub®

.

Use the Credential Assembly Service (CAS), which is required for admission to all  ABA-approved law schools.

Apply online to any ABA-approved law school.
Do I have to answer every question in the registration process?
Items with an asterisk (*) are required fields. All other fields are optional, and you can simply click Submit to finish the process.
Although requested, your Social Security number is not required to complete the initial LSAC account set up. However, this information is needed later on in the application process so that LSAC can match your online account to other records and items such as transcripts, letters of recommendation, and LSAT score reports.
Attending the In-Person Forums
What should I wear?
There is no official dress code. However, since you'll be meeting with law school representatives, you'll want to project a confident and professional image. We recommend following a "business casual" dress code.
Please note that, as a COVID-19 safety measure, all LSAC Law School Forum attendees and participants will be required to wear face masks that cover the nose and mouth for the entirety of their time inside the venue. Although we will have disposable masks on site, we encourage attendees to be prepared. 
Do I need to be vaccinated to attend the in-person LSAC Law School Forums?
LSAC is continually reviewing health and safety guidelines as they relate to public health recommendations. These protocols will evolve along with current conditions and guidance from the CDC and other state and local health agencies.
For the latest guidelines, please review the Vaccination/Negative Testing Verification Requirements for the forum you're planning to attend. Please note that, in order to comply with state and local guidelines, vaccination requirements for the 2021-22 LSAC Law School Forums vary by city.
More information on LSAC's policy for in-person forum attendees is available at COVID-19 Safety Measures for In-Person Forums.
Do I need to bring my résumé or transcript?
Leave those documents at home. Instead, bring a list of questions you want to ask law school representatives that would help you further your law school search. Don't forget to bring your personalized schedule and the list of schools whose representatives you would like to meet face-to-face. 
Attending the Digital Forums
How do I log in to the forum on the day of the event?
Log in to your LSAC account and visit the Forums page. Beneath the "Forums Registered" heading, click the "Access Digital Forum" link. You can then join the event using the email address associated with your LSAC account.
Once you log in to the digital forum platform, you'll be taken to the digital lobby where you can select areas to visit and activities to participate in.
Do I need to download or install any software to attend the digital forums?
No. You do not need to download or install any software to participate. You only need to have access to the internet.
Is a webcam required?
No. Some representatives will be available via video chat, but a webcam is not required to participate.
Do I need to attend the entire event?
No, you can drop in and out of the event at your convenience. On each forum date, law school representatives will be available between 3 p.m. and 7 p.m., and live workshops will run from 2 p.m to 7:30 p.m.
Which web browser should I use to access the digital forums?
For the best experience and functionality, preferred browsers are Chrome or Firefox.
Internet Explorer is not recommended, as audio and video chat features are not supported on this browser.
How can I troubleshoot audio and video chat issues?
Please ensure you are using Chrome or Firefox. Audio and video chat are not supported on Internet Explorer.
Make sure your device is current with any operating system or software updates.
Exit other applications that might be using bandwidth, such as Skype.
If you're unable to close a chat session, please quit the conversation and refresh your browser.
Whom should I contact for tech support?
For technical assistance during the event, please contact LSAC21@getvfairs.io or stop by the Event Information Booth.
If you have a general question, please email events@LSAC.org. A member of the team will get back to you as soon as possible.