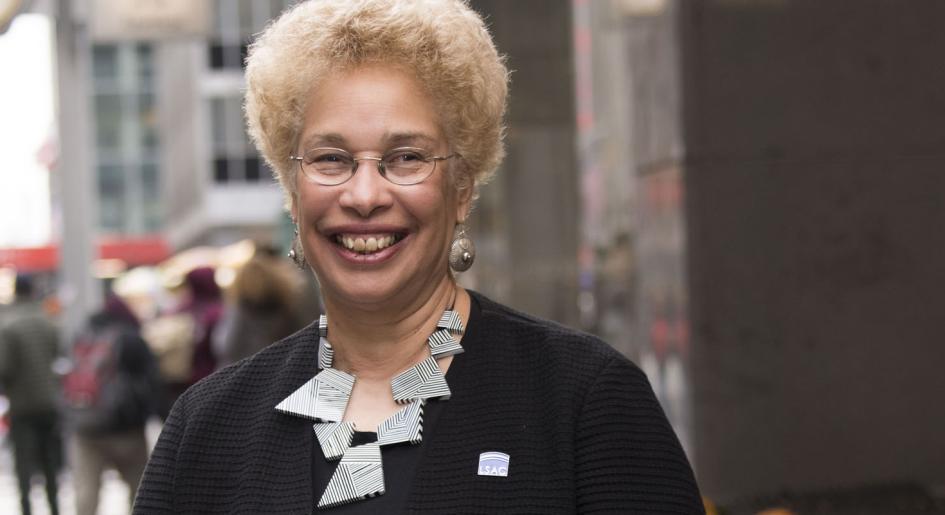 AALS Section on Women in Legal Education to honor Camille deJorna with Ruth Bader Ginsburg Lifetime Achievement Award
October 1, 2021
The Association of American Law Schools (AALS) Section on Women in Legal Education will honor Camille deJorna, deputy for legal and global higher education at Law School Admission Council (LSAC), as the recipient of the 2022 Ruth Bader Ginsburg Lifetime Achievement Award. The honor will be presented at the section's award ceremony at the 2022 AALS Annual Meeting on January 6.
"I am honored and humbled by this recognition," said deJorna. "My work reflects the passion and dedication of many who came before me and who influenced the arc of my life. I'm so very pleased that this commitment toward making legal education more inclusive from pipeline through practice is being acknowledged by an award named after Ruth Bader Ginsburg – a champion among champions for diversity, equity, inclusion, and justice for all. She's always been my 'shero.'"
Before joining LSAC, deJorna was associate deputy managing director of the American Bar Association Section of Legal Education and Admissions to the Bar. She previously oversaw admission and student affairs offices at Columbia University School of Law, Hofstra University—Maurice A. Deane School of Law, and the University of Iowa College of Law. She served as a member of LSAC's Board of Trustees and as chair of its Minority Affairs (now Diversity) Committee. During that time, she developed a pipeline program model now known as the Prelaw Undergraduate Scholars (PLUS) Program. In 2017, deJorna was honored with the Legacy in the Law Award by the Black Women Lawyers Association of Greater Chicago. She earned a bachelor's degree from Sarah Lawrence College and a JD from New York University School of Law, where she was named Root-Tilden Scholar.
"Creating a diverse and inclusive legal profession and legal academy requires persistence, fortitude, creativity, and unwavering commitment," said Susan Bisom-Rapp, professor at California Western School of Law and chair of the AALS Section on Women in Legal Education. "Camille deJorna's leadership and exemplary career is a case study in how to effect lasting, positive change."
"Camille's lifetime contributions are fitting of the Ruth Bader Ginsburg Lifetime Achievement award," said Kellye Y. Testy, president and chief executive officer of LSAC. "She has been a leader at several institutions and is a global ambassador for US legal education. A mentor of generations of students, faculty, and deans, Camille's commitment to equity in legal education began as a student as one of the only women of color in her class. She has opened doors ever since."
The award was first established
in 2012 to honor the legacy of Ruth Bader Ginsburg and individuals with a distinguished career of teaching, service, and scholarship of at least 20 years. The award selection committee looks for potential awardees who have impacted women, the legal community, the academy, and the issues that affect women through mentoring, writing, speaking, activism, and by providing opportunities to others.
Prior recipients
of the award include Kimberlé Crenshaw (Columbia Law School/UCLA School of Law), Robin West (Georgetown University Law Center), Phoebe Haddon (Rutgers University-Camden), Tamar Frankel (Boston University School of Law), Martha Albertson Fineman (Emory University School of Law), Marina Angel (Temple University, James E. Beasley School of Law), Herma Hill Kay (University of California, Berkeley School of Law), Catharine MacKinnon (University of Michigan Law School), and the award's namesake, US Supreme Court Justice Ruth Bader Ginsburg.