The path to law school is a dynamic one, and LSAC is here to help you navigate your journey. Join us for a series of candidate webinars designed to keep you informed, with topics ranging from mental health to LSAT prep, LSAC services, and more. This webinar series provides answers to your questions to give you the confidence you need as you begin your journey to law school.
Upcoming Programs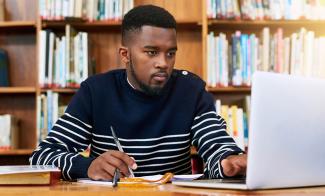 Admission Unmasked
June 20 through July 29, 2022
Are you interested in law school or a career in law but not sure where to begin? Admission Unmasked will provide the insights you need to strategically and effectively navigate the law school admission process. You'll gain an understanding of the important application components, how you can better position yourself as an applicant, and how to make more informed choices about where to apply, along with what a law degree could mean for your career. You will also have a chance to learn how to write an effective personal statement that you can use in your applications. Admission Unmasked will leave you excited and confident to begin your journey.
Who should attend: Anyone interested in law school or the legal profession.
Admission Unmasked is free to all LSAC LawHub members.
2021 Episodes
December 1, 2021
We examine mental health challenges faced by candidates, such as test-taking anxiety, waiting for admission decisions, and other scenarios.
October 20, 2021
Candidates get answers to their questions about law school, directly from some of the nation's most esteemed law school deans.
September 22, 2021
The LSAC Law School Forums and other recruitment events take center stage, with experts sharing tips for navigating these events.
July 21, 2021
We share LSAT protocols and requirements, common pitfalls to avoid, and more information to take some of the jitters out of test day.
June 23, 2021
We explore the resources available through Khan Academy Official LSAT Prep, which gives you what you need to be confident when you test.
March 24, 2021
Conducting yourself professionally in your interactions with admission professionals can make a big difference during the application process.
February 24, 2021
The LSAT is an integral part of the application process, but it's only one component of a school's holistic approach to law school admission.
2020 Episodes
December 10, 2020
LSAC President and CEO Kellye Testy moderates a discussion of the many paths that can lead to a fulfilling legal career.
April 29, 2020
Law school deans and admission leaders provide an update on the evolving COVID-19 situation and answer questions from candidates.
April 15, 2020
We discuss the new LSAT-Flex, the steps LSAC and law schools are taking during COVID-19, and answers to candidate questions.
April 8, 2020
COVID-19's effects on law school admission are a hot topic, with this webinar sharing how schools are helping candidates through the crisis.
March 27, 2020
The difficulties posed by COVID-19 are the focus of this webinar, with experts answering as many questions as possible from attendees.
Questions?
Every LSAC LawHub webinar ends with a live Q&A. Bring your questions, and get ready to take the next step on your legal education journey.
If you would like to submit your questions in advance, please email LawHubEvents@LSAC.org.