LSAC is dedicated to supporting institutions and their students from prelaw through practice. Through LSAT and admission data, insights on trends in legal education, programming to ensure all individuals have access to a legal education, and more, LSAC is committed to supporting undergraduate institutions and law schools as they work to educate future legal professionals.
Innovation Spotlight
As an innovator in legal education, LSAC is constantly developing new programs and initiatives to transform the legal education space.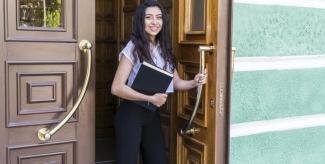 Introducing LawReady™
LawReady, a bold new initiative in undergraduate education, is designed to offer a holistic pathway to law school. The program is designed to help undergraduate students develop the skills necessary for success in law school, navigate the admission process, and build a supportive network — all as part of their regular undergraduate experience.
While studies consistently show that the LSAT is the single best predictor of law school success across all demographic groups, LawReady will provide an additional pathway to law school that meets students earlier in their academic careers, resulting in a broader and increasingly diverse pipeline of aspiring legal professionals.
Made up of three pillars — academics, navigation, and engagement — LawReady cares for the many facets of understanding, and being ready for, careers in law and justice.