The path to law school is a dynamic one, and LawHub™ is here to help you navigate your journey. Join us for a series of live, online events designed to keep you informed, with topics ranging from mental health to LSAT prep, LSAC and LawHub services, and more. This series will give you the answers and confidence you need as you begin your journey to law school.
If this is your first time joining us for a virtual event, please create and sign into a free LawHub account. Your LawHub account will also give you access to many more free resources that will help you prepare for what's ahead, no matter where you are in your prelaw journey.
Upcoming Events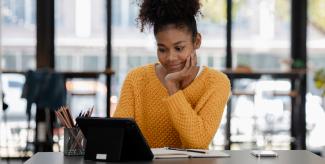 The Mentor-Mentee Connection
Thursday, October 26, 2 p.m. to 3 p.m. ET
Explore the transformative power of mentorship within the context of law school and being a lawyer. Discover how mentorship can shape your future with valuable guidance, support, and insights. Our panel of experienced mentors and successful mentees will share their stories, strategies, and best practices for cultivating meaningful mentor-mentee relationships in the challenging world of law school and beyond.
Who Should Attend: Whether you're in law school or applying to law school and seeking guidance, this webinar will offer valuable perspectives on fostering success, personal growth, and professional development through mentorship in the legal field.
2021 Episodes
December 1, 2021
We examine mental health challenges faced by candidates, such as test-taking anxiety, waiting for admission decisions, and other scenarios.
October 20, 2021
Candidates get answers to their questions about law school, directly from some of the nation's most esteemed law school deans.
September 22, 2021
The LSAC Law School Forums and other recruitment events take center stage, with experts sharing tips for navigating these events.
July 21, 2021
We share LSAT protocols and requirements, common pitfalls to avoid, and more information to take some of the jitters out of test day.
June 23, 2021
We explore the resources available through Khan Academy Official LSAT Prep, which gives you what you need to be confident when you test.
March 24, 2021
Conducting yourself professionally in your interactions with admission professionals can make a big difference during the application process.
February 24, 2021
The LSAT is an integral part of the application process, but it's only one component of a school's holistic approach to law school admission.
2020 Episodes
December 10, 2020
LSAC President and CEO Kellye Testy moderates a discussion of the many paths that can lead to a fulfilling legal career.
April 29, 2020
Law school deans and admission leaders provide an update on the evolving COVID-19 situation and answer questions from candidates.
April 15, 2020
We discuss the new LSAT-Flex, the steps LSAC and law schools are taking during COVID-19, and answers to candidate questions.
April 8, 2020
COVID-19's effects on law school admission are a hot topic, with this webinar sharing how schools are helping candidates through the crisis.
March 27, 2020
The difficulties posed by COVID-19 are the focus of this webinar, with experts answering as many questions as possible from attendees.
Questions?
Every LawHub™ webinar ends with a live Q&A. Bring your questions, and get ready to take the next step on your legal education journey.
If you would like to submit your questions in advance, please email LawHubEvents@LSAC.org.