LSAC's mission is to support students from prelaw through practice while advancing equity in the profession. A large part of upholding that mission is supporting law schools as they recruit and educate future legal professionals, and LSAC offers numerous resources to help law schools meet their institutional goals, diversify the legal education pipeline, recruit job candidates, and more. Log into your member law school account for access to even more resources from LSAC.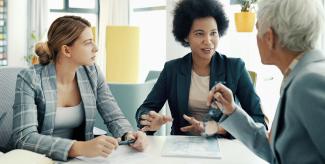 Legal Education Consulting
With a decades-long history of successfully working with its member schools, LSAC understands your mission and wants to support your success. We offer a suite of individually tailored services designed to help your school meet its institutional goals. Contact us at LEC@LSAC.org to schedule a no-cost consultative discussion on how we can work together to achieve your goals.