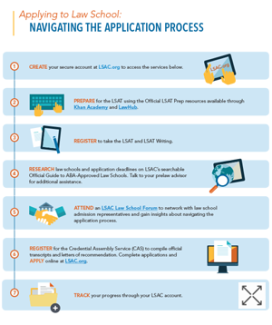 You've decided to pursue a JD degree — that's great! The resources on this site, including your LSAC.org account, will ease you through the application process from start to finish. Just remember to be organized, allow enough time to meet deadlines, and be open-minded — you may discover that the best law school for you is one you haven't thought of!
Steps to Apply for a JD Degree
The steps in the JD application process may vary a bit for each individual and for each law school, but our application checklist will help you stay on track.
Apply to Multiple Schools Quickly
LSAC's Credential Assembly Service (CAS) saves you time and work: Have your transcripts and letters of recommendation sent to LSAC one time, and we package everything for the schools you apply to. We even send updates to your schools as you add items.
Help Law Schools Find You
LSAC's optional Candidate Referral Service (CRS) helps match up students with particular interests with schools that offer what the student is looking for. Whether you have specific location preferences, program interests, or other needs, register for CRS. You can sign up through your LSAC.org account.
Application Requirements
Individual law schools have specific application requirements. Make sure you know what your schools want so that you can apply efficiently.
Apply Now with LSAC
Applications to the schools of your choice are available in your LSAC account.