Update on the 2023 Admission Cycle
Once again, as we release scores from the November LSAT today, I'm pleased to provide an update on what we're seeing so far in the 2023 admission cycle.
At this point in the cycle, we typically have slightly more than one-third of the eventual number of applicants and applications that we will see. We're still relatively early in the cycle, and we know from experience that we can't accurately predict what things will look like several months from now, let alone at the end of the cycle. 
With that caveat in mind, here are some current trends.
We continue to see applicant volumes lower than 2021 and 2022, but significantly higher than 2019 and 2020. The gap between this year's applicant volume and last year's has narrowed considerably over the past month. Right now, the number of 2023 applicants is about 6% below the number of 2022 applicants at this time; a month ago, that year-over-year gap was 14%. That's not surprising, as last year started with a bang (due to applicants who had opted out of the superheated 2021 cycle) and then slowed somewhat. And of course, we typically see a number of mini-surges and slowdowns, depending on the test administration and score release schedule. 
Overall, the volumes are consistent with the average of the last five years. The November LSAT administration was the largest of the four administrations so far this cycle (about 20,400 test takers), so we will likely see another uptick in volumes as the November score release translates into more applicants and applications in the weeks ahead. 
Overall, we delivered very slightly more tests in the four fall 2022 administrations than we did in the three fall 2021 administrations – just over 70,000 tests in each year.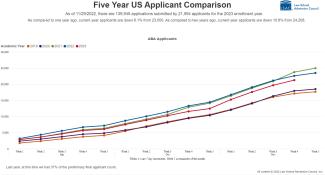 Like applicant volumes, 2023 application volumes are lower than 2021 and 2022, and significantly higher than 2019 and 2020. As of November 29, there are 139,945 applications reported, down 7% from last year and down 10% from 2021. A month ago, applications were 16% lower than a year earlier, so you can see how the gap is closing. Compared to this point in 2019 and 2020, current application numbers are up by nearly 40%.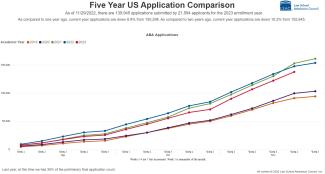 The proportion of applicants of color has increased over the past several months and is now very much in line with or slightly ahead of the past five years; currently, about 38% of this year's applicants identify as a person of color. The proportions of female applicants and gender-diverse applicants continue to be larger than any of the past five years; currently, about 56% of this year's applicants identify as women, and over 1% identify as gender diverse. We will continue to monitor the diversity trends closely in the weeks and months ahead.
There are several other important data points that are worth noting at this relatively early stage of the cycle. As of November 29, we have about 1,500 fewer first-time test takers for the fall 2022 LSATs than we had at this time last year for the fall 2021 LSATs. That's about a 4% decrease in first-time test takers. Similarly, there have been about 1,800 fewer CAS accounts created between July 1 and November 30 than were created during the same period last year, about a 6% decline.
As for the January LSAT, registration closes tomorrow night, and we anticipate that we will have well over 20,000 registrants at the registration deadline. We will of course see some erosion by the date of the test, but right now the January test numbers look healthy.
As always, LSAC continues our digital engagement campaigns to help build interest in legal education and bolster the pool of prospective law school applicants. These include digital campaigns and other outreach efforts specifically designed to attract prospective students from communities that are underrepresented in the legal profession.
Beyond our digital outreach efforts to expand and diversify the pipeline of prospective students, we continue to see solid engagement with our LSAC Law School Forums. We have had more than 8,400 attendees at our forums so far this year, and we have one more digital forum scheduled for February. 
We will continue to do everything we can to help build the pool of candidates. As always, we refresh the current volume data on our website on a daily basis.
We will continue to provide periodic updates as the 2023 admission cycle progresses.