The information on this page was provided by the law school.

Official Guide to Canadian JD Programs
Admissions Office, 128 Law Centre, Edmonton, AB T6G 2H5, Canada

Visit School Website

---
Introduction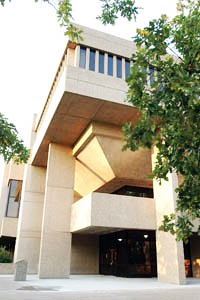 Outstanding Faculty – Transformative Experiences – Inspired Graduates
The University of Alberta (U of A) is one of Canada's largest research-intensive universities. The university serves more than 38,200 students in more than 200 undergraduate programs and 170 graduate programs.
The university comprises five campuses (North-Main Campus, Augustana Campus, Campus Saint-Jean, South Campus, and Downtown-Enterprise Square).
North Campus, which houses the Law Centre, is located on the banks of the North Saskatchewan River in vibrant Edmonton, Alberta, Canada—a thriving and diverse city with a population of nearly one million. Edmonton was recently recognized as a cultural capital in Canada.
Here you will enjoy an outstanding arts scene, world-class sporting events, a wide range of recreational activities, and great international cuisine. Edmonton is also close to the magnificent Rocky Mountains—a perfect venue for skiing, camping, and hiking.
The Faculty of Law continues a 100-year tradition of excellence, which includes:
a collegial environment and student-focused support systems that facilitate student success
faculty members who are leading legal scholars and exceptional teachers
a strong foundational legal curriculum, leading to a highly valued credential
As a U of A graduate, you will join a community of law graduates who are represented in every Canadian province and territory and around the world, from London to New York, Hong Kong, and Tokyo.
Our alumni include the Chief Justice of Canada; the Chief Justice of Alberta; the Chief Justice of the Court of Queen's Bench of Alberta; distinguished scholars with academic positions at faculties of law in Canada, the United Kingdom, and Australia (to name a few); respected lawyers in private practice and public service; political leaders; and leaders in business and the community.
Enrollment/Student Body
1,061 applicants
160 enrolled first-year class 2017
525 total full time
Library
390,000 volumes and equivalents
Hours: Mon.–Thurs., 8:00

a.m.

–9:00

p.m.

; Fri., 8:00

a.m.

–6:00

p.m.

; Sat.–Sun., 11:00

a.m.

–6:00

p.m.

LexisNexis, Westlaw Canada, QL, SOQUIJ, Dialog, and CLO
Seats: 496
The John A. Weir Memorial Law Library's collection of electronic and hard-copy resources is considered one of the best in Canada; this attracts strong faculty and makes for a great law school. Our acquisitions budget—Canada's highest—ensures that our students stay current on important legal developments.
The Law Centre
The Law Centre has comfortable classrooms, a state-of-the-art moot courtroom, a computer lab, wireless Internet service, student lounges and services, and a coffee shop. In 2008, a new one-stop Student Services Centre opened, together with more classrooms, increased research space, and a second moot courtroom. The Law Centre is connected by pedways to buildings housing the Fine Arts faculty, a student shopping and residence mall, and Rutherford Library, as well as many other university buildings.
Research
Our faculty members are outstanding educators and scholars who have authored nationally recognized textbooks and publications that influence the policy, practice, and understanding of law nationally and internationally. Our faculty members value an open-door policy and are available for support and advice. They are also active participants in many student activities, such as Law Show and Cuts for the Cure.
The Faculty of Law houses three centres and research institutes, which offer many unique opportunities for our students:
The Alberta Law Reform Institute is an internationally respected law reform agency. It focuses on law within provincial jurisdiction and develops reform proposals through specific projects.
The Centre for Constitutional Studies encourages and facilitates the interdisciplinary study of constitutional matters, both nationally and internationally. The centre's activities include a public education program consisting of lectures, conferences, and publications. The centre's website contains a great deal of current information relevant to constitutional issues.
Health Law Institute (HLI)—The goals of the HLI are to conduct health law and science policy research, disseminate scholarly outputs and policy work to a broad interdisciplinary community, facilitate collaborative opportunities with national and internationally based researchers and organizations, and attract top graduate students to the Faculty.
Curriculum
Strong, foundational legal preparation
92 credits required to graduate
80–85 courses available
Degrees available—JD, MBA/JD, LLM (course and thesis), PhD
Enhanced use of technology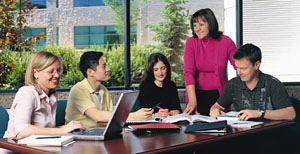 Our curriculum is highly regarded for providing students with a strong foundation in the study of law. Through our targeted program of required courses, you will be well prepared for a variety of career paths. Our program also provides a wide range of options that will allow you to customize your studies as well as pursue your unique interests. Students may obtain credits by participating in moot court competitions or by working on the Alberta Law Review. The end result is a degree that opens doors.
Required first-year courses: Contracts, Criminal Law, Torts, Constitutional Law, Property Law, Foundations, and Legal Research and Writing, which includes legal research, writing assignments, and a moot court exercise.
Required upper-year courses: Administrative Law, Corporations, Evidence, Civil Procedure, Professional Responsibility, and either Jurisprudence or Legal History.
The Faculty is a leader in the use of technology in the classroom. From smart classrooms to the option of writing exams on computers, we take full advantage of available technological resources.
Admission
Bachelor's degree or at least the first three years (90 credit hours) of a program leading to a degree from an institution recognized by the University of Alberta
Application deadline—December 1; supporting document deadline—February 1
LSAT required
Multiple LSAT scores averaged
Oldest LSAT score accepted—June 2013
Median GPA—3.8
Median LSAT score—161
Application fee—$125 for new applicants and $75 for readmission
The Admission Committee looks for outstanding academic ability, a competitive LSAT score, and skill in written and oral communication. All applicants will be reviewed using a combination of the LSAT score and grade-point average (GPA). The GPA will be based on a minimum of 60 credits, completed during the applicant's most recent years of academic study.
Please visit our website for information concerning admission. No applications will be received or processed after the November 1 deadline. All applicants must write the LSAT. The January test date is the last LSAT that can be written by applicants seeking admission for the following September.
Housing
There are many on-campus housing options available to students. The University of Alberta offers students 14 residence communities—each providing a unique experience. Visit the Residence Services website for more information.
Student Life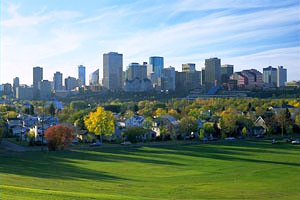 Student life at the University of Alberta Faculty of Law offers many opportunities to become involved. This, combined with a climate of cooperation, collegiality, and community spirit, results in an environment that is both personally and academically rewarding. Below are some examples of how you can get involved:
The Law Students' Association (LSA) is a representative body of undergraduate students from the Faculty of Law. The LSA Executive is elected from the law student body and is responsible for many things—from organizing sporting, social, and charitable events to taking student concerns to the Faculty administration.
The Alberta Law Review is a scholarly legal journal, published four times a year by upper-year law students in consultation with faculty members. Students can receive academic credit for their service on the editorial board.
Student Legal Services is a nonprofit, charitable organization of approximately 300 volunteer law students that provides year-round, free legal services to those individuals who are unable to afford a lawyer.
The Canons of Construction newspaper is published by the Faculty of Law students. Its mandate is to inform and entertain the university legal community.
Other opportunities exist with Law Show, the Aboriginal Law Students' Association, the Environmental Law Students Association, and team sports.
Expenses and Financial Aid
Approximate full-time tuition and fees per year—$13,423.80. Please visit the Office of the Registrar's website for more information.
Estimated additional expenses—$1,500 (books and course materials)
In 2017–2018, more than $1.2 million was dispensed to students through our program of prizes, awards, scholarships, and bursaries.
Career Development Office
The Career Development Office supports students in their search for articling and summer legal positions. The office acts as a liaison between firms and students by gathering information on the firms and their employment positions, and providing this information to students on both a secure website and in hard copy, which can be accessed in the Resource Room.
One-on-one sessions are available to assist with career-related questions, application packages, and interviewing skills. The office also organizes many seminars throughout the academic year on topics such as articling, clerking with the various courts, application packages, interviewing skills, opportunities outside the larger centres, business etiquette, the Canadian Centre for Professional Legal Education (CPLED) course, and nontraditional career paths.
Mock interviews with firm members are organized to provide students with a practice interview and the opportunity to receive feedback on their application and interview from those who are involved in the actual firm recruitment process. Career Day, Public Law Day, and Small Firm Career Day provide another forum for students and prospective employers to meet.
Students also have the unique opportunity to see what it is like to be a lawyer for a day in our organized job-shadowing program. Current students have expressed this as being most helpful in making their career decisions.
Applicant Profile
University of Alberta
First-Year Class 2017–2018
 
Grade-Point Average (GPA) 4.0 Scale
LSAT Score from 152 to 174
 
151–
152
153–
154
155–
156
157–
158
159–
160
161–
162
163–
164
165–
166
167–
169
170–
173
Total
4.0
1
2
1
7
6
1
1
 
1
2
22
3.9
1
6
9
6
5
3
4
4
4
 
42
3.8
 
2
5
8
8
6
1
 
 
 
30
3.7
 
 
2
10
8
4
6
 
2
1
33
3.6
 
 
 
3
6
3
1
2
 
1
16
3.5
 
 
 
 
2
4
2
1
1
 
10
3.4
 
 
 
 
 
 
2
 
2
 
4
3.3
 
 
 
 
 
 
 
 
3
 
3
Total
2
10
17
34
35
21
17
7
13
4
160
The above chart applies to regular applicants only and does not include those whose admission was based on a holistic review by the Admission Committee. If you have any questions, please contact us at law.admissions@ualberta.ca, 780.492.3067, or visit www.law.ualberta.ca.
NOTE: The four-point GPA is based on University of Alberta's grading scale.
Average LSAT = 160
Average GPA = 3.8
For general questions regarding the University of Alberta or the Faculty of Law, please feel free to contact Student Services at law.studentservices@ualberta.ca.