University of Manitoba Faculty of Law
The information on this page was provided by the law school.

Official Guide to Canadian JD Programs
---
Introduction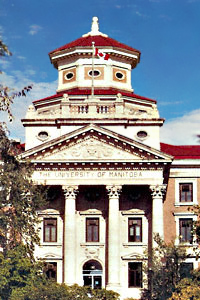 The University of Manitoba has been involved in legal education since 1885. The Faculty's undergraduate program provides a standard curriculum.
The Faculty is located on the main campus of the university, which is situated on the banks of the Red River in a suburb of Winnipeg, a city of approximately 727,500 persons in the centre of Canada. It boasts a rich cultural life, being home, for example, to the Royal Winnipeg Ballet and the Canadian Museum for Human Rights. The university has approximately 29,929 full-time students and 18 faculties and schools, many with extensive graduate programs and full recreational and other facilities.
Enrollment/Student Body
600–800 applicants
107 registered first-year class 2017–2018
52 percent women
Several provinces represented
The size of the student body is small enough that it is easy to become acquainted with most of the students and, over the three-year period, to develop lasting friendships with many of those in one's own year. Approximately 80 percent of the students are residents of Manitoba, with the balance coming from other provinces, mostly British Columbia, Alberta, and Ontario.
Faculty
67 total
27 full time
40 sessional (part time and clinical)
13 full-time women
Library and Physical Facilities
282,000 volumes and equivalents
Westlaw, Quicklaw, and Westlaw Canada
1 full-time librarian, plus 7 other full-time staff
Wireless network
Curriculum
92 credit hours required to graduate
Degrees available—JD, LLM
Approximately one-half of the program is elective courses. Graduating students will have completed a balance of compulsory, elective and experience-based courses. Our program emphasizes clinical courses in second and third year. The teaching year is September to April, with a five-day fall term break, a two-week break in December, and a one-week break in February.
Opportunities
The Faculty's excellent litigation program is supplemented by the opportunity for some students to participate in local, regional, national, and international moot court competitions. Our students' record of success is outstanding.
Legal Aid Manitoba operates a law clinic at the Faculty that allows students to practise law under the supervision of an experienced lawyer. Students participate in all phases of a case from the initial client interview, right through to the trial. The cases involve a wide variety of legal problems. There is also a Small Business Law Clinic, and students can participate in Pro Bono Students Canada. The Faculty also has a special Legal History Project and a Legal Research Institute.
Admission
Minimum of 60 credit hours (20 one-term courses) of university degree-level courses, toward a university degree
Application deadline—December 1
LSAT required
Highest LSAT score used
Oldest LSAT score accepted—June 2014
Median GPA—3.92
Median LSAT score—161
Application fee—$100; Visa students—$120
Last term considered is fall in the year of application
Last LSAT considered is January for Index Score (Regular) Category and November for Individual Consideration and Canadian Indigenous
Three categories of admission to first year are offered:
Index Score Category (regular): Eighty percent of the first-year class is admitted through this category. The last LSAT considered is January in the year of admission. The last term included in the adjusted grade-point average (AGPA) is fall in the year of application. Application assessment is a 50/50 weighing of AGPA and LSAT score using this formula:


Individual Consideration Category: Last LSAT accepted is November in the year of application. Coursework needs to be completed by September 1 in the year of application. Application assessment is AGPA and LSAT score, three recommendation letters, personal statement, and résumé. To be eligible for an offer, applicants must be selected for an interview.
Canadian Indigenous Category: Last LSAT accepted is November in the year of application. Last term included in the AGPA fall in the year of application. Application assessment is AGPA and LSAT score, three recommendation letters, personal statement, and résumé.
GPA Calculation: All graded university degree-level credit hours are used. This includes courses completed outside a degree as well as graduate level. The calculation is adjusted (if applicable) based on the table below:
| Number of Credit Hours Completed | Number of Lowest Credit Hours Dropped |
| --- | --- |
| 90 to 101 | 18 |
| 102 to 113 | 24 |
| 114 or more | 30 |
Please visit our website for complete details.
Student Activities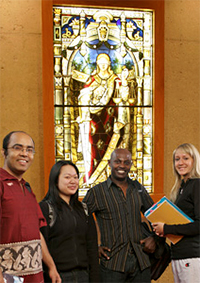 The Faculty publishes both the Manitoba Law Journal and the Canadian Journal for Human Rights, managed by a student editorial board with the assistance of faculty advisors. Credit can be given for editorial work. The Manitoba Law Students Association (MLSA) has many committees and activities. There is also an Association of Indigenous Students.
Expenses and Financial Aid
2018–2019
Tuition and fees—full time, approximately $12,500; half time, approximately $6,250
Estimated additional expenses—$1,000 for books, supplies, photocopying, etc.
Entrance scholarships and bursaries available
Financial aid available—Provincial Government Aid and Canada Student Loans
For student housing information, see Student Residences.
Career Development Office
The Career Development Office is dedicated to alerting students to upcoming national events and to providing job postings for articling, summer, and clerkship positions. In addition, we maintain postings for international and volunteer opportunities.
Through our Career Development Office, we offer workshops, seminars, and individualized consultations where students can discuss their career goals and obtain guidance on how to achieve them. We provide one-on-one résumé and cover letter review, as well as offer mock interviews. In addition, we hold a career fair, which allows students to network with local and national firms as well as various government agencies in a casual setting.
As an additional service for students interested in pursuing careers outside Manitoba, we host on-campus interviews (OCI's) for out-of-province firms. Information on clerkships and international exchanges are also available.
Applicant Profile
The grid below shows AGPA/LSAT combinations in which offers were made to Index Score applicants only.
Applicant Group Applying for the 2017–2018 Academic Year
Adjusted Grade-Point Average (AGPA)
Law School Admission Test (LSAT) Score
Total Offers
151–154
155–159
160–164
165–169
170–180
apps
offers
apps
offers
apps
offers
apps
offers
apps
offers
4.00–4.50
32
8
63
61
35
35
5
5
3
3
112
3.75–3.99
45
0
52
31
46
46
6
6
0
0
83
3.50–3.74
38
0
35
3
26
20
10
8
1
1
32
3.25–3.49
20
0
9
0
9
3
6
4
1
1
8
2.00–3.24
29
0
5
0
5
0
2
1
1
1
2
The figures in the above grid reflect decisions as of September 7, 2017. The figures do not include offers made solely in the Individual Consideration and/or Canadian Indigenous Categories.
Total Number of Applications
Index Category
494
Individual Consideration
150
Canadian Indigenous Category
21
Total Applications
665