The information on this page was provided by the law school.

Official Guide to Canadian JD Programs
PO Box 44271, Fredericton, NB E3B 6C2, Canada

Visit School Website

---
Introduction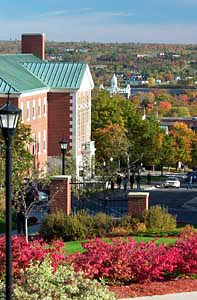 Opened on October 8, 1892, the University of New Brunswick Faculty of Law (UNB Law) is the second oldest university-based common-law faculty in the commonwealth. The university itself traces its origins to a royal charter granted in 1785. In addition to law, the university offers a wide range of graduate and undergraduate programs. The total full-time student enrollment on the Fredericton campus is approximately 11,000.
UNB Law is located in Ludlow Hall, which is situated on one of the most attractive university campuses in Canada. A small and diverse student body provides a unique opportunity to obtain a personalized legal education as part of a friendly, close-knit community. The city of Fredericton, with a City Centre population of approximately 56,000, is situated on the banks of the beautiful St. John River. As the provincial capital, it boasts art galleries, theatre, clubs, "The Green," and the W.W. Boyce Farmers' Market, and is surrounded by an extensive system of trails for walking and biking.
Enrollment/Student Body
700 applicants
92 enrolled first-year class
265 total full time
11 provinces represented
Faculty
16 full time
20 part time
Library/Physical Facilities
160,000 library volumes and equivalents
Hours: Mon.–Thurs., 8:00

a.m.

–11:00

p.m.

; Fri., 8:00

a.m.

–4:30

p.m.

; Sat., 9:00

a.m.

–6:00

p.m.

; Sun.,

noon

–11:00

p.m.

: extended hours during exams
Access to a wide array of electronic legal resources, including Quicklaw/LexisNexis, Westlaw Canada, IntelliConnect Maritime Law Book, HeinOnline, and numerous other legal resources
Convenient access to the print and electronic resources of other UNB libraries, which support a variety of graduate and professional degrees
3 full-time librarians
4.5 FTE support staff
165 seats
85 individual study carrels, most with convenient electrical outlets
6 conference rooms
Multimedia instructional room (seats 25)
Computer lab with 10 workstations and printer; a scanner is also available
10 additional computers in library, including 4 loaner laptops (1 equipped for students with visual and other accessibility needs)
Wireless access throughout library, classrooms, and student lounge
Named in honour of one of the faculty's most distinguished alumni, retired Supreme Court of Canada Justice Gerard V. La Forest, the law library offers excellent facilities and support for study and research.
In 1968, Ludlow Hall was built to house the law school and law library. A substantial addition to the building in 1984 accommodated the library's burgeoning collection and provided for more seating and study space and other facilities. As legal information resources have moved to digital form, the law library has reconfigured the available space to accommodate new information and instruction technologies, and recently completed construction of a multimedia classroom for bibliographic and online instruction.
The La Forest Rare Books Reading Room was built in the law library in 2011, and recognizes the accomplishments of the Honourable Mr. Justice Gerard V. La Forest. It also houses the C. Anne Crocker New Brunswick Legal Heritage Collection.
All of the facilities for the law faculty community are conveniently located in Ludlow Hall, and this contributes significantly to the cohesive sense of community which sets the UNB Faculty of Law apart.
Curriculum
Semesters start in early September
96 credits required to graduate
71 courses available
The faculty offers a full-time, three-year course of study leading to the JD degree. The strong core curriculum, coupled with a varied elective course offering, allows students to both specialize in and experience various perspectives on the law.
As at most law faculties, the first-year curriculum at UNB is entirely prescribed in order to ensure a foundation for study in the upper years. There are seven required courses, and students participate in a moot court in the second semester. The first-year class is sectioned into two groups of about 45 students each.
The curriculum in the upper years is, in part, elective. The prescribed component consists of seven compulsory courses and a writing requirement. In addition, students must take at least one course from each of the three compulsory areas of study. A concurrent MBA/JD degree program is offered in collaboration with the UNB Faculty of Administration. Candidates can receive both degrees in four academic years.
Admission
3 years or equivalent at a recognized university, except for sustained and distinctive nonacademic achievement
Application deadline—March 1, rolling admission, applicants are strongly urged to apply early
120–180 scale LSAT scores required, highest LSAT score used
Median GPA—3.8
Median LSAT score—158
Application fee—$125
Enrollment in the first year of the JD program is limited to approximately 90 students. The use of a regional preference in the selection process recognizes UNB Law's ties to Atlantic Canada. It is not intended to discourage national and international applicants. On the contrary, UNB consciously fosters diversity in its student body. A number of offers are reserved for residents of New Brunswick, Newfoundland and Labrador, and Prince Edward Island. There are three categories of admission to the first year: Regular, Discretionary, and Aboriginal.
Regular applicants are initially selected using an admission index, calculated using the applicant's LSAT score (40 percent) and his or her GPA of all university-recognized courses taken, including post-first-degree work (60 percent). However, because the number of similarly qualified applicants is invariably high, we conduct a supplementary review. As a result of this process, applicants may be reranked taking into consideration additional factors such as postgraduate study, academic honours, and community activities.
Under the Discretionary category, the Admission Committee gives special consideration to applicants who are members of a disadvantaged racial, cultural, linguistic, or socioeconomic group; have a physical or sensory impairment or a learning disability; or show sustained and distinctive achievement in the paid workforce, at home, or in the community.
Under the Aboriginal category, the faculty seeks to further justice by improving access to legal education and the legal profession for indigenous peoples of First Nations, Métis, and Inuit backgrounds; thus enhancing legal services to the First Nations, Métis, and Inuit communities.
Student Activities
Founded in Saint John in 1879, the Law Students' Society (LSS) is the principal student organization at the Faculty of Law. The LSS oversees a multitude of activities, including an orientation program for incoming students, a moot court board, a law bookstore, the Law Ball, and Law Week, and an intensive program of speakers and special events.
For 2016–2017, the Faculty of Law has been a participant in several national and international moot court competitions, including the Jessup, Gale, Laskin, Kawaskimhon, McKelvey Sopinka, and Bowman Tax Moots.
Founded in 1947, the UNB Law Journal is one of the oldest student-run legal publications in Canada and has a circulation of 1,100 copies. The journal is owned and published by the students themselves with a degree of faculty support.
Other student organizations include Aboriginal Law Society, Business Law Society, Criminal Law, Christian Law Students Society, Environmental Law Society, French Law Society, International Law Society, Knocking Out Landmines, Law Games, Legal Rites, OUTlaw, Poverty Law Society, Pro Bono Students Canada, and Women in Law Society.
Expenses and Financial Aid
Scholarships and financial aid are available. Entrance scholarships, totaling approximately $200,000, are awarded based, in part, on financial need as well as academic excellence. Valued at $54,000, the Lord Beaverbrook Scholarship in Law is the faculty's most prestigious scholarship. Up to three entrance scholarships in the amount of $18,000 (renewable for the second and third years) may be awarded.
Other scholarships and bursaries, including those funded by the Law Societies and Law Foundations of New Brunswick, Newfoundland, and Prince Edward Island are also available.