University of Toronto Faculty of Law
The information on this page was provided by the law school.

Official Guide to Canadian JD Programs
---
Important Information for Applicants to Ontario Law Schools
Introduction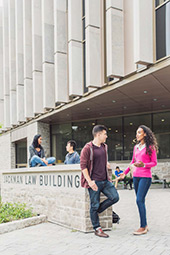 The Faculty of Law at the University of Toronto offers unparalleled opportunities for the study of law. The Faculty is committed to creating a genuine intellectual community in which each of its members—students and professors alike—work closely in developing a deep, critical understanding of the strengths and limitations of law and legal institutions. 
Our students are highly educated, extremely diverse, and deeply committed to justice at home and around the world. Academically, they are the strongest student body in the country and are among the top in North America. Students come to our law school with an extraordinary mix of racial, cultural, and socioeconomic backgrounds and experiences; intellectual interests; and political commitments. 
The relatively small size of our student body, combined with its diversity, affords distinctive opportunities for the exchange of ideas among students and faculty, and fosters a sense of community at the law school.
JD Student Body in 2020–2021
2,204 first-year applicants
221 first-year students
643 total full time
9 half time
11 percent identify as LGBTQ+ or two-spirited
37 percent minority
56 percent women
70 percent were born in Canada
81 percent are first in their family to attend law school
More than 50 undergraduate schools represented
Faculty
65 full time
146 part time or adjunct
8 distinguished visitors
More than 60 full-time faculty members and visiting scholars from across the globe create an intellectually robust and exciting academic environment for the study of law. Internationally renowned for their research excellence, faculty members have published ground-breaking books with major academic publishing houses and leading articles in important national and international journals. 
Our interdisciplinary strength and intellectual diversity is reflected in many ways: in the breadth and innovation of our curriculum, in the range of our collaborative and combined programs, and in the vibrant academic workshops and lecture series held each year. The sheer size of our teaching complement supports a faculty-to-student ratio of 1:11—one of the best among law schools in North America.
JD Academic Program
Degrees, combined degrees, certificates and collaborative programs:
JD Full-time
JD Half‑time
JD/MA (Criminology)
JD/MA (Economics)
JD/MA (English)
JD/MA (European and Russian Affairs)
JD/MBA
JD/MGA (Global Affairs)
JD/MI (Information)
JD/MPP (Public Policy)
JD/MSW (Social Work)
JD/PhD (Criminology)
JD/PhD (Economics)
JD/PhD (Philosophy)
JD/PhD (Political Science)
JD/Certificate in Aboriginal Legal Studies
JD/Certificate in Environmental Studies
JD/Certificate in Sexual Diversity and Gender Studies
JD/Collaborative Program in Jewish Studies
The first-year curriculum includes those courses that are common to many law school curricula:
Constitutional Law
Contracts Law
Criminal Law
Property Law
Torts
Legal Process
Professionalism and Ethics
Legal Research and Writing
Several other features make our first-year program special. Each first-year law student takes one of the core courses in a small-group class of no more than 20 students. UofT also provides students a two week-long intensive course in Legal Methods before core classes begin meeting.
The courses in the second and third years are primarily electives, and are chosen from an extensive curriculum of over 100 courses. Every upper-year student must engage in an oral advocacy competition; take at least one class that focuses on the nature, source, and purpose of legal regulation (a critical perspectives course); take at least one class that focuses on international, comparative, or transnational law, a course on legal ethics, and Administrative Law. While there are no majors or minors, there are many areas of focus to explore for legal career paths.
Experiential Learning & Professional Experience
The Faculty of Law has a number of exciting programs and clinics, including:
Aboriginal Law Program
Centre for Innovation Law and Policy
David Asper Centre for Constitutional Rights
Downtown Legal Services (DLS) - criminal law
DLS - employment law
DLS - family law
DLS - immigration & refugee law
DLS - tenant housing law
DLS - university affairs
International Human Rights Program
Investor Protection Clinic
Pro Bono Students Canada
There are also a variety of international student exchange and work-abroad opportunities available in Asia-Pacific, Europe and the Middle East.
Financial Aid (Canadian currency listed)
The Faculty of Law's tuition fees pay for all the things—world-class faculty, clinical and internship opportunities, combined-degree programs, and career services, to name a few—that allow us to offer one of the best legal educations in the world. In 2020–2021, tuition fees for one year in the full-time JD program was CAD $33,040 for domestic students (Canadian citizens and permanent residents), and CAD $54,320 for international students (study permit/student visa).
We have the highest top-line tuition among Canadian law schools. This is why we also have one of the most generous financial aid programs in Canada for domestic students. In 2019–2020, we distributed over $4.3 million in bursaries and interest loan payments to 82 percent of students who successfully applied to our aid program.
With the law school's financial support, in 2019–2020 our first-year students receiving assistance got an average UofT Law bursary of $12,500. An estimate of the financial aid package can be obtained immediately by using our online Financial Aid Calculator. In addition, we provided more than $100,000 in funding for internships and research assistantships during the summer of 2020.
Students from the USA may use FAFSA funding for studying at the University of Toronto.
Career Services
The University of Toronto's Career Development Office (CDO) is staffed by two full-time advisors who provide extensive consultation and information to assist students in pursuing their individual career goals. The CDO prepares students to successfully secure legal and law-related positions in Canada and elsewhere, and facilitates the on-campus recruitment visits of Canadian and American law firms. 
The CDO offers students a comprehensive program of panels and workshops, individual career counseling, interview coaching, and résumé reviews. For students seeking public interest law careers, the CDO provides a wide array of programs and resources. 
Our graduates enjoy unmatched success in securing summer, articling, and associate placements at law firms throughout Canada and the United States, as well as in industry, public interest, and government, including clerkships at all levels of Canadian courts. The law school's strong academic reputation is well understood by prospective employers, and is reflected in the 98 percent articling placement rate we achieved in 2020. Further details are available at our Career Development Office webpage.
Housing
For first-year law students, there is guaranteed on-campus housing for:
Other housing options include university residences, independent residences, and off-campus flats, apartments, and rooms, all within easy walking or commuting distance of the law school. Information on student housing is available from the University of Toronto Housing Services at 416.978.8045.
Library and Physical Facilities
An extensive online collection of journals, books, case law, and legislation from all the major common law jurisdictions

A core print collection of Canadian and international texts

6 full-time law librarians

Hours: 88 hours per week during the academic year; 100 hours per week at the end of term and during exams

Access to computers, printers, and scanners
The law library staff and collections support teaching, research, and scholarship at the Faculty of Law. In addition to the key public and private law treatises from common law jurisdictions, the collection features specializations in Aboriginal law, international trade, international human rights, law and economics, and legal philosophy. Interdisciplinary research is supplemented by the rich resources of the University of Toronto library system, one of the five largest research library systems in North America.
Our physical location provides an exceptional opportunity for studying law in Canada's largest urban centre, an exciting multicultural city of 2.8 million people with a richness and cultural diversity no other city can match. Nestled in the heart of old Toronto, bordered by the tranquil tree-lined pathways of Philosopher's Walk, the Faculty of Law is just steps away from the provincial legislature, the Ontario Court of Appeal and Superior Courts, and the country's largest legal and financial district. 
The uniqueness of the UT experience extends to its charming heritage buildings and classrooms. Two architecturally beautiful buildings, Flavelle House and Falconer Hall, house the classrooms that make up our law school. The Bora Laskin Law Library, named after one of the faculty's finest scholars and the former Chief Justice of the Supreme Court of Canada (1973–1984), is housed in the award-winning, state-of-the-art Jackman Hall, opened in 2016.
Tours and Admission Information Sessions
View the video tour of the law school video tour of the law school and get your questions answered by our admissions advisors at an in-person or remote admission information session.
Admission Overview for Entry in 2021
Over 2,200 qualified candidates apply each year for the 200 places in the first-year class.
First-year courses begin in mid-late August, while upper-year courses begin in early September.
Our JD admission process is designed to identify exceptional students who will bring a broad and complex set of life experiences to the study of law. We strive to build a diverse and unique community of students who will forge lifelong friendships as they learn with, and from, each other.
Indigenous Persons of Canada and Mature Students
The Faculty has a robust access and academic support program for Indigenous students. It also admits mature students (those with five or more years of non-academic experience). Candidates should refer to the law school website for further information about these categories of admission.
Black Student Application Process (BSAP)
Black candidates are invited to use BSAP when they apply. Regardless of their admission categories (general, mature, indigenous), Black candidates can opt to apply to this stream, which aims to increase Black law student representation at UofT Law.
BSAP applicants will have their personal statements and BSAP essays reviewed by members of the Black community, including our staff, students, faculty and alumni. BSAP applicants must meet the same LSAT and academic requirements for admission that we seek from all candidates. BSAP does not have a designated quota for admission.
Admission Eligibility and Selection
For first-year admission, please note that:
Candidates are expected to possess a minimum three years of full-time undergraduate study (by May of entry year).
The LSAT required, alternate tests are not acceptable.
The acceptable LSAT scores are tests from June 2016 to January 2021, inclusively.
A test of English language proficiency (e.g. TOEFL, IELTS) is not required for JD first-year and transfer applicants. 
Letters of recommendation are not requested, and interviews are not used for admission.
There are no quotas for any applicant type.
International students are given the same consideration as domestic students, and assessed on the same criteria.
We use three sources of information to assess applications.
Law School Admission Test (LSAT) results
postsecondary records of academic achievement
personal essays
The review process is holistic, which means that the Admissions Committee looks at all of these factors together. The committee relies on the essays for information that cannot be conveyed by numbers. Multiple readers assess each file to get a full sense of the unique strengths each applicant will bring to the first-year class.
All applicants to the first year of the JD program must submit a LSAT score and must arrange to write the test no later than the January administration before the August start of the program. A candidate with an excellent academic record, but whose LSAT score is uncompetitive, should consider taking the test again. In cases where the LSAT has been taken more than once, an average is not used, instead, the best LSAT score is used.
We do not have a minimum LSAT score or GPA. The strongest applicants to the 2020-2021 program had LSAT scores starting at 160 and undergraduate GPAs starting at A-. Based on the whole-person approach to admission we encourage candidates to apply.
Application Deadline and Submission
The application deadline is November 1, 2020. 
Apply via the Ontario Law School Application Service (OLSAS) only. 
The Candidate Assembly Service (CAS) cannot be used for applying to the University of Toronto.
We are prepared to consider any requests to submit a late application. Please contact the JD Admissions Office for further information.
The application procedures are described on the JD Admissions website.