American University Washington College of Law
The information on this page was provided by the law school.

Official Guide to LLM, Master's, and Certificate Programs
---
Introduction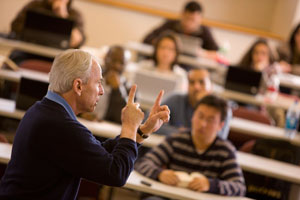 American University Washington College of Law is a dynamic law school at the center of policy, business, and all things international. We are a law school of over 1,500 JD, LLM, and SJD students who "Champion What Matters."
Founded on the principles of humanity, diversity, and equal rights, the law school's students, faculty, and alumni incorporate these values into everything they do within its walls and around the globe. We offer more than 25 specialized programs, including international law, human rights, law and government, intellectual property, business, and gender studies. Our location in Washington, DC, opens up extraordinary internship and employment opportunities within branches of government, international organizations, private and public interest law firms, and nongovernmental organizations. You will be surrounded by a community of students and faculty that encourages and inspires one another.
Physical Facilities
State-of-the-art Tenley Campus
24/7 access to the Pence Law Library
Full range of electronic journals and databases
Reference librarian assistance available from 9:00

am

to 9:00

pm

during the week and from

noon

to 5:00

pm

on the weekends
Free campus-wide wireless network
Jacobs Fitness Center and Reeves Aquatic Center
Campus conveniently located in Washington, DC, in a parklike suburban setting, one block from the Metro
Housing
On-campus housing is not available to graduate students, but many resources regarding area housing are provided to students upon admission through resource guides, discussion boards, and Listserv postings. Due to the metropolitan location of the law school, many housing options are available to all incoming students.
LLM Programs/Areas of Specialization
American University Washington College of Law offers four LLM programs that are 24 credits and generally take one calendar year to complete. The Law School also offers the LLM in International Human Rights and Humanitarian Law, which is a two-year program offered both online and in residence during the summer semesters. The program offers both English and Spanish cohorts.
In addition to the LLM programs mentioned below, the Law School offers an SJD Program for aspiring legal academics and a JD Transfer for LLM and Foreign Lawyers Program. Please visit the websites directly for additional information on these programs.
International Legal Studies
With students from approximately 50 countries, the LLM in International Legal Studies Program (ILSP) is one of the top LLM programs in the United States. Our students learn from leading professors and practitioners, intern with global organizations and law firms, and have the opportunity to work on substantial research and writing projects. The flexible curriculum includes eight areas of specialization in International Law, including
Business Law
Commercial Arbitration
Environmental Law
Gender and the Law
Human Rights Law
Intellectual Property
International Organizations
Trade and Investment
The program also offers innovative dual degrees such as the LLM/MBA degree and the LLM/Master of International Service.
Law and Government
The LLM in Law and Government is designed for both domestic and international law graduates who have a strong interest in US government and politics, the dynamics of democracy, and the meaning of the rule of law. With 15 concentrations/specializations, this LLM program provides students with a competitive edge in fast-changing areas of law, government, and public policy. Areas of specialization include
Administrative Law and Regulatory Practice
Energy Law and Policy
Environmental Law and Policy
Health Law and Policy
Immigration Law and Policy
Labor and Employment Law and Policy
National Security Law and Policy
Civil and Constitutional Rights
Criminal Law
Disability Rights
Gender and the Law
Law, Politics, and Legislation
Business and Financial Regulation
Intellectual Property and Information Policy
Securities Law and Policy
NY and DC Bar Exam Tracks
Individualized Specialization
Advocacy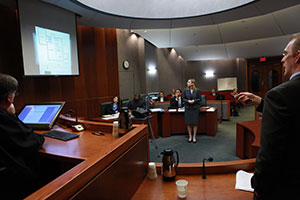 The Advocacy LLM Program is designed for lawyers looking to enhance and advance their legal advocacy skills in and outside the courtroom. LLM candidates learn new litigation strategies and tools, master courtroom technology, and focus on the application of professional ethics in the pretrial and trial settings. The flexible curriculum includes
Challenges and Obligations of a Prosecutor
Civil and Criminal Trial Advocacy
Criminal Defense Externship Seminar
E-discovery
Evidentiary Foundations and Objections
Litigating in the High-Tech Courtroom
Pretrial Civil Litigation
Scientific Evidence and Expert Testimony
Intellectual Property Law
As part of the nationally recognized Program on Information Justice and Intellectual Property, the LLM in Intellectual Property is designed to expose students to the full range of legal and policy problems and conflicts that arise from domestic and international regulation of copyrights, trademarks, and patents. The LLM gives both US and foreign-trained attorneys the opportunity to study with leading faculty in a program that gives due emphasis to the international dimension of the field and its impact on the public interest and technological innovation. The program's wide selection of theoretical and practical courses offers training to enhance careers in public or private practice and academia. The flexible curriculum includes
Patent
Copyright
Trademark
Trade Secrets
Art and Design
Cyber Law
IP and Competition Law
IP Licensing
Media and Communications
International Human Rights and Humanitarian Law/Derechos Humanos y Derecho Humanitario
The LLM in International Human Rights and Humanitarian Law is a unique hybrid program with residential courses taught over three weeks in the summer in Washington, DC, and online courses taught during the academic year. This program is designed for professionals who wish to pursue advanced human rights studies but are not able to attend a yearlong residential program.
The flexible curriculum includes
Economic, Social, and Cultural Rights
Freedom of Expression
Human Rights Advocacy
Human Rights and Development
International Criminal Law
International Humanitarian Law
International Human Rights Regional Systems
United Nations Human Rights System
Women and International Human Rights Law
Este LLM es el único que tambien ofrece un currículo híbrido en derechos humanos en Estados Unidos en español.
Contact Information
For more information, please visit the Office of Graduate Admissions website or contact:
American University Washington College of Law
Office of Graduate Admissions
4300 Nebraska Avenue NW
Washington, DC 20016
Phone: 202.274.4110
Email: llm@wcl.american.edu
Financial Aid
Need- and Merit-Based Scholarships: All five LLM programs offer scholarships. These partial tuition grants are available for a limited number of LLM students. Scholarship applications should be submitted with your LLM application. Scholarships are awarded based on academic merit and financial need.
ILSP Alumni Fund: The LLM in International Legal Studies offers five full-tuition scholarships. The Alumni Fund Scholarships are awarded to newly admitted students who display rigorous academic dedication to the advancement of issues in international law. The deadline to apply is March 1 for the fall award and October 1 for the spring award. Visit the International Legal Studies Program scholarship website for detailed rules and application information on how to apply.
LLM Fellowships in Law and Government, Intellectual Property, and Advocacy: The LLM Fellowship is designed for exceptional students passionately committed to their field of specialization. Successful applicants will have an exemplary academic background and a demonstrated potential to excel in the LLM program. The fellow will enroll in the 24-credit LLM program and will receive a number of benefits, including a partial scholarship.
Summer Program Scholarships: Applicants who have participated in a summer program at our law school may be eligible for specific scholarships. See the scholarships webpage for details.
Student Services and Organizations
The students at American University Washington College of Law come from all over the world. Each year we have approximately 200 lawyers representing approximately 50 countries in the LLM programs. The diverse faculty and student body offer many opportunities for students to thrive academically and socially. Each semester the LLM programs plan many events, discussions, and conferences that allow students to not only socialize, but also network with faculty members and legal professionals in the field. LLM students are eligible to take part in any of the student-run organizations within the law school.
Career Services
The Office of Career and Professional Development (OCPD) at American University Washington College of Law is committed to working with LLM students by helping them formulate dynamic job-search campaigns that correspond to their career interests. OCPD offers both foreign-trained and domestic-trained LLM candidates career counseling along with résumé review, mock interviews, career database access, and career-development programs and events.
Additional Information
American University Washington College of Law offers many short summer programs both in DC and abroad. Programs range from one to six weeks during the first part of summer. Several summer programs, if taken for credit, can be directed toward your LLM degree.
Summer Programs in Washington, DC
Anti-Corruption
Comparative Law (US/Brazil)
Environmental Law
Health Law and Policy
Hospitality and Tourism Law
Human Rights and Humanitarian Law
Intellectual Property
International Arbitration
International Organizational Law and Diplomacy
Judicial Reform in Latin America
Law and Government
Legal English
Litigation Skills
Summer Programs Abroad
Chile/Argentina
Europe: London, Paris, Brussels, Geneva
The Hague
Turkey
Geneva/Washington, DC
For more information, visit summer programs.