Brooklyn Law School
The information on this page was provided by the law school.

Official Guide to LLM, Master's, and Certificate Programs
---
Introduction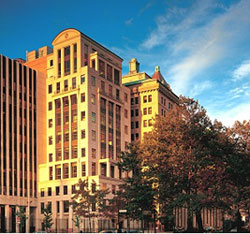 Brooklyn Law School is a vibrant intellectual community that benefits from being in the heart of one of the most robust legal and business communities in the world.  Located adjacent to the beautiful and desirable residential neighborhood of Brooklyn Heights and surrounded by exciting educational, cultural, and entertainment opportunities, Brooklyn Law School truly offers a special place to live, learn, and experience the law.
Our LLM program brings together the most talented lawyers from around the world to learn from a world-class faculty. Brooklyn Law School's 69 full-time faculty members, joined by some 168 adjuncts (including many distinguished judges, practitioners, and corporate counsel) are among the foremost experts in their fields.  LLM students come to Brooklyn Law School to prepare for the New York State bar, specialize their knowledge in US law and get hands-on training in the New York City legal market.
For the 2016–2017 academic year, total law school enrollment was 1,151, including a very select group of LLM students drawn from more than 21 countries.
LLM Program in American Law for Internationally Trained Lawyers
Brooklyn Law School's LLM program in American Law offers lawyers trained abroad the opportunity to study US law and to learn how US lawyers approach specific types of legal issues. The program is also designed to train foreign lawyers in using legal English as it is used in US legal practice. For those focused on preparing for the New York State bar exam, we have a curriculum designed to best prepare you, including a bar preparation course. For those desiring a deeper knowledge in a particular area of US law, we give you the option to specialize. Specializations in Business Law, Intellectual Property, Media and Information Law, Refugee and Immigration Law and International Law are most common.
The LLM degree can be earned in one year of full-time study upon the completion of 24 credits. Part-time study is an option for US citizens, permanent residents, and those in the United States on a visa that allows part-time study. Students begin their studies in early August with Fundamentals of American Law, a mandatory, two-credit introductory course. During the fall semester, students take a three-credit mandatory course on Legal Writing and Research for LLMs. The rest of the courses are selected based on the student's area of specialization or interest and are taken with JD classmates as well.
Four features in particular make the Brooklyn Law School LLM program uniquely equipped to meet the needs of lawyers trained abroad:
New York Bar: Students enrolled in the LLM program who choose to sit for the New York State bar examination receive advanced assistance to help them pass the exam. Students have the option to take a specially designed course with a syllabus focused on the New York State and US law subjects tested. The course also includes bar exam simulations to familiarize students with the exam format and

test-day

expectations.
ESL: For those students who are not native speakers of English, the program places a strong emphasis on helping to develop the skills needed to successfully draft US legal documents by teaming law professors with linguists experienced in English as a Second Language (ESL). Together, these faculty members oversee the instruction in our required Legal Writing and Research for

LLMs

course and provide additional support outside of the classroom for the duration of the LLM program for those students who need it.
Hands-On Training: We offer hands-on, practical experience outside the classroom. All LLM students may enroll in one of our clinics or externships for credit or may join a pro bono project to get real-world experience while helping others. Students may also attend and participate in the many programs sponsored by the Dennis J. Block Center for the Study of International Business Law, participate in one of our 40 student organizations and the events they host, work with our Journal of International Law, and compete with our LLM international commercial arbitration moot court team. In addition, students will have the opportunity to see the state and federal courts in action, which are located within blocks of the Law School.
Housing: We will make your stay in New York easy to navigate by offering housing to all full-time LLM students. As a Brooklyn Law School LLM student, you are guaranteed accommodations in Feil Hall, a contemporary new residence hall located just a few blocks from the Law School with 239 apartments for students and faculty, as long as you meet our May 1 housing application deadline.
Notably, the LLM class size will be capped so that students receive an intimate approach to learning and adequate individualized attention. Full-time tuition and fees for the 2017–2018 academic year are $1,677 (USD) per credit ($40,644 total). Our application is available after August 15 for the following academic year, and the application fee is $70 (USD). Applications may be submitted through July.
Location and Neighborhood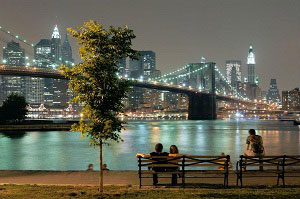 Situated at the junction of the Brooklyn Heights Historic District, the Brooklyn Civic Center, and downtown Brooklyn, our school boasts a location unrivaled for its legal, cultural, and historical character. Within a few blocks of the school are the US District Court; US Bankruptcy Court; US Attorney's Office; the New York State Supreme Court, Appellate Division; Family Court; the Brooklyn District Attorney's Office; the Kings County Surrogate's Court; the New York City Civil and Criminal Courts; the Legal Aid Society; and numerous law firms. These are our laboratories and provide a rich backdrop for learning that few schools can replicate.
Multibillion-dollar construction projects have recast Brooklyn as the new center of New York City's energy. Overlooking New York Harbor and lower Manhattan lies Brooklyn's most charming neighborhood, Brooklyn Heights, where you will find much of our campus. The first New York City neighborhood to be designated a historic district, the Heights is famous for its 19th-century townhouses, brownstone mansions, carriage houses, and churches. Many of our students and faculty live here in our two residence halls or in private apartments and homes located on graceful, tree-lined streets. Nearby neighborhoods—Carroll Gardens, Cobble Hill, Park Slope, Williamsburg, and DUMBO (Down Under the Manhattan Bridge Overpass)—offer a profusion of bistros, boutiques, galleries, and clubs, all contributing to Brooklyn's growing reputation as the hippest part of New York City.
Manhattan—the financial, legal, business, and cultural crossroads of the world—is only minutes away. Our students can take advantage of the exciting theater district, shopping, museums, and restaurants, as well as Manhattan's never-abating intensity. Proximity to Wall Street also gives students easy access to major law firms and financial institutions.
All in all, we enjoy the best conceivable location for a law school.
Physical Facilities
In recent years, BLS has made significant investments in capital improvements to serve the needs of the Law School community now and into the future. We have built an academic facility that provides a magnificent setting for law study. Our state-of-the-art main academic building—with an addition described by the Architectural Guidebook to Brooklyn as "hands down the best building erected in Brooklyn since World War II"—houses a 78,000-square-foot law library, one of the largest and most modern in New York City, with Wi-Fi access to extensive online collections, remote printing capabilities, 25 group study rooms, and seating for nearly 600. Students have five PC/Mac labs hosting nearly 100 workstations. There is wireless Internet connectivity throughout all of our academic and residential buildings, and more than 2,400 other student-accessible wired network connections.
Student Services and Organizations
To facilitate assimilation into our community, special programming is planned throughout the year for our LLM students.  Whether it's a twilight sail around the Statue of Liberty or a networking program to kick-start your job search, we know career building is about relationship building and we will make sure you have every opportunity to do that.  We welcome LLM students to be actively involved in student life, including having an LLM representative to the Student Bar Association who represents the class to the faculty and administration. 
Career Center
Brooklyn Law School's Office of Career and Professional Development offers the highest level of career planning. The highly experienced staff helps students hone their interviewing and networking skills and teaches résumé and cover-letter writing. Our team consists of seven experienced attorneys: four counselors, one dedicated employer relations specialist, one professional development programming manager, and an overseeing director who brings over 25 years of multifaceted experience to the position. With an open-door policy and easy access to help when needed, our aim is to prepare students fully for the real world of legal practice that lies ahead. The school's location in New York City informs and enhances our work.
To help our students make informed decisions about career options, the office draws on many resources, including the Law School's extraordinary community of alumni and supportive faculty, to organize programs and workshops on established and emerging practice areas as well as job-search skills and LLM-specific job search tactics. LLM students will have the benefit of a personal career counselor to help them navigate the legal market. They will also have opportunities to attend all practice area programs and skills workshops offered by Brooklyn Law School.
Alumni
We have a worldwide network of alumni, who, through their successful and loyal support, play an invaluable role in the Law School's reputation. We currently have approximately 22,000 graduates in 49 states and Washington, DC; three US territories and 37 countries—one of the largest alumni families of any law school. Our alumni include many eminent judges (over 400 of them, serving in federal, state, and local courts), partners in many large international law firms, government officials, and business leaders.
Contact Information
For additional information about this program, please visit the LLM Program for Internationally Trained Lawyers website, or contact
Desiree Jaeger-Fine
Director of International Programs
Brooklyn Law School
250 Joralemon Street
Brooklyn NY 11201
USA

Phone: 718.780.0626
Email: desiree.jaegerfine@brooklaw.edu