University of California Hastings College of the Law
The information on this page was provided by the law school.

Official Guide to LLM, Master's, and Certificate Programs
---
Introduction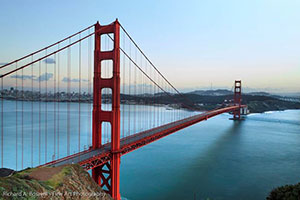 University of California Hastings, located in the heart of San Francisco, California, was established in 1878 as the first law department of the University of California system and remains a top-ranked law school in the United States. For more than 135 years, UC Hastings has educated prominent leaders in the judiciary and the bar, in government and business, and in education.
At UC Hastings we pride ourselves on our comprehensive academic curriculum, and our innovative, hands-on clinical legal education offerings. UC Hastings is also home to several nationally acclaimed legal centers including the Center for Negotiation and Dispute Resolution; Center for Gender and Refugee Studies, and the Center for WorkLife Law. Our cutting-edge programs, such as the Institute for Innovation Law and LexLab allow our students to take advantage of our key location in the center of the technology corridor of San Francisco and Silicon Valley.
UC Hastings is located in the center of San Francisco, one of the most beautiful, vibrant, and innovative cities in the nation. UC Hastings is walking distance to San Francisco City Hall and all levels of the local, state, and federal courts (other than the US Supreme Court). This proximity gives UC Hastings students the opportunity to experience the law in the forums where it is practiced and determined, and provides a level of relevancy to their education that is unparalleled in most law schools.
UC Hastings is also just a short walk from the San Francisco Opera, the Asian Art Museum, Davies Symphony Hall, and the Union Square shopping district. Using the city's extensive public transportation system, students can easily access a variety of San Francisco's most popular tourist attractions, such as Alcatraz, the Golden Gate Bridge, Fisherman's Wharf, Oracle Park (home of the San Francisco Giants (baseball)), and Chase Center (home of the Golden State Warrior (basketball)). Our students are also able to take day trips to beautiful national parks, including Muir Woods National Monument, Point Reyes National Seashore, and Pinnacles National Park.
Law School Enrollment
LLM enrollment: 25-40 (approximate)
JD enrollment: 1,000 (approximate)
LLM Program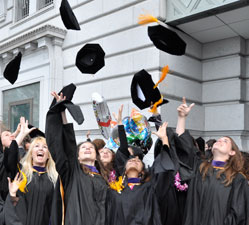 UC Hastings offers a one-year LLM degree program in United States Legal Studies for students who are licensed to practice law and/or have a law degree from outside the United States. LLM students at UC Hastings come from over 40 countries, and have a wide variety of experience both abroad and in the United States. Our LLM class is a close-knit group who find social and academic support within their cohort, while creating lasting friendships with their Juris Doctor (JD) peers.
Our LLM students are fully integrated with all of our law students on campus, and take all but two classes together with our JD students. With over 175 courses offered each year, few other US law schools offer as wide a selection of courses open to LLM and JD students alike, including our hands-on experiential courses and clinics. Our LLM students receive one-on-one academic and career counseling and choose courses based on their personal and professional interests. In addition, our LLM students may also elect to specialize in one of the following eight areas, receiving both an LLM degree and a Certificate of Specialization upon graduation:
Certificates of Specialization
Criminal Law

Dispute Resolution and Legal Process

Environmental Law

Health Law and Policy

International Business and Trade

International Law and Human Rights

Science, Technology, and Intellectual Property

Taxation
Students may also choose to complete a Practice Training Track to develop basic lawyering skills in a field of interest to them, which must include at least one legal clinic of the Start-Up Legal Garage. LLM students can choose to complete both the Practice Training Certificate and another specialization area.
Faculty
At UC Hastings Law, LLM students will have ready access to some of the leading law professors in the United States. Our faculty prides itself on its teaching and influential scholarship.
More than 20 of the leading law textbooks used by most law schools in the United States are authored by UC Hastings faculty. Our professors include leading figures in a wide range of fields. Most have clerked for US Supreme Court justices or other prominent federal or state judges. Many have worked as prosecutors or practiced with top national and international law firms. Several have served in the federal government, and many have studied or taught in other countries and draw upon their international experience in their classes and writing. Numerous faculty members are regular commentators on legal developments on television or the Internet or in the print media.
Facilities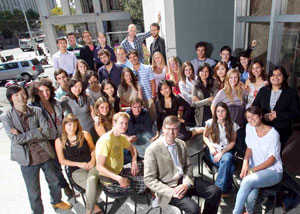 In January 2020, UC Hastings will open the doors of our brand new modernized academic building, fit for a twenty-first-century legal education. This state-of-the-art academic hub will feature smart classrooms and conference rooms, serve as home to our over 15 legal clinics, and provide shared community spaces for students, faculty, and alumni. The building will include a rooftop floor complete with premier event space with stunning views of City Hall and the iconic San Francisco skyline.
Our other newly renovated classroom and library buildings feature cutting-edge technology, cafés, and many spaces in which students may study or socialize. Our extraordinary library collection is backed by the wealth of scholarly resources of the entire University of California and a library staff specially trained in international research.
Student Organizations and Cultural Activities
The diversity and variety of student clubs and organizations that thrive at UC Hastings are reflective of the intellectual energy, passion, and sense of community that defines student life on our campus. In addition to playing an active role in the everyday functioning of the law school, our students are active participants in more than 60 organizations on-campus. Addressing everything from specific legal specialties to diverse political, ethnic, and cultural issues and interests, these organizations enable our students to forge lifelong connections with one another, pursue their extracurricular interests, and gain invaluable leadership skills.
Career Services
The UC Hastings Office of Career and Professional Development provides a wide variety of programs, including panels, mock interviews, résumé and career-building workshops, career fairs, and the Alumni Mentor Program.
With a career counselor specifically assigned to them, LLM students benefit from personalized assistance in developing an individualized job-search strategy, drafting job application materials, and working on interviewing and networking skills, as well as a number of workshops and information sessions tailored to the needs of international students. UC Hastings is a consortium member of the West Coast LLM Job Fair, and LLM students have the opportunity to attend the fair and interview with international firms prior to graduation.
Housing
UC Hastings is one of a limited number of urban law schools with housing devoted exclusively to its students. UC Hastings' housing department also offers resources to assist our students in finding off-campus housing.
LLM–JD Transfer
UC Hastings offers a JD transfer program that allows qualified UC Hastings LLM students to apply to the JD program using grades and faculty recommendations from our LLM program in substitution of an LSAT score. If a UC Hastings LLM candidate is admitted to our JD program, the student will not receive an LLM degree, and instead will have the 24 earned LLM credits applied towards the completion of the JD degree. The student is then required to complete two additional years of study in order to meet the additional requirements of the JD degree.
Additional Information
For additional information, please visit our LLM Program website or contact us by email at llm@uchastings.edu.