Capital University Law School
The information on this page was provided by the law school.

Official Guide to LLM, Master's, and Certificate Programs
---
Introduction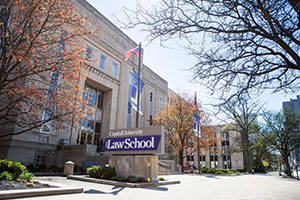 Founded in 1903, Capital University Law School is both an innovator and leader in legal education. Capital Law School is proud of its rich history of providing access and opportunity to aspiring legal professionals. As the only law school in Ohio to offer LLM degrees in the areas of Business and Taxation, Capital Law helps new and experienced tax and business practitioners in their pursuit of a graduate law degree.
Capital University Law School is located in the heart of a thriving legal community—Columbus, Ohio. The Law School is ideally situated near the state capitol; numerous state, local, and federal government offices and agencies; Fortune 500 corporate headquarters; law firms; accounting firms; cultural institutions; and educational institutions.
LLM Programs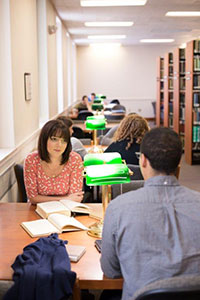 For more than 20 years, Capital University Law School has been partnering with legal practitioners to provide its students with opportunities for personal growth and increased professional stature. There are two fields of study within the Graduate LLM Programs—Business and Taxation. Students may pursue a graduate law degree on a full- or part-time basis. Further, all courses are offered in the evening to accommodate the schedules of students who have to work full time while furthering their careers.
Each of Capital University Law School's programs is described below; however, additional detailed information is available on the Graduate Tax and Business Law website.
Taxation
Whether you aspire to join a top-flight tax practice or build your own, earning an LLM in Taxation from Capital University Law School will give you a practical comprehension of this highly complex practice area. The curriculum is designed to build a foundation that will allow anyone to feel comfortable handling complex tax issues in this ever-changing field of law.
Business
Capital University Law School's LLM in Business is geared towards development of in-house counsels by offering a set of courses that provide a broad base, general knowledge of challenging business laws faced by today's in-house counsels in small and medium-sized businesses. In-depth exposure to these complex business issues provides students with a well-rounded knowledge of these critical areas of law that are important to any company's overall business strategy.
Contact Information
If you have questions about the admission process, please contact
Cassandra B. Jeter-Bailey
Director of Admission, JD & Graduate Law Programs
303 E. Broad Street
Columbus, OH 43215
USA
Phone: 614.236.6344
Fax: 614.236.6972
Email: gradlaw@law.capital.edu
If you have substantive questions about the program, please contact
Michael A. Mess
Director of Graduate Law Programs and Adjunct Professor of Law
303 E. Broad Street
Columbus, OH 43215
USA
Phone: 614.236.6535
Fax: 614.236.6956
Email: gradlaw@law.capital.edu
Student Services and Organizations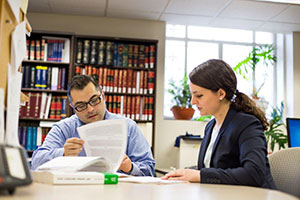 Capital University Law School is committed to providing graduate law students the resources and support they need to be successful students and practitioners. As a student, you will have access to all the services available at the Law School and will be part of the community at large. Graduate law students can participate in student organizations, join local and state bar associations, and work alongside of other students in the Volunteer Income Tax Assistance Program. Administrative offices keep extended hours to accommodate evening students, and much of the programming at the Law School takes place both at lunch and again in the evening, encouraging participation by all students.
Office of Professional Development
The Office of Professional Development (OPD) is dedicated to being a part of both your personal and professional growth. OPD offers individual career counseling, résumé and cover letter review, and access to an online job placement board. Connected to the Central Ohio legal community, OPD is one of many partners in your successful graduate law education.
Physical Facilities
Library hours:

Circulation desk: Monday through Thursday, 9:00

am

–9:00

pm

; Friday through Saturday, 9:00

am

–5:00

pm

; and Sunday, 1:00

pm

–5:00

pm

Reference desk: Monday through Friday, 9:00

am

–5:00

pm

Free campus-wide wireless network
Smart technology in classrooms
24-hour building access (24-hour security)
On-site café
Housing
Numerous, affordable housing options are available in the surrounding downtown area and nearby suburbs, with convenient public transportation.