Chapman University Dale E. Fowler School of Law
The information on this page was provided by the law school.

Official Guide to LLM, Master's, and Certificate Programs
---
Introduction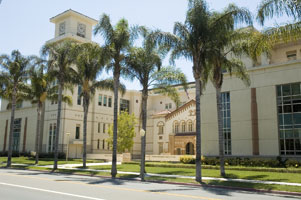 Chapman University Dale E. Fowler School of Law is located in the historic Old Towne district of Orange, California, just 35 miles from downtown Los Angeles and a short drive to both the beach and Disneyland. The law school, established in 1995, received full approval by the ABA in 2002 and AALS accreditation in 2006. It is ranked among the Best Schools for Practical Training.
The school of law is part of a main university campus, which gives law students access to educational, cultural, and recreational activities that often cannot be replicated at a stand-alone law school. It also lets us offer cross-disciplinary study in approved courses with other colleges within our university. 
Our school is noted for offering an excellent quality of life (a measure of overall law school community experience), small class sizes, and diverse faculty. We compare exceedingly well against much older schools and are clearly an institution on the move. 
In addition to our LLM programs, Fowler School of Law offers JD certificate programs in seven different concentrations and extensive clinical programs along with JD/MBA and JD/MFA dual degrees. 
The Faculty
Fowler School of Law has nearly 50 full-time faculty, including a Nobel laureate, three former US Supreme Court clerks, and professors who hold degrees from Yale, Harvard, Stanford, Chicago, Pennsylvania, Berkeley, Michigan, Northwestern, Cornell, Georgetown, UCLA, and USC, among others. In addition to our full-time faculty, we are very proud of our program adjuncts, who are respected practitioners in their areas of expertise and bring real-world experience and a teaching dynamic to the classroom. 
The Fowler School of Law's environment is conducive to learning. Students have access to the faculty and frequent opportunities to engage them in both formal and informal settings. Our current student-to-faculty ratio is 7 to 1. Our interesting and accessible faculty speaks volumes about the supportive nature of our institution. 
Courses in the LLM programs are taught by a mixture of experienced full-time professors and leading practitioners who bring extensive experience in very specialized areas of legal practice. Our curricula are designed to provide each student with a background in the program areas most often encountered, while allowing each student to choose specialized courses according to his or her interests. 
Physical Facilities
The beautiful Donald P. Kennedy Hall opened in 1999 with state-of-the-art learning facilities in its classrooms, law library, and trial and appellate courtrooms. The Darling Law Library's collection includes numerous databases facilitating access to more than 2 million electronic resources. There are ample library carrels and desks. Group-study rooms are available for student use and extended research. Two state-of-the-art courtrooms provide computers, cameras, and electronic blackboards for trial advocacy exercises, competitions, and formal hearings by visiting courts.
Housing
Very limited on-campus housing exists for graduate law students. There are numerous housing opportunities in the surrounding areas. Inquiries should be forwarded to the LLM Programs Office:
Phone: 714.628.2635
Email: LLM@chapman.edu
LLM in Taxation
The Chapman University Fowler School of Law offers an LL.M degree in taxation with comprehensive course work that exposes students to a wide variety of specialized tax and estate planning courses. Tax law covers income tax, federal tax procedure, corporate tax, ethics, as well as a variety of electives. In addition to the traditional personal and business related tax law courses, Chapman has made a particular effort to include an extensive array of advanced estate planning and advanced business and personal tax planning courses.
Faculty
The full-time professors in the Fowler School of Law's tax law program include casebook authors and past leaders in committees of the tax section of the American Bar Association, as well as respected adjunct professors who bring a real-world dynamic to the classroom.
For additional information about this program, please visit the LLM Programs website, or contact
LLM Program Coordinator
One University Drive
Orange, CA 92866
USA
Phone: 714.628.2635
Fax: 714.628.2655
Email: gradtax@chapman.edu
Student Services and Organizations
The law school offers many activities that enrich the academic program and provide important training in leadership. Two journals offer valuable experience in research, writing, and editing. The Student Bar Association administers a full range of programs. Other organizations include but are not limited to the Minority Law Students Association, the Asian Pacific American Law Students Association, the Public Interest Law Foundation, the Federalist Society, and the student-run Honor Council. Externships allow students to earn academic credit while working in a variety of government agencies, judges' chambers, and public interest organizations, developing the practical skills and confidence they will need after graduation. Fowler School of Law offers a range of advocacy experiences, including participation in mock trial, moot court, client counseling, international law, and negotiation competitions. Fowler School of Law teams have won regional competitions and have performed competitively in national and international tournaments. The Moot Court Board and the Mock Trial Board administer their programs and provide excellent practical training. 
The Frank Doti Tax Law Certificate Program affords students the opportunity to represent claimants against the IRS in the US Tax Court Clinic. In the externship program, students receive placements in the offices of appellate judges, trial judges, district attorneys, and public defenders, where they gain hands-on experience and academic credit. Clinic offerings include family violence/immigration law, elder law, entertainment law, constitutional litigation, mediation, tax law, and appellate practice. Nearly all clinics allow students additional opportunities to represent actual clients in an array of legal settings. The law school's Academic Achievement Program assists students in the mastery of the skills necessary to become successful law students and productive attorneys. The program includes individualized counseling and instruction, as well as group workshops and peer tutoring.
Career Services
Fowler School of Law provides students and alumni with comprehensive career services and resources that aid law students in selecting their career direction and reaching their goals. The office is composed of a director, two assistant directors, and a recruitment coordinator. The Career Services Office staff facilitates interviews for our students with legal employers during our On-Campus Interviewing Program in both the fall and spring. The office also provides students the opportunity to meet with prominent members of the legal community through frequent panels and an extensive Mock Interview Program. The Career Services Office helps to match students' educational and experiential skills with both traditional and nontraditional employment opportunities. In keeping with the Chapman mission of personalized education, the Career Services Office staff meets with individual students to review résumés and cover letters; to aid in self-assessment and goal orientation; to discuss specific opportunities unique to the student's needs; and to provide training, support, and feedback in all aspects of exploring career options.