The George Washington University Law School
The information on this page was provided by the law school.

Official Guide to LLM, Master's, and Certificate Programs
---
Introduction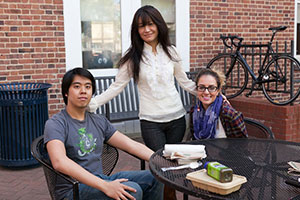 An education at GW Law truly positions students to change the world. From day one, they participate in law not just as it exists in textbooks, but as it operates in the real world, and not just anywhere, but in the most vibrant city for law and policy on earth. GW Law is a premier center of legal scholarship, producing leaders in government, business, the judiciary, and in private legal spheres. Its faculty of experts with extensive real-world experience is committed to teaching, and its staff is dedicated to serving the needs of all students.
Established in 1865, the George Washington University Law School is the oldest law school in the District of Columbia and has produced some of the finest minds across the spectrum of legal scholarship. That tradition continues today, as GW Law graduates use the knowledge and skills they gain here to influence the critical legal conversations of our times.
With a history of more than 150 years in the heart of Washington, DC, life at GW Law is inextricably linked to the life of its surrounding community. Law students have unmatched opportunities to learn from expert faculty and distinguished visitors and to pursue internships, clerkships, and employment, all while enjoying the city's vibrant cultural, nightlife, and dining scenes.
Physical Facilities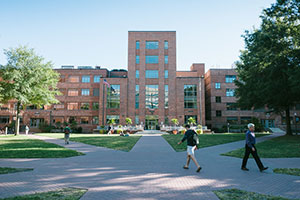 GW Law's nine-building complex creates an open, comfortable, collaborative atmosphere and features state-of-the art technologies. The Law School is home to the world-renowned Jacob Burns Law Library, and its students enjoy the resources of a large urban university. The Law School is located across the street from the World Bank and the International Monetary Fund and four blocks from the White House. The State Department, The Kennedy Center for the Performing Arts, and numerous other governmental and arts organizations are in the immediate vicinity.
LLM Programs/Areas of Specialization
George Washington University LLM candidates may follow a program of general study, which may be individually adapted, or they may concentrate in one of the specialized fields listed below. Graduates who complete their work in one of these specialized areas may have the field of specialization noted on their diplomas.
Business and Finance Law
Energy and Environmental Law
Environmental Law
Government Procurement Law
Government Procurement and Environmental Law
Intellectual Property Law
International and Comparative Law
International Environmental Law
Litigation and Dispute Resolution
National Security and US Foreign Relations Law
For additional information about The George Washington University Law School's LLM program, please visit the GW Law website, or email igpo@law.gwu.edu.
Housing
The Columbia Plaza Housing Program provides assistance to GW Law students in securing an apartment (by serving as a reference and guarantor) in a privately owned, multi-building complex at 2400 Virginia Avenue, NW, adjacent to the GW campus. The complex offers spacious unfurnished apartments, with utilities included in the rent.
The University's Off-Campus Housing Office posts a variety of housing options for students, including efficiencies, apartments, and group houses. Prices for housing vary considerably and generally match those in other major metropolitan areas. Some students choose to live in the immediate vicinity in the Foggy Bottom neighborhood, while others live in other parts of the city or in nearby suburbs and take advantage of the excellent public transportation system in the metropolitan area, which includes a Metro stop on campus.
Student Services
Student Health Service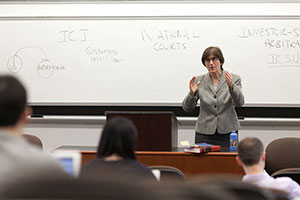 The Student Health Service is an outpatient clinic staffed by physicians, nurses, nurse practitioners, and physician assistants. Students can be evaluated and treated for most medical problems. Psychiatrists are on staff to provide evaluation and referrals as well as crisis intervention. Visits should be arranged by appointment at the Student Health Services website; urgent problems may be seen on a walk-in basis if necessary. Additional charges for visits, lab work, and medication may apply. Health education and outreach programs on a variety of topics are provided throughout the year.
For serious emergencies occurring during hours when the Student Health Service is closed, students may go to the Emergency Room of the University Hospital for treatment. This arrangement is for emergency care only and all fees are the responsibility of the student, and students are urged to bring their insurance information with them.
Students must be currently enrolled on campus in the University to receive treatment at the Student Health Service. Students enrolled in off-campus programs and the Continuing Legal Education Program are not eligible. Students who so desire may engage physicians and nurses of their own choice, but these students will be responsible for all fees charged. The bills incurred from all services rendered outside the Student Health Service (for example, x-ray work, laboratory work, and referrals to specialists or other outside physicians) are the responsibility of the student.
Health and Accident Insurance
The University recommends that all students be covered by health and accident insurance. For information on group health insurance options offered through the University, see the Student Health Services website.
Disability Support Services
Disability Support Services (DSS) provides and coordinates support services for students with a wide variety of disabilities, as well as those temporarily disabled by injury or illness. Accommodations are available through DSS to facilitate academic access for students with disabilities. Services provided without charge to the student may include orientation to campus, registration assistance, readers, interpreters, scribes, learning-disabilities advising, adaptive materials and equipment, assistance with note taking, laboratory assistance, test accommodations, regular advising, and referrals. DSS does not provide content tutoring, although it is available on a fee basis from other campus resources. The University does not provide or pay for transportation services or personal attendant care. Additional information is available at the Disability Support Services website.
Counseling Services
The University Counseling Center offers a broad range of services to help students with personal issues. Services include short-term individual therapy, group therapy, crisis services, academic skill enhancement, and psycho-educational workshops. All counseling services are confidential and are not part of the student's academic record. The Center also provides telephone assessment and consultations, and referral assistance. The initial assessment is free. Center counselors are available during business hours to answer student questions about services and campus resources, and for faculty to consult about students of concern or other issues. Counselors are available after hours for urgent consultations. The Center can be reached at 202.994.5300. Additional information is available at the University Counseling Center website.
Student Organizations
Skills Boards
Lawyering skills competitions and programs provide realistic training in client counseling, negotiation, arbitration, trial advocacy, and appellate advocacy. The Law School's student-managed Alternative Dispute Resolution (ADR) Board, Mock Trial Board, and Moot Court Board are dedicated to the promotion and development of these skills among the student body. The ADR Board administers client counseling, negotiation, and international arbitration competitions at the Law School and sends student teams to interscholastic competitions abroad, including annual competitions in Frankfurt and Hong Kong or Vienna. The Mock Trial Board sponsors civil and criminal intrascholastic trial competitions and sends student teams to interscholastic trial competitions nationwide. The Moot Court Board administers intrascholastic, appellate-level competitions in the fields of constitutional law, international law, government contracts law, and intellectual property law. The Moot Court Board also selects and sponsors students to represent the school at interscholastic competitions around the world and sponsors interscholastic competitions, such as the Harold H. Greene and Joyce Hens Green National Security Law Moot Court, the Philip C. Jessup Mid-Atlantic International Law Super-Regional, and the National Veterans Law Moot Court. In addition, faculty and students at the Law School sponsor interscholastic moot court competitions in the areas of government contracts and religious freedom.
Law Student Organizations
Active Minds
American Civil Liberties Union
American Constitution Society
Anarchist Collective
Arab Student Law Association
Art and Cultural Heritage Law Society
Asian–Pacific American Law Students Association
Banking Law Society
Black Law Students Association
Christian Law Society
Corporate and Business Law Society
Criminal Law Society
Cyberlaw Student Association
East Asian Law Society
Election Law Association
Entertainment and Sports Law Association
Environmental Law Association
Equal Justice Foundation
Evening Law Students Association
Federalist Society
Feminist Forum
GW Law Association for Women
GW Law Democrats
GW Law Review
GW Law Softball Club
GW Law Student Hurricane Network
Hispanic Law Students Association
Human Rights Law Society
Immigration Law Association
International Law Society
Italian–American Law Student Association
J. Reuben Clark Law Society
Jewish Law Student Association
Lambda Law
Law Association for Women
Law Revue
Law Students for Reproductive Justice
Military Law Society
Muslim Law Student Association
National Lawyers Guild
National Security Law Association
Native American Law Students Association
Nota Bene
Phi Alpha Delta
Phi Delta Phi
Republican National Lawyers Association
South Asian Law Students Association
Street Law
Student Animal Legal Defense Fund
Student Association for Drug Law Reform
Student Bar Association
Student Health Law Association
Student Intellectual Property Law Association
Career Development
The Career Center provides a full range of services to support the career decision-making process. Students, graduates, and prospective employers are served through a variety of programs, including systems of job-vacancy advertising; newsletters of current career information; interviewing programs; individual and group counseling on résumé preparation, interviewing skills development, and job-search strategy; a career resource library; forums and panel presentations covering legal and alternative career topics and employment options; and an alumni network.