Georgetown University Law Center
The information on this page was provided by the law school.

Official Guide to LLM, Master's, and Certificate Programs
---
Introduction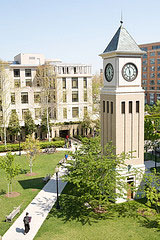 Georgetown University Law Center combines a premier legal education with limitless opportunities for hands-on experience. You will learn from faculty members who are renowned scholars and leading practitioners in numerous fields, including international, tax, environmental, and health law. The opportunity to gain work experience through one of our many externships sets Georgetown apart. With more than 120 full-time faculty and almost 350 adjunct, Georgetown is able to offer the most comprehensive legal curriculum in the nation. We have all of the resources you need to build the career you imagine, while providing a personalized education.
Our location on Capitol Hill in Washington, DC, means you will be able to practice law in the city where laws are made. The tight-knit legal community on our campus brings together students from around the world, along with staff and faculty who are dedicated to helping our students excel in the classroom and their careers.
Location and Facilities
Georgetown Law's campus is located within walking distance of the US Capitol, the Supreme Court, the US Tax Court, the National Mall, and countless other national and international institutions. What this means is that our students study at the heart of where decisions are made that affect billions of people around the globe.
Georgetown Law is easily accessible by multiple modes of transportation and is within walking distance of three different Metro stops (Judiciary Square, Union Station, and Gallery Place [Chinatown]). It sits on two city blocks and is composed of five buildings and two greens. McDonough Hall is the academic and administrative center of the campus. The Edward Bennett Williams Law Library houses the fourth largest academic law library collection in the nation. The Eric E. Hotung Building brings all the major components of Georgetown's international programs under one roof. The Scott K. Ginsburg Sport & Fitness Center features a four-lane lap pool, cardio and weight training equipment, basketball and racquetball courts, as well as a café and lounge area. The Gewirz Student Center provides housing in apartment-style accommodations. While the majority of LLM students choose to live in one of the many surrounding apartment complexes, some do choose to live in Gewirz every year.
LLM Programs
Georgetown Law offers the most extensive list of traditional on-campus and online LLM degrees, specialized certificate programs, and dual degree programs of any law school in the country.
Traditional On-Campus Degree Programs
General Studies (for foreign trained only)
International Legal Students (for foreign trained only)
International Business & Economic Law
Global Health Law
Global Health Law & International Institutions
Environmental and Energy Law
National Security Law
Taxation
Two-Year LLM With Certificate in Legal English
Online Degree Programs and Certificates
Executive LLM in Taxation
Executive LLM in Securities & Financial Regulation
Master of Studies in Law (MSL) in Taxation (for non-lawyers)
Certificate in State & Local Taxation*
Certificate in International Taxation*
*Can be completed as stand-alone
Specialized Certificates
Employee Benefits*
Estate Planning*
Food & Drug Law*
International Arbitration & Dispute Resolution
International Human Rights Law
International Taxation*
Refugees & Humanitarian Emergencies
Securities and Financial Law*
State & Local Taxation*
US Health Law*
World Trade Organization (WTO) Law
*Can be completed as stand-alone
Dual-Degree Programs
Master of International Affairs and Law (MIA/LLM) with Sciences Po (Paris)
MBA/LLM with HEC (Paris)
MiM/LLM with HEC (Paris)
Dual LLM in International Arbitration with Tsinghua (Beijing)
Career Services
One of the things that truly makes Georgetown Law special is the career advising and professional development resources offered to our LLM students. The Graduate Career and Professional Development team works closely with students to provide quality information and advice on job-search strategies, interviews, and networking. In addition they work with students interested in participating in LLM interview programs as well as participating in an externship. Students that would like to gain professional experience in a firm, institution, or other organization during the LLM have the opportunity to do so, for credit, during the second semester of the LLM. Students have externed in over 100 different organizations in the DC area including the World Bank, IMF, IDB, FINRA, Amnesty International, US Tax Court, The Nature Conservancy, and many top-tier law firms.
Scholarships
Georgetown Law offers numerous scholarship opportunities for LLM students. Our general merit scholars program is our largest scholarship program for which all admitted students are considered. Scholarship decisions are made from the application materials submitted by individual applicants and no additional application is required for consideration.
We also offer specialized scholarships to students interested in taxation, global health, national security, international arbitration, and anti-corruption. Consideration for these scholarships requires an additional application and materials.
For details on all scholarships at Georgetown, please visit our Fellowships, Scholarships, and Financial Aid website.