Hofstra University—Maurice A. Deane School of Law
The information on this page was provided by the law school.

Official Guide to LLM, Master's, and Certificate Programs
---
Introduction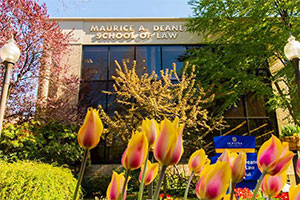 The Maurice A. Deane School of Law at Hofstra University prepares passionate students to have an impact in the legal community and beyond. For 41 years, Hofstra Law has provided an education rich in both the theory and skills needed to produce outstanding lawyers, business executives, and community leaders. Located on the campus of Hofstra University in Hempstead, New York, Hofstra Law is 20 miles outside New York City in suburban Long Island. Hofstra Law offers a JD program, as well as LLM graduate degrees in American Legal Studies (for foreign law graduates), Family Law, and Health Law and Policy. A JD/MBA joint-degree program is available in conjunction with the University's Frank G. Zarb School of Business.
Vibrant Campus Life
Hofstra Law, situated on the 240-acre Hofstra University main campus, provides a vibrant community for students studying the law. Few, if any, law schools can match the combination of Hofstra Law's green campus and its easy access to New York City, the hub of the nation's legal profession. Students living on campus in graduate housing enjoy a parklike setting that is home to one of the country's great arboretums. Yet, they can also take a free Hofstra shuttle bus to train stations that provide service to Manhattan in less than 40 minutes or drive just a few miles to world-class beaches.
LLM Programs
LLM in American Legal Studies: This program is tailored to lawyers who earned their law degrees abroad and are looking to gain an

in-depth

understanding of the US legal system in a global context. During the academic year, students are exposed firsthand to the practice of law through visits with attorneys, local courts, and other legal institutions. These visits allow students to better comprehend the US legal system and interact with highly experienced attorneys and other legal professionals.
LLM in Family Law: One of only three in the country, Hofstra Law's family law LLM program concentrates on divorce, family violence, child custody, abuse, neglect, and support, as well as related areas such as tax, contracts, real estate and partnership law, child psychology, and treatment options. It is organized in conjunction with the law school's family law center.
LLM in Health Law and Policy: This fully online program allows students to earn their LLM degree in just 9 courses and graduate in just 18 months. The program is designed for experienced legal professionals seeking to build a lasting future as expert legal counsel. Students learn to speak the language of health care so they can help clients confront complex compliance matters—from the Affordable Care Act and Medicare to payment systems and biotechnology.
Accomplished Faculty
Hofstra Law's faculty consists of nationally and internationally recognized scholars. Faculty members have clerked for US Supreme Court justices, chaired major American Bar Association and law reform committees, received awards for scholarship and leadership in legal education as well as community leadership, and been politically active in their communities. Their publications reflect a wide range of interests and expertise, ongoing participation in important scholarly debates of the day, and significant contributions to the study and teaching of law.
Flexible Cutting-Edge Curriculum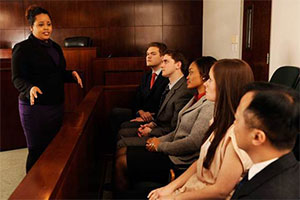 With more than 200 upper-level course offerings, students can explore practically any area of law, and can craft an individualized course of study. Hofstra Law LLM candidates also benefit from being fully integrated members of the Law School student body because they take classes with American and international students who are pursuing a US Juris Doctor (JD) degree.
Personal Attention
Hofstra Law takes care to match students with an academic advisor to recommend a customized course of study that best suits their professional needs. Additionally, the faculty's open-door policy fosters an accessible and collegial environment and reflects professors' engagement with their students.
Prepare for the New York Bar Exam
For many foreign-educated lawyers, completing an LLM is a necessary step to reaching their goal of becoming a licensed attorney in New York. Our LLM students have the opportunity to take courses focused on the subjects tested on the New York State bar exam. In addition to helping students prepare for the bar exam, many of these courses serve as great foundations of knowledge for the practice of law in the United States.
How to Apply
Applications for admission must be submitted using the Maurice A. Deane School of Law at Hofstra University's official application, available online at Hofstra Law LLM Program, through your LSAC LLM Account, or by contacting the Office of Enrollment Management at 516.463.5916. The $75 application fee is waived for those who submit their application online through LSAC, which is strongly encouraged.
For application procedures, details on program options, deadlines, and other requirements, visit LLM Program.