Indiana University Robert H. McKinney School of Law
The information on this page was provided by the law school.

Official Guide to LLM, Master's, and Certificate Programs
---
Introduction
Why should you choose to study at the Indiana University Robert H. McKinney School of Law? If you are looking for a dynamic, urban law school, with top legal programs and a distinguished faculty, we are the school for you. The McKinney School of Law is located in one of the fastest-growing cities in the United States, on an up-and-coming urban campus just blocks from city, county, and state government and courts.
We are internationally regarded for providing an excellent law school experience in addition to tremendous career opportunities and a great value.
As the only law school in the capital city of Indianapolis, each semester our students benefit from over 350 externship/internship opportunities, ranging from federal and state governmental posts to large and niche law firm and corporate posts.
We've been recognized as a best value law school. The combination of significant scholarships, low tuition rates, and a low cost of living in Indianapolis make IU McKinney an attractive option for international students.
Our Legal Writing program has been nationally recognized for five consecutive years.
We are a top school for health law.
Our Program in International Human Rights Law has been granted "Special Consultative Status" at the United Nations.
With six different LLM tracks to choose from, we provide variety in both the course of study you can pursue and the individual classes you can take once you arrive.
LLM students take classes alongside the JD students, and from the first day of orientation, our LLM students are a significant part of the overall law school community.
IU McKinney is a welcoming and diverse environment. Our 2017 student body included 120 international students (13 percent of total enrollment) from 44 different countries.
The school has enjoyed great success for more than 100 years in preparing students for legal careers. This is evidenced by the prominent positions graduates have obtained in the judiciary and other branches of government, business, civic leadership, and law practice. The school's more than 10,000 alumni are located in every state in the nation and several foreign countries. With an enrollment of around 900 students, the Indiana University Robert H. McKinney School of Law is the largest law school in the state of Indiana. The law school occupies a spacious, technologically advanced building in the heart of Indianapolis, sharing a campus of more than 30,000 students with the prestigious Indiana University School of Medicine and Kelley School of Business as well as the schools of Education, Engineering and Technology, Dentistry, Public and Environmental Affairs, Herron School of Art and Design, and Informatics and Computing, to name a few.
One of the most vibrant and exciting places to study law in the United States, the Indiana University Robert H. McKinney School of Law provides an energetic, urban environment that will inspire you to make a difference. Our students, faculty, and alumni use their expertise to transform lives and to influence change throughout the nation and the world. The opportunities that await you here are almost limitless, ranging from our research centers of specialization in Health Law; Intellectual Property Law and Innovation; Joint Center for Asian Law Studies; and International and Comparative Law to our programs in State Government; Environmental, Energy, and Natural Resources Law; International Human Rights; and Global Crisis Leadership.
Faculty
As an LLM student at McKinney, you will have the opportunity to take classes with distinguished state leaders, including justices of the Indiana Supreme Court and the former Attorney General of Indiana. We are honored to have former Justice Frank Sullivan Jr. as a full-time faculty member, as well as Justice Steven H. David '82, Justice Robert Rucker, Justice Mark Massa '89, Judge John Baker, and former Attorney General of Indiana Greg Zoeller counted among our teaching faculty over the years.
Physical Facilities
Inlow Hall: Lawrence W. Inlow Hall, the home of Indiana University Robert H. McKinney School of Law, is designed to create a rare learning environment—one that combines the professional atmosphere of a modern law firm with the academic gravitas of a legal institution distinguished by more than 100 years of history. The award-winning architecture combines with

state-of-the-art

technology to enhance the school's classrooms, library, and study areas. The

200-seat

Wynne Courtroom is the ideal setting for simulated trials and appellate proceedings, as well as for public lectures and continuing legal education programs. Inlow Hall is truly an excellent home for aspiring lawyers and legal scholars alike.
The Ruth Lilly Law Library: The Ruth Lilly Law Library currently holds more than 300,000 print and electronic volumes. Students have unlimited access, both on and off campus, to Westlaw, Lexis Advance, Bloomberg Law, ProQuest Congressional, HeinOnline, and many other research databases. Students also have access to many additional electronic databases through the University Library as well as the print collections of all IU libraries. The Law Library also has an extensive collection of historical Indiana legal materials extending back to pre-statehood. Additionally, the Law Library maintains and develops print collections of core materials such as federal statutes and regulations; Indiana cases, statutes, and regulations; popular practice guides and form books; study aids for students; and materials to help young lawyers begin their practices. Perhaps most importantly, we have 6 faculty librarians, most of whom hold JDs, and 10 staff members who are happy to work with students as they learn the intricacies of law school, legal research, and starting out in the legal profession.
Housing
One benefit of being on an urban campus is the wealth of housing options. The city of Indianapolis has a low cost of living, and the many possibilities include on-campus housing in apartments, townhomes, or residence halls, and off-campus housing in apartments, efficiencies, extended-stay suites, townhomes, rental homes, and many other options. The LLM program staff will provide assistance in finding housing and any other needs you may have as you make the transition into law school and the city of Indianapolis.
LLM Programs/Areas of Specialization
The LLM degree awarded by the McKinney School of Law is a single degree consisting of six tracks, allowing for curricular concentrations in the following areas:
Our master's program consists of 24 credits, with a wide range of elective courses. (Students may choose to take more than 24 credits, at the applicable tuition rate per credit hour, to satisfy bar admission requirements in some states.) You can choose to start your program in either the fall (late August) or spring (early January) term. Students have up to three academic years to complete degree requirements and may opt for part-time and evening study schedules, although foreign students ordinarily graduate in two or three semesters per visa regulations. Students may opt to write a master's thesis that is worth 2–4 credits. The school provides many externship and optional practical training (OPT) opportunities during your time in Indianapolis. We also provide advanced Legal English instruction in-house if a university placement test indicates this would be a benefit.
The minimum eligibility requirements for admission into the program are as follows:
You must hold either a JD from an ABA-accredited law school in the US or an academic degree in law or comparable from an educational institution in a country other than the US which makes you eligible to become licensed to practice in that country.
If English is your second language, you must have one of the following:

An Internet-based TOEFL score of at least 81 (paper-based: 560; computer-based: 213).
An IELTS score of at least 6.5.
A score of "First Grade" on the national Japanese-English proficiency STEP exam.
Completion of Intensive English Masters Level 112 at one of the ELS language centers.
Completion of Level 7 at the Program for Intensive English on campus.


(Qualifying language scores must be less than two years old at the time of application.)
You must demonstrate a combination of academic achievement, professional accomplishment, and English-language competency.
Significant scholarship assistance is available to students with demonstrated financial need and outstanding academic/professional credentials; however, the LLM program does not typically offer full tuition waivers. The combination of generous scholarships, relatively low tuition, and a low cost of living make the McKinney School of Law one of the most affordable LLM programs in the United States.
Estimated Costs
Career Services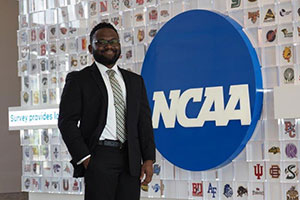 The Office of Professional Development provides a series of workshops on career research strategies, résumé and cover-letter writing, bar exams, interviewing skills, and other related topics. Staff members meet with students individually for résumé review, interview practice, and related aspects of career counseling and professional development. In addition, the law school provides a variety of job-search resource materials. Various professional development services are provided to students, including practical pro bono service opportunities such as work with the international community through world trade services, anti-human-trafficking work with victims, policy and legislation, domestic violence and prevention legal services, heroin and addiction issues, support of efforts to aid disadvantaged youth and the elderly, as well as a myriad of programs involving the courts, and other opportunities. Our pro bono program brings a world of experiences to our students and works with each student to tailor these experiences to his or her educational goals.
Student Services and Organizations
The McKinney School of Law has a variety of vibrant student organizations that are open for you to join. The following are just a few of the organizations that are currently active:
Asian Law Students Association
Black Law Students Association
Business Law Association
Democratic Law Society
Environmental Law Society
Equal Justice Works
Feminist Law Society
Health Law Society
Hispanic Law Society
Intellectual Property Student Association
International Human Rights Law Society
International Law Society
Islamic Law Society
Master of Laws Association
Sports and Entertainment Law Society
Student Bar Association
Women's Caucus
There are also many lectures, conferences, events, informal get-togethers, and brown-bag talks that take place around the law school. We are also just a few short blocks from a multitude of museums, theaters, restaurants, parks, stores, sports arenas, and even the Indianapolis Zoo.