Liberty University School of Law
The information on this page was provided by the law school.

Official Guide to LLM, Master's, and Certificate Programs
---
Introduction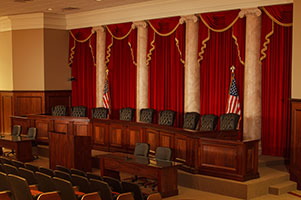 Distinctively Christian, Liberty Law has attracted national attention for its innovative program of legal education, competitive teams, and practice opportunities for its students. The law school combines a unique blend of the theoretical study of law with the practical skills training needed for its law students to become exceptional advocates and counselors. Liberty Law alumni, faculty, and staff believe the practice of law is a calling and are dedicated to serving others in their pursuit of legal education.
Lawyering Skills Program and Academic Support
Liberty Law provides the next step in the continuum of legal education by offering a wide variety of experiential learning opportunities through its expansive Lawyering Skills Program.
The innovative practical skills program offers a minimum of six courses of real-world training through our Center for Lawyering Skills that equips students to graduate practice ready.
In-depth legal skills training is integrated into the entire law school experience.
The Academic Support Program assists students in achieving their full academic potential, helping them with class preparation, class participation, and exam strategies.
Our new student orientation program, Systematic Approach to Integrated Legal Studies (SAILS), provides practical instruction for law school success.
The externship program provides a diverse range of experiential placements that includes judicial clerkships, prosecution, public defense, private practice, legal aid, and the Offices of the US Attorney and Attorney General, as well as many more.
Supervision for the externship program is provided through a partnership with judges, practicing attorneys, and law school faculty.
Clinical Opportunities
Clinical opportunities are also offered. Current clinics and centers include
Center for Prosecution
Center for Trial Advocacy
Constitutional Litigation Clinic
Liberty Center for International Human Rights
Liberty Center for Law and Policy
Prosecution Clinic
Degree Programs
Liberty University offers the following dual degrees to qualified applicants:
Business (MBA)
Master of Education in Teaching and Learning (MEd)
Education Specialist (EdS)
Doctor of Education (EdD)
Human Services Counseling (MA)
Public Policy (MAPP)
Religion (MAR)
Divinity (MDiv)
History (MA)
Juris Master (JM) and Master of Laws (LLM) degrees include
JM—American Legal Studies
JM—International Legal Studies
LLM—International Legal Studies
The Liberty University School of Law LLM program is designed for barristers, from the United States and abroad, who desire a postgraduate degree or additional credentials.
Considering the increasing globalization process, the influence of international legal ideas is seen in the fields of international trade law, international business transactions, and international human rights law. Liberty University's Master of Laws in International Legal Studies online degree is designed to enable students to gain cutting-edge knowledge in the field of international law.
The Liberty Law LLM program seeks to train future international lawyers, corporate lawyers, diplomats, and legal scholars who will be engaged in international legal practice. In this sphere, those attorneys may in turn influence domestic and foreign policy with legal ideas that are consistent with an integrative Christian perspective of justice.
The LLM curriculum includes
Foundations of Law
Jurisprudence/Legal History
Law & Economics
International Business Law
International Public Law
International Trade Law
International Law & Diplomacy
The Law of Armed Conflict
International Human Rights Law
The Liberty University School of Law online Juris Master program is ideal for individuals who desire to enhance their profession with an in-depth understanding of law. This course of study is uniquely designed for non-lawyers who would benefit from a comprehensive study of either the American legal system or international legal systems.
National and State Recognition
Among all Virginia law schools, Liberty University School of Law's bar passage rate of 89.66 percent was the second highest Virginia bar passage rate for the July 2016 Virginia Bar Exam for first-time exam takers (as defined by the Virginia Board of Bar Examiners).
100% bar passage rate in Missouri.
Our Moot Court program is nationally renowned.
The law school's experiential training is rated among the nation's best.
ABA Alternative Dispute Resolution competition results are consistently high.
Student Life and Organizations
Liberty University offers a wide variety of recreational facilities, including the LaHaye Recreation and Fitness Center with its indoor basketball courts, soccer fields, Olympic-size pool, rock-climbing wall, and cardio and weightlifting facilities. Indoor and outdoor tennis courts, as well as an ice rink, are also available.
Liberty has nearly 15,000 residential students, including more than 900 international students, and nearly 94,000 online students. Nearly 30,000 are military students.
Facilities
The 330-seat Supreme Courtroom features a nine-seat bench, an exact replica of the US Supreme Courtroom bench. The courtroom is used for mock trials, law convocations, and special law events.
Two mock trial courtrooms, all classrooms, and the law library feature current technologies. Classes and competitions in these courtrooms simulate experiences in a municipal or local city/county courtroom.
Students enjoy attending a wide range of events on the 7,000-acre campus and enjoy the sociability of the law school community. Law students have access to the university's many recreational facilities, including the year-round Snowflex synthetic ski slope (the first of its kind in North America), a 112-acre lake, miles of hiking and biking trails, and an equestrian center.
The law school, including the vast Ehrhorn Law Library, is located almost entirely on one level in Green Hall, which is an over one-million-square-foot complex. It houses study rooms, a computer lab, individual carrels, and comfortable seating areas that provide an environment conducive to legal research and study.
A Strong University
Liberty University is the largest private, nonprofit four-year university in the country, the nation's fifth largest university, the largest university in Virginia, and the largest Christian university in the world.
Total residential enrollment is currently over 15,000 with more than 522 unique programs of study (some available both residentially and online).
Liberty University is home to 20 NCAA Division I athletic programs and has won 6 NCAA Division I individual national championships.
A $500-million campus improvement plan continues with the addition of the Landmark Tower (tallest structure in Lynchburg), Science Hall, The Center for Music and the Worship Arts, student center expansions, residential buildings, and a state-of-the-art indoor track and field facility.
Location
Located in Lynchburg, Virginia, Liberty University is surrounded by the natural beauty and rich history of Central Virginia, including the homes of Thomas Jefferson (Monticello and Poplar Forest), the National D-Day Memorial, and Appomattox.
BestPlaces.net reports that Lynchburg has a cost-of-living index that is 9.4 percent lower than the US average.
Lynchburg is ranked one of the best small cities in which to live by Money Magazine.
Lynchburg is centrally located with convenient access to major cities including Richmond, Virginia Beach, Raleigh/Durham, Charlotte, and Washington, DC.
Lynchburg's highly successful Amtrak passenger rail service provides direct, easy service to Boston, New York, and Washington, DC.
National Geographic ranks Lynchburg one of the best adventure towns in the United States.
Admission
Applications are accepted for JM and LLM programs year-round.
International Student Language Requirements
Applicants for the LLM program must hold a Juris Doctor from an ABA-accredited academic institution or the international equivalent degree from outside the United States.
International LLM applicants should submit a minimum of one of the following acceptable scores on the TOEFL:
600 paper based
250 computer based
80 Internet based
In lieu of the TOEFL, applicants may also submit IELTS scores of 6 or greater.
Application Procedures for the LLM
Contact Information
For more information, please contact Liberty University Online Consulting at 800.424.9595 or visit Master of Laws in International Legal Studies (LLM).