McGill University Faculty of Law
The information on this page was provided by the law school.

Official Guide to LLM, Master's, and Certificate Programs
---
Introduction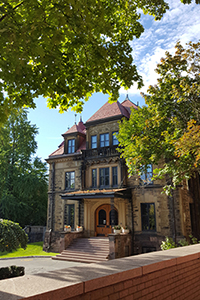 We do law differently at McGill. And we do it best.
McGill's Faculty of Law is one of the most highly regarded in the world for a reason: we uniquely bring together not only the best minds, but an intimate understanding of how law, culture, people, and economies work together.
Through our transsystemic program, we teach what the law is, how it is used in practice, the perspectives of different cultures and legal traditions, and the symbolic meaning of legal rules to people and their communities.
It is no surprise, therefore, that each year McGill Law welcomes dozens of bright legal minds from around the world to become members of our community. Master's (LLM) and doctoral (DCL) students come to McGill from around the globe, with varied life and professional experiences, and a wide array of educational and legal backgrounds.
As the stories that our alumni recite on Where Are They Now? page, our students leave McGill changed. In the process, they change us. Together we create a formidable, global, constantly expanding and evolving community that provides a home for thought, connections that last a lifetime, and opportunities to continually explore the law.
We hope that you will consider joining and enriching our community at McGill in our beautiful, multicultural city of Montreal, ranked as one of the best cities in the world for students. We look forward to welcoming you here!
Physical Facilities
The Faculty of Law is situated in two graceful 19th-century mansions and a modern six-story building nestled near the top of Peel Street, near Mount Royal Park and overlooking the main campus and the city's commercial hub.
If you're not familiar with Montreal or McGill University, detailed information can be found on the Visit McGill webpage. You can also consult the Downtown McGill Campus map.
Library
Opened in 1998, the Nahum Gelber Law Library is a state-of-the-art facility with a collection of over 220,000 volumes of statutes, regulations, law reports, treatises, books, journals, and other legal material.
The Library provides resources and services primarily to support the teaching and research programs of the faculty of law and several institutes and research centres. In addition to Canadian law, the collection has a special emphasis on Air and Space Law, Comparative Law, International Law, Conflict of Laws, Continental Private Law, Human Rights Law, Environmental Law, and Medical Law. It also has legal materials from other jurisdictions, such as the United Kingdom, France, and the United States.
Housing
McGill University offers two main types of graduate-student housing on its stunning downtown campus: single bedrooms in shared-facilities houses and single occupancy apartments. For many McGill graduate students, the sense of community and the collegial atmosphere of living on campus, right in Montreal's vibrant downtown core, have been an essential part of their student experience.
LLM Programs/Areas of Specialization
Students completing a Master's program within the Faculty of Law can choose from the following:
Master of Laws (LLM); Law — Thesis or Non-Thesis

Master of Laws (LLM); Air and Space Law — Thesis or Non-Thesis

Master of Laws (LLM); Bioethics — Thesis
McGill's Online Application Form for Graduate Applicants
University Regulations and Resources
Application Procedures
Graduate Programs Admissions Guide
LLM Law with Thesis or Non-Thesis
The LLM program, whether Thesis or Non-Thesis, offers an outstanding opportunity for students to immerse themselves in the McGill Law community by giving them maximum latitude in designing their program of study.
The LLM Thesis program is geared toward students who wish to continue their legal education primarily through research, as the program concentrates on the production of a 30,000-word thesis as well as some graduate-level coursework. The LLM Non-Thesis program is geared toward students who wish to continue their legal education largely through graduate-level coursework. The program requires two terms of coursework as well as a 15,000-word research project.
LLM Air and Space Law with Thesis or Non-Thesis
The LLM Thesis program in Air and Space Law is available to applicants who wish to focus on original, scholarly research and writing under the supervision of a law professor. This program involves a combination of coursework and research credits (with a thesis of 30,000 words). The thesis must show familiarity with previous work in the field and demonstrate the student's capacity for independent analysis, writing skills, and organization.
The LLM Non-Thesis program in Air and Space Law is available to applicants who wish to gain a wide exposure to a range of courses taught within and related to the domain of air and space law. The Non-Thesis option requires a 15,000-word research project, with the remaining credits earned through coursework.
LLM Bioethics with Thesis
The LLM program with an option in Bioethics is an interdisciplinary program that emphasizes both the conceptual and practical aspects of bioethics, with students applying through the Faculties of Law, Medicine, and Religious Studies, and the Department of Philosophy.
For further information regarding this program, please refer to McGill's Biomedical Ethics Unit.
Student Services and Organizations
McGill University offers many valuable services to assist students throughout their studies, and the Faculty of Law strongly encourages all students to make time for their personal wellness. To learn more about wellness, consult the Student Wellness Hub. Please find some important resources below:
For additional services, please consult Student Wellness and Student Services.
Graduate Law Students' Association (GLSA)
The Graduate Law Students' Association is an association with an executive board composed of five graduate students who represent all law graduate students at both the Faculty of Law and the Post-Graduate Students' Society of McGill University (PGSS). All graduate students and postdoctoral fellows at the McGill Faculty of Law are members of the GLSA.
The GLSA executive-board members aim to improve the graduate-student experience at McGill and advance your interests within the Faculty of Law. The GLSA holds seats on many Faculty committees, including Faculty Council, the Graduate Studies Committee, and the PGSS Council. The GLSA also organizes social, cultural, and academic events that provide students the opportunity to relax and socialize outside the classroom and to discuss their research with their peers.
Career Services
The Career Development Office (CDO) acts as a liaison between law students and legal employers to ensure both a coherent flow of information and the continuity of relations between students, employers, and the Faculty.
The CDO is a guided research facility, directed by a McGill Law graduate with experience in both private practice and the nonprofit sector. The CDO Director, Officer, and Coordinator work with and for students, providing information and counseling on planning and preparing for their legal careers.