Mississippi College School of Law
The information on this page was provided by the law school.

Official Guide to LLM, Master's, and Certificate Programs
---
Introduction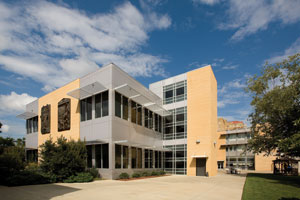 MC Law is located in downtown Jackson, Mississippi's capital city and the heart of the state's legal community. The State Capitol, Mississippi Supreme Court, federal courts, and many of Mississippi's most respected law firms are within walking distance of the MC Law campus.
MC Law offers unlimited opportunities for part-time work, clerkships, and hands-on externships with law firms, public interest organizations, government agencies, and leading companies. Unlike students at more isolated law schools, MC Law students gain in-depth, practical experience in the legal field long before they graduate.
The law school's strategic location also puts students in the right place to interact with lawyers, judges, and other legal experts, many of whom visit the campus as speakers or teach classes as adjunct professors. The Mississippi legal community has embraced MC Law; the support of these legal professionals helps MC Law students become superior lawyers.
Of course, Metro Jackson offers much more than access to the legal community. Home to 400,000 residents, the capital city combines the amenities of a large city with the warmth and welcome of a small town. Jackson is home to numerous museums, music venues, restaurants, and shopping areas. If a longer getaway is in order, Jackson is located halfway between Memphis, Tennessee, and New Orleans, Louisiana.
Physical Facilities
Library hours: Monday through Thursday, 7:00

am

–

midnight

; Friday, 7:00

am

–7:00

pm

; Saturday, 9:00

am

–7:00

pm

; Sunday,

noon

–

midnight

Seven full-time librarians and four full-time library staff
Cutting-edge technology in classrooms; free wireless access available in all classrooms, library, and meeting areas; wireless printing; exam software
Computer lab available to all students during library hours
Student building contains an on-site bookstore and a Starbucks
Housing
For the ultimate in convenience, affordable housing is available in an apartment tower adjacent to the law school. MC Law is also happy to assist students with locating other suitable housing options in and around the Jackson area.
LLM Programs/Areas of Specialization
MC Law now offers four different LLM programs:
Traditional LLM (24-credit program)—allows the student to craft an academic plan personalized to their own educational goals. This program can be crafted to qualify foreign law graduates for multiple US bar exams, including New York's.
American Legal Studies (30-credit program)—designed specifically for individuals educated outside the United States or with an interest in developing their knowledge of non-American legal systems. A significant number of the faculty have international expertise or include comparative elements in their teaching. The American Legal Studies LLM program also helps attorneys educated in countries other than the United States to

gain practical and theoretical knowledge of the American legal system;
study and practice legal research and analysis of American law;
learn how to represent foreign clients before US Courts and in transactions with US clients;
obtain a better understanding of how to represent US clients in their respective countries;
build an international network of legal professionals, colleagues, and friends; and
refine their English language skills and understanding of American culture.

Advocacy (24-credit program)—integrates practical courtroom experience through externships with advanced education and training in trial, appellate, and ADR advocacy. Applicants must have a US JD or equivalent.
International and European Law (30-credit program)—includes a semester at Lille Catholic University in France. The International and European Law LLM program prepares US-based attorneys to handle global legal issues, including

Business transactions
Finance and banking
Custom and trade
Copyright, patent, and trademark
Litigation and arbitration
Human rights
Other global social, economic, and environmental law issues
Classes in the LLM program are fully integrated with the JD program, offering you the opportunity to choose from many different classes and to direct your study toward your areas of interest or expertise. The MC Law LLM program is limited to 10 students, ensuring you receive the guidance, advice, and individual attention needed to succeed.
At MC Law, you'll discover a welcoming, hospitable environment. The law school's location in the capital city of Mississippi creates opportunities for networking with local and regional legal professionals and governmental organizations, while affordable housing adjacent to the campus means you won't need a vehicle to attend MC Law.
Scholarship assistance is available to students demonstrating financial need and/or who possess outstanding academic/professional achievement. Students accepted into the program will automatically be considered for scholarship assistance.
For additional information about this program, please visit the LLM Program website, or contact
Richard Meyer
Director, LLM Programs
151 East Griffith Street
Jackson MS 39201
USA

Phone: 601.925.7141
Email: meyer@mc.edu
Student Services and Organizations
MC Law students come from a variety of geographic locations and cultural backgrounds, resulting in a diverse student body with a wide array of talents, personalities, and interests.
More than 30 student-led organizations encourage students to explore areas of legal or personal interest. These diverse organizations coordinate rewarding community service projects and educational activities, as well as fun-filled social events that help students connect outside the classroom.
MC Law offers unlimited opportunities to fully engage in student life and to enjoy meaningful experiences today that build toward success tomorrow.
Student Organizations at MC Law
Law Student Bar Association
American Association for Justice
Christian Legal Society
Health Law Society
Law Review
Military Justice Society
Moot Court
Phi Delta Phi
Sports and Entertainment Law
Advocacy Society
Black Law Students Association
Environmental Law Association
International Law Society
Legal Eye Newsletter
Mississippi Association for Justice
Phi Alpha Delta
Public Interest Law Group
Women's Student Bar Association