New England Law | Boston
The information on this page was provided by the law school.

Official Guide to LLM, Master's, and Certificate Programs
---
Introduction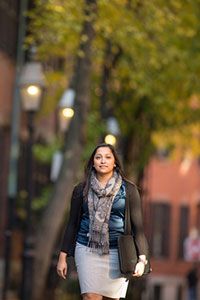 New England Law | Boston is the only independent law school in Boston. Law is all we do. Our energies are focused entirely on providing students with a superior legal education that opens doors to future opportunities. 
New England Law has upheld this legacy of excellence for more than a century. This tradition stems from its founding in 1908 as Portia Law School, the first law school in the nation established exclusively for women. That inclusive—and revolutionary—spirit continues today with a diverse student body of men and women from around the world. The school became coeducational in 1938, and its alumni live and work across the United States and in 29 countries worldwide.
Located in the heart of Boston's legal community, New England Law offers in-demand academic programs; a friendly, diverse community; and a range of experiential learning opportunities that is among the most varied in the nation. Eight US Supreme Court justices have visited New England Law, lectured at the school, or taught in our summer-abroad programs.
New England Law faculty bring to the classroom and to the field their exceptional academic credentials, years of hard-won legal victories, influential research, and a proven ability to communicate their expertise and enthusiasm. Perhaps more importantly, our professors are truly committed to our students' success. "The faculty are deeply invested and committed to students' success. They are active mentors in aiding us to become the best lawyers possible." —Stephanie Niles '20
LLM in American Law
New England Law offers a Master of Laws (LLM) in American Law for lawyers, or barristers, with law degrees (or the equivalent) from institutions outside the United States who want to increase their knowledge of the American legal system. In recent years LLM students have come from Scotland, Ethiopia, and Albania.  "After being admitted to every school I applied to and getting scholarships from almost all of them, I decided to go to New England Law | Boston for many reasons. I'm very glad I did so, because it has been the best decision I ever made. After New England Law, I'm ready for whatever fate brings my way." —Enerjeta Bashaj '18, LLM in American Law
Students in the LLM program are often eligible for generous financial assistance.
Program Highlights
An individual faculty advisor for each LLM student
An orientation program on American legal education and American culture
Overviews by faculty members of major themes in the US legal system
A designated library staff person as a liaison for LLM students
Presentations and campus events featuring leading area legal practitioners and officials
Curriculum
More than 100 courses are offered, including Constitutional Law, Criminal Law, and Ethics of Lawyering. New England Law offers LLM students the opportunity to specialize in many areas of law, including:
Business Law
Tax Law
Intellectual Property/High Technology Law
International Law
Environmental Law
Civil Litigation
Public Interest Law
Real Estate/Land Use Law
Trusts and Estates Law
Family Law
Commercial Law
Criminal Law
Postdegree Opportunities
Our LLM program provides our graduates:
qualification for a one-time, one-year visa extension for optional practical training that permits work in the US legal sector, and
increased eligibility for application to sit for certain US bar examinations.
Library Facilities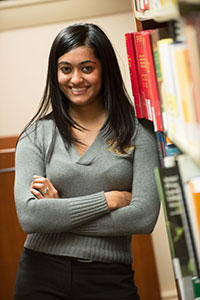 The New England Law | Boston Law Library is a place for students to study, research the next important paper or brief, or just relax between classes. Students have access to many collaboration rooms and quiet study spaces. The law library is open seven days a week, from morning until late night.
Our collection includes a large variety of legal research and reference materials, both print and electronic.
Access to 24 other law school libraries is provided via the New England Law Library Consortium.
Our librarians are known for their helpfulness, and they provide a wide array of services.
Career Services
New England Law's Career Services Office works closely with students on all elements of their job search, from finding their first internships to seeking out other opportunities that help them stand out in the job market to networking with legal professionals to crafting high-impact résumés/CVs. The office also provides access to multiple job databases.
Living Arrangements
Most students live in privately owned apartment buildings near the school or in other Boston neighborhoods. Like most law schools, New England Law does not provide on-campus housing. However, New England Law's Office of Admissions maintains a website with information on the Boston rental market that helps guide students' search for housing and their transition to living in Boston and the US.
New England Law's campus is centrally located in downtown Boston, surrounded by theaters, restaurants, shops, cafés, hotels, and nightlife. Our location also provides students with excellent access to public transportation: subway and trolley (the "T"), buses, and commuter train.
For More Information
For additional information, please visit the LLM in American Law website, or contact
Michelle L'Etoile
Director of Admissions
154 Stuart Street
Boston MA 02116
USA
Phone: 617.422.7210
Fax: 617.422.7201
Email: admit@nesl.edu