New York Law School
The information on this page was provided by the law school.

Official Guide to LLM, Master's, and Certificate Programs
---
Introduction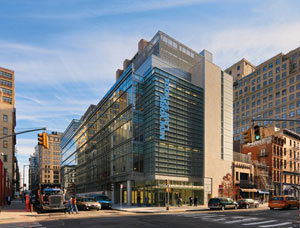 New York Law School, founded in 1891, is one of the oldest independent law schools in the country and has been an innovator in legal education since its founding. From its inception, New York Law School's Lower Manhattan location, in the midst of the country's largest concentration of government agencies, courts, law firms, banks, corporate headquarters, and securities exchanges, has made immersion in the legal life of a great city an essential part of the school's identity and curriculum. Throughout its history, the Law School has attracted students with a wide range of backgrounds. New York Law School graduates have founded many prominent law firms; served with distinction on federal, state, and local benches; and been leaders of the bar, business, and government. The school is fully accredited by the American Bar Association and is a member of the Association of American Law Schools.
Our students come to us with a diverse range of backgrounds, interests, and experience. The school's curriculum is grounded in a thematic approach called "The Right Program for Every Student," which acknowledges and accommodates our students' differing expectations, ambitions, and levels of achievement.
Physical Facilities
New York Law School is located in Manhattan's historic district, TriBeCa, in Lower Manhattan. It is an extraordinary setting for the study of law and one of the city's most colorful and dynamic neighborhoods. Lower Manhattan is the site of the city's largest concentration of government agencies, courts, law firms, banks, corporate headquarters, and securities exchanges. Federal courts, New York State civil and criminal courts, family court, and the US Court of International Trade are within a four-block radius of the Law School.
The opening of a striking new building in 2009 provides students and faculty with a gracious four-story library, individual and group study space, an auditorium, classrooms, student activity space, and a penthouse dining facility for students.
Mendik Law Library contains more than 500,000 volumes and periodicals, offers state-of-the-art computer research facilities, and is staffed by 18 full-time staff members, including 12 professional law librarians.
Housing
New York Law School's student housing is in the St. George Residence Hall located at 100 Henry Street in a residential neighborhood of Brooklyn Heights. The residence hall is approximately a 15 to 20 minute subway ride to school. Electricity, cable, Internet, and local telephone calls are included in the rent. Each room has a private bathroom, flat-screen television, refrigerator, microwave, twin bed with storage space, desk and chair, and air conditioner.
Contact housing@nyls.edu or 212.431.2166. NYLS's Housing Office provides assistance to admitted students who have submitted the required deposits.
LLM in Taxation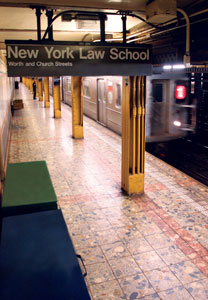 New York Law School offers the Master of Laws (LLM) in Taxation (one of only two law schools in the New York City area to offer this advanced training to tax attorneys). Candidates for the LLM programs at New York Law School must have earned a JD or LLB degree from an American law school prior to enrollment; lawyers who have completed their legal education outside the United States may satisfy this requirement on the basis of an equivalent law degree earned in a foreign jurisdiction.
The Graduate Tax Program provides the LLM in Taxation candidate with the opportunity to acquire a thorough grounding in tax law, as well as the skills and discipline needed to work at the most challenging levels of tax practice, tax administration, and tax policy making. The Graduate Tax Program comprises a rigorous core curriculum that presents the fundamental concepts of federal income tax law in depth and a broad array of elective courses, which build upon that foundation. Course work emphasizes problem-solving as well as the professional responsibilities of the tax advisor. The capstone of the program is a series of advanced tax planning seminars designed to refine analytical, research, and communication skills and to enhance professional judgment and competence in chosen areas of concentration, which include corporate taxation, estate planning, general taxation, international taxation, planning for entrepreneurs and closely held businesses, state and local taxation and finance, and tax litigation.
Application Details
Application available: September 15 through August 15
Application deadlines:

May 1 for admission in the summer session
June 30 for admission in the fall semester
December 1 for admission in the spring semester
The following must be submitted to complete an application:
Completed LLM application form
Law school transcripts (from all law schools attended)
Transcripts from all other degree-granting institutions
Personal statement
Résumé
Two letters of recommendation
Contact Information
For additional information, please visit the LLM in Taxation website, or contact:
Ann Thomas
Professor of Law and Program Director
New York Law School
185 West Broadway
New York, NY 10013
USA
Phone: 212.431.2305
Fax: 212.343.2039
Student Services and Organizations
At New York Law School, student organizations have made outstanding contributions to the extracurricular life of the Law School. Students lead and participate in more than 30 organizations representing a broad range of academic, professional, cultural, political, community, and personal interests.
Career Services
The Office of Career Services at New York Law School is committed to working closely with students to identify global career opportunities. The office maintains relationships with numerous placement resources, including alumni, throughout the world. Through individual counseling and workshops, the Career Services staff help with résumé and cover-letter writing, successful interviewing techniques, and other skills that help graduates realize their career goals.