Northeastern University School of Law
The information on this page was provided by the law school.

Official Guide to LLM, Master's, and Certificate Programs
---
Introduction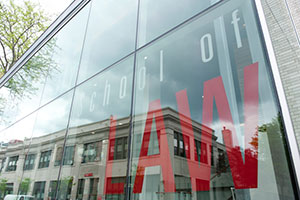 Northeastern University School of Law is the preeminent US law school in experience-based legal education. Our distinctive approach to training lawyers brings together outstanding classroom teaching with simulation courses based on real-world legal problems, clinical programs working with real clients, and legal placements with law firms, courts, corporations, and governmental and nongovernmental organizations in the United States and around the world. Students gain the intellectual tools, practical experience, and confidence they need to become outstanding legal professionals.
Law School Enrollment
Northeastern University School of Law is a small, close-knit community of legal scholars and practitioners housed inside one of the largest, most dynamic private universities in the United States.
LLM Student Profile 20120–2021
Total number of LLM students: 19
Women: 79 percent
Men: 21 percent
Countries of Origin
Brazil
China
Colombia
Ghana
Guinea
India
Iran
Mexico
Mongolia
Uganda
Ukraine
United Kingdom
United States
Uruguay
Venezuela
On-Campus LLM
Northeastern's On-Campus LLM program combines the best elements of our extensive academic offerings with courses specifically designed to give LLM students the foundational knowledge and skills they need to become effective global lawyers. Whether you are looking to gain firsthand practice experience working with US lawyers, to increase your expertise in a particular field of law, or to enhance your attractiveness to employers in your home country, an LLM from Northeastern University School of Law will help you to achieve your personal and professional goals. Students may opt for the Experiential LLM, which includes a full-time legal practice experience called co-op, or the LLM without a co-op placement.
For detailed information about the LLM program at Northeastern, please visit the School of Law website.
The General LLM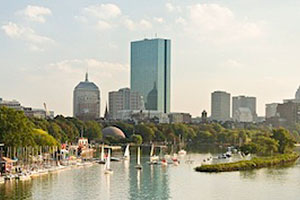 Most LLM students opt for the General Program because it provides them with the greatest flexibility to choose the courses that best match their professional interests and personal aspirations.
The Experiential LLM (with co-op placement) lasts 12 months and the LLM (without co-op) lasts 9 months. All students begin in the fall and are encouraged to apply by April 1 for priority consideration.
General LLM Features
A Minimum of Required Courses: LLM students who obtained their first law degree outside the United States benefit from foundational courses in legal research and writing and an introduction to the US legal system, which provide the background knowledge and basic skills needed to succeed in the US law school environment and in the global practice of law.
A Maximum of Elective Courses: LLM students enroll in regular JD courses based entirely on their personal interests and career goals, which may include the desire to qualify for a US bar exam.
Co-op: All academically qualified Experiential LLM students (except those in the Executive Program) spend one term completing a full-time legal practice experience in settings such as law firms, companies, clinics, courthouses, government agencies, community organizations, NGOs, and advocacy groups around the world.
Concentrations
Like the General LLM, students opting for a concentration may choose the Experiential LLM or LLM.  The Experiential LLM (with co-op placement) lasts 12 months and the LLM (without co-op) lasts 9 months. All students begin in the fall and are encouraged to apply by April 1 for priority consideration.
The concentrations combine core courses and an exciting selection of elective courses with practical legal experience. The curriculum provides students with a strong substantive foundation in health policy and law, human rights and economic development, international business law, law and economic development, or intellectual property and innovation, while still allowing substantial freedom to choose courses outside the area of concentration. Students opting for the Experiential LLM also gain hands-on legal experience through co-op.
Health Policy and Law
The LLM with a concentration in Health Policy and Law is designed both to meet the needs of lawyers who are already working in the area of health policy and law and hope to enhance their skills, and to fulfill the aspirations of lawyers who wish to enter this rapidly growing field. With new government initiatives, public health challenges, global public health crises, and questions about bioethics, this is an expanding field with tremendous potential for those with an LLM degree.
Human Rights and Economic Development
The LLM with a concentration in Human Rights and Economic Development is designed for both US- and internationally trained lawyers preparing for careers working with the likes of NGOs, advocacy groups, and community organizations dedicated to supporting human rights through the legal system. Students are invited to join in the school's cooperative efforts with scholars, institutions, and advocates nationally and internationally to address issues of human rights and to promote economic, social, and cultural rights.
International Business Law
The LLM with a concentration in International Business Law offers students the opportunity to focus on how law and business interact in a global context. Featuring core courses in international business transactions, international trade law, corporate governance, and economic development, and offering electives such as Negotiation, Transactional Drafting, and Intellectual Property, the concentration is designed for lawyers aiming to practice in the complex and constantly evolving world of business across national borders.
Intellectual Property and Innovation
Designed for lawyers with experience and/or interest in the ever-changing fields of technology and creativity, the Intellectual Property and Innovation concentration prepares students for a variety of practice areas (including operational advice, transactional work, litigation, and policy). Clients range from start-up ventures to companies with global IP portfolios, and from inventors to government registries and regulators.
Online LLM
The Online LLM offers a 100 percent online flexible learning format designed for working attorneys to enhance their practical skills and foundational knowledge of the ever-changing US legal environment and the global practice of law.  Focus areas include International Business, Intellectual Property and Technology, and Bar Exam Preparation for those students who intend to take the California Bar Exam.  
The Online LLM can be completed in as little as 12 months.  Students start in the fall or spring. 
For more information, please visit Northeastern University School of Law's Master of Laws (LLM) Program website, or contact
Meaghan Maher
Associate Director of Admissions, LLM and International Programs
Northeastern University School of Law
416 Huntington Avenue
Suite 101 Knowles Center
Boston, MA 02115
USA
Phone: 617.373.6970
Fax: 617.373.5056
Email: llminfo@northeastern.edu
The Faculty
NUSL faculty practice what they teach. In addition to being exceptional scholars and researchers—authors of trailblazing treatises and respected reads—they are cutting-edge litigators, ardent advocates, sought-after consultants, and influential policy shapers.
As engaged as they are, our faculty members—including distinguished visiting and adjunct faculty, specialists, lecturers, and program managers—are available, accessible, and eager to offer advice and assistance. They are passionate about teaching and take great pride in inspiring the next generation of professionals who will make their mark on the world.
Application Procedure
All LLM applicants must hold a first professional law degree. For international applicants, the requirement may be fulfilled by an LLB or its equivalent from an accredited or comparably recognized law school outside the United States. For domestic applicants, a JD is required.
Application Requirements
Northeastern School of Law LLM application form (available online through your LSAC LLM account or the School of Law's LLM Program website)
Résumé or curriculum vitae
Personal statement of purpose
Current LSAC LLM Credential Assembly Service (LLM CAS) report, including one letter of recommendation and official transcripts, and (if applicable) score reports for the Internet-based Test of English as a Foreign Language (TOEFL iBT) or the International English Language Testing System (IELTS)
More information about the LLM admission process is available on our website. Full and partial tuition scholarships are available.
Student Services and Organizations
At Northeastern University School of Law, we cultivate a collegial and supportive atmosphere that begins in the classroom and extends throughout campus. Students regard one another as peers rather than rivals—teaming up for projects and study sessions, collaborating as members of student groups, and forging professional and personal bonds that endure long after graduation.
LLM students are invited and encouraged to participate in the law school's more than 40 student organizations and to take advantage of amenities like the Marino Center, which help keep you physically fit and mentally alert.
When you're not studying in the stacks of the law library or taking full advantage of all the campus has to offer, Boston is your professional arena and personal land of adventure.
Northeastern University is located in one of America's most beautiful, exciting, and truly livable cities. Within walking distance of the law school, you can take in the galleries at the Museum of Fine Arts, a Boston Pops concert at renowned Symphony Hall, or a Red Sox baseball game at historic Fenway Park. Or, if you want to soak up local and international culture, hop on the T (Boston's subway) right outside of the law school's doors for a short ride to the Italian North End or Chinatown for authentic regional cuisine. Or go shopping at Faneuil Hall or relax in Boston's famed Public Garden. What's more, because the city is filled with hundreds of thousands of students, there are tons of opportunities to get student discounts at great museums, theaters, concerts, and events.
Boston is also one of the most sophisticated legal markets in the United States. A center for health care, Boston is home to some of the oldest and most prestigious teaching hospitals in the country.
Career Services
The law school provides a wide range of career services for students, graduates, and employers, including career counseling, informational programs and workshops, job fairs, job listings, and more. Graduates of the LLM program will join a strong network of the law school's 6,000-plus graduates who are working across the globe as partners in prominent law firms; judges; professors at distinguished law schools; prosecutors; directors of legal aid offices, public defender programs, and advocacy organizations; and lawyers in international organizations and institutions as well as human rights organizations and nongovernmental organizations in the United States and around the world.
Physical Facilities
Library: The Law Library has print and electronic research resources available for US and international law research, and law students have free access to all major legal research databases and many specialized ones. Students also have access to nonlegal and interdisciplinary databases and

e-books

through the university library. Most databases can be accessed from off site as well as on campus. Free interlibrary loan is available if you need something that is not in our collections. Professional law librarians teach legal research courses for LLM students and are available to assist students with their research. The library hosts quiet and group-study space for students; law student computer labs, printers, and scanners; and a student kitchen. Library staff are glad to answer student questions.
Technology: The law school offers more than 50 lab computers. Our larger classrooms each contain a teaching station with built-in technology to aid in class presentations. Wireless Internet is available throughout the university for laptop users, and there are also network ports available for those who do not have a wireless card. All students receive a personal email account as well as access to LexisNexis and Westlaw computer research databases.
Recreational Facilities: There are three state-of-the-art sports centers on the Northeastern University campus offering a variety of recreational activities free of charge to Northeastern University students. Facilities include a swimming and diving facility; a cardiovascular, weight-lifting, and exercise facility; racquetball, squash, and badminton courts; an indoor soccer field and track; and an ice-skating rink.
Housing
Most law school students live off campus, usually within a short walk or a convenient ride from the school. Public transportation to and from the campus is excellent: subway, rail, and bus service abounds. Northeastern University offers housing services to assist incoming LLM students in finding appropriate accommodations.