Northwestern Pritzker School of Law
The information on this page was provided by the law school.

Official Guide to LLM, Master's, and Certificate Programs
---
Introduction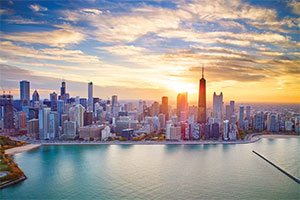 Located in downtown Chicago, Northwestern Law is an innovative institution that empowers students to meet the challenges of the complex, competitive, and ever-changing legal and business worlds. Northwestern Law offers a number of different degrees and programs of study.
Renowned Students, Faculty, and Curriculum
Renowned for recruiting students with exceptional academic ability, strong interpersonal skills, and substantial work and leadership experience, Northwestern Law's faculty is among the nation's most interdisciplinary and focuses on a team-oriented curriculum inspired by an employer-focused strategy built within a supportive community.
Law School Enrollment
Total law school enrollment: 1,000 (approximate)
Total LLM enrollment: 200 (approximate)
Physical Facilities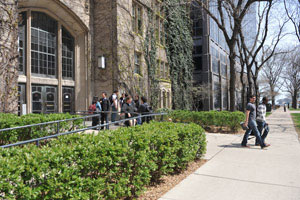 With more than a half million volumes and access to a wide range of electronic resources, the Pritzker Legal Research Center is one of the country's largest law libraries. It also provides students access to the 3.7 million volumes of the combined Northwestern University libraries.
Our modern facilities and recent additions support collaboration and interaction. Wireless technology is available throughout the law school, and recent renovations include a new 22,000-square-foot clinic center, more than 10 state-of-the-art classrooms and seminar rooms, and upgraded lighting.
LLM Programs/Areas of Specialization
Northwestern Law offers several distinct LLM programs.
LLM
The nine-month general LLM program offers outstanding graduates of foreign law schools an opportunity to expand their knowledge of American law and legal processes, continue their studies in international law, and engage in comparative legal research. Graduates of the program represent more than 50 countries and hold prominent positions in many areas of practice. They include attorneys, professors, judges, corporate counsel, consultants, human rights workers, bankers, and civil servants.
Please view this video to learn more about the LLM program at Northwestern.
Curriculum
Students must take at least 20 law credit hours to earn the LLM degree. LLM students may take up to two co-listed Kellogg School of Management courses if space is available. Co-listed courses are Kellogg courses taught by Kellogg faculty and offered through the Law School.
LLM students are free to design their own program of study from the Law School's many upper-level courses and seminars, including commercial and corporate, international, constitutional, and human rights law.
A written thesis is not required, but students with well-defined topics may pursue individual research projects.
During their first semester in residence, students enroll in two mandatory courses. The Common Law Reasoning course focuses on the fundamental research, analysis, and drafting skills expected of US-trained lawyers, and the American Legal History course introduces students to the history and principal characteristics of the American public and private law systems. With the exception of these two courses, LLM students are completely integrated with American JD students.
For further information on planning your curriculum, see Plan Your Academic Career.
Contact Information
For additional information, please visit the LLM programs website, or contact:
Sam Kwak
Senior Associate Director of Admissions and Financial Aid
375 East Chicago Avenue
Chicago, IL 60611
USA
Phone: 312.503.8465
Email: sam.kwak@law.northwestern.edu
LLM in Taxation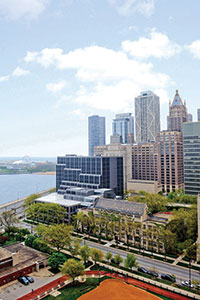 The Tax Program at Northwestern Pritzker School of Law prepares its graduates for successful careers as tax professionals practicing in law and accounting firms, tax departments of major corporations, the IRS, and other governmental agencies. Northwestern Pritzker School of Law is nationally recognized as a leader in tax law education.
With 7 full-time tax faculty members and 30 adjunct instructors from top law and accounting firms, the Tax Program's 40 full-time students enjoy one of the lowest student-faculty ratios of any graduate tax program in the country. The combination of a small class size and outstanding tax faculty creates a collaborative community that encourages students to achieve their full potential.
Curriculum
The Tax Program curriculum gives students both a solid foundation in the four principal areas of tax law—corporate taxation, partnership taxation, international taxation, and the taxation of property transactions—and the opportunity to pursue in-depth study in particular areas of taxation. To earn the LLM Tax degree, students must complete 24 credits total, including 8 required courses (16 credits). Beyond the required courses, students must take 4 elective courses (8 credits). They are free to design their own program of study and can choose from over 28 different tax electives.
Degree Options
Individuals who hold a JD or LLB degree may enroll in the Tax LLM Program on a full-time or part-time basis. Practicing attorneys may also take courses on a nondegree basis to refine their knowledge in specialized areas of the tax law. Current law students can participate in the joint JD/LLM program and receive a JD and LLM degree in only six or seven semesters.
Certificate Program
While enrolled in the Tax Program, students can earn a certificate in one of four substantive areas of taxation: Corporate Tax, International Tax, Tax Controversy, or Wealth Transfer and Legacy Planning. To receive a certificate, the student must complete 10 credits in the area of specialization.
Contact Information
For additional information, please visit the Tax Program website, or contact:
Jacqueline Reise
Assistant Director, Tax Program
375 East Chicago Avenue
Chicago, IL 60611
USA
Phone: 312.503.3300
Email: taxlaw@northwestern.edu
LLM in International Human Rights
The Program in International Human Rights Law is designed for students with American JDs or law degrees from other countries who wish to undertake an in-depth study of the norms and methods of international human rights law and international criminal law and their implementation by international courts and organizations and in domestic legal systems. The degree program provides an excellent grounding in international human rights law and international criminal law for individuals with career interests in the field.
The structure of the program affords unique advantages for educational and social interaction. Students are assured of a close working relationship with the professors, all of whom have had hands-on legal practice and academic experience in the field, and access to the programs of the Center for International Human Rights. The center is led by David Scheffer, a former US Ambassador at Large for War Crimes Issues in the Clinton Administration, who played the key US role in the creation of and support for the international and hybrid criminal tribunals. Other leading faculty members in this field are Sandra Babcock, who directs the clinical projects, Bridget Arimond, who directs the LLM degree program, and Stephen Sawyer, who teaches several seminars. Students in the program benefit from participating in small group seminars with other LLM students and joining JD law students in core and elective courses of the program. In addition, the program encourages international students to study not only relevant law, but its application to the circumstances of their home countries.
Individuals who wish to complete the LLM Program in International Human Rights must apply specifically to that program by checking the appropriate box on their application for admission. It is anticipated that most applicants to this program will already have completed a JD or first degree in law in their home countries. Applicants who have not done so, but who have significant relevant work experience, will be considered for the Master of Legal Studies (MSL) Program in International Human Rights. This program is identical to the LLM Program in all respects except the degree conferred upon completion of the program. MSL applicants should complete the application form for the LLM Program in International Human Rights.
Contact Information
For more information, please visit the Center for International Human Rights website, or contact:
Bridget Arimond
Clinical Professor/LLM Director
375 East Chicago Avenue
Chicago, IL 60611
USA
Phone: 312.503.5280
Email: b-arimond@law.northwestern.edu
Executive LLM Chicago
The Executive LLM Chicago (ELLMC) is a unique program for working professionals, designed by and for global business lawyers. Due to the accelerated nature of this program, students will earn an LLM degree in just one summer, while living and studying in the heart of downtown Chicago. The program's location provides access to outside resources available only in a major legal market and world-class city. Please view this video to learn more about the ELLMC Program at Northwestern.
The ELLMC curriculum is directly responsive to the ways in which lawyers interact with business clients and enterprises, and is based on advice from elite global law firm lawyers. It includes a core curriculum comprised of 
an introductory course on US law and legal structure;
Fundamentals: Negotiations, Contracts, Business Associations;
Advanced Corporate Topics: Mergers and Acquisitions, Corporate Governance, and Securities Regulation; and
Ethics and Professional Responsibility, which is mandatory for students seeking to qualify for the California Bar Examination.
New! Leadership courses taught by faculty from Kellogg School of Management
In addition to the core curriculum, students will enroll in two unique leadership courses designed to enhance effectiveness as an organizational leader, taught in part by faculty from the Kellogg School of Management. Students will also benefit from participating in a colloquium of legal industry leaders maximizing their knowledge and practical skills in managing global teams.
The ELLMC program results in a general master of laws degree, not a specialized one. Degree candidates must complete at least 20 semester hours of credit over the course of one summer. The ELLMC program is flexible and can accommodate client and employer demands. 
Students who complete the program may qualify to sit for the California Bar Examination.
Contact Information
For additional information, please visit the Executive LLM Chicago website, or contact:
Janet Garesche
Director, Executive LLM and Tax Programs
375 East Chicago Avenue
Chicago, IL 60611
USA
Phone: 312.503.3672
Email: j-garesche@law.northwestern.edu
Executive LLM Programs in Seoul, Madrid, or Tel Aviv
Northwestern Law continues to expand its international reach by offering Executive LLM Programs for working legal and business professionals in Korea, Europe, and the Middle East. The programs, designed specifically for professionals who cannot or do not wish to undertake a full-time master of laws (LLM) degree in the United States or elsewhere, are made possible through partnerships with the KAIST Graduate School of Management in Seoul, South Korea; IE Law School in Madrid, Spain; and Tel Aviv University in Tel Aviv, Israel.
Scholars of distinction, including Northwestern Law faculty members, teach the courses, which are scheduled to allow students to continue to work while they study. As they learn, students can apply the broad range of legal and analytical skills they have mastered toward their everyday work. Upon successful completion of the program, graduates will receive an LLM degree from Northwestern University School of Law.
Most applicants are practicing lawyers who have at least five years of experience in a company legal department or law firm and are poised to seek positions of maximum responsibility in the near future. Other legal professionals, as well as executives and managers whose work brings them into frequent contact with legal or regulatory situations, would also benefit from participating in Executive LLM Programs.
Contact Information
For more information, visit the Executive LLM in Korea website, the IE Executive LLM Program website, or the Tel Aviv University website. Additional information is also available at the Executive LLM Programs website, or by contacting:
Janet Garesche
Director, Executive LLM and Tax Programs
375 East Chicago Avenue
Chicago, IL 60611
USA
Phone: 312.503.3672
Email: j-garesche@law.northwestern.edu
Student Services and Organizations
Northwestern Law students take an intense and energetic interest in their community and education. Six scholarly journals are available for research, writing, and editing. Students automatically belong to the Student Bar Association, which gives them a voice in curriculum and administration, and they have an opportunity to participate in more than 50 student organizations. Our students also enjoy Chicago's sophisticated yet friendly atmosphere, along with its world-class cultural, sports, and entertainment offerings. Northwestern's 20-acre Chicago campus is nestled between the shores of Lake Michigan, the energy of Michigan Avenue's "Magnificent Mile," and the elegant Gold Coast residential area.
Career Services
LLM students have a dedicated full-time career advisor in the Center for Career Strategy and Advancement (Career Center). The LLM program does not prepare students for permanent employment in the United States, rather the Career Center will assist students who wish to seek internships, visiting or foreign attorney positions in the United States, as well as enhanced employment opportunities at home. We provide training and workshops on all aspects of a job search in the United States, including preparing a US-style cover letter and résumé, researching and networking, and interviewing. In addition, we allow students to develop their practical skills through a mock interview program and etiquette dinners.