Nova Southeastern University—Shepard Broad College of Law
The information on this page was provided by the law school.

Official Guide to LLM, Master's, and Certificate Programs
---
Introduction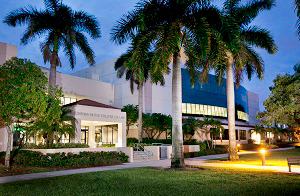 NSU Shepard Broad College of Law is an international community of leaders, lawyers, and learners that offers JD, LLM, and online MS in Law degree programs. Located in Fort Lauderdale, Florida, between the Florida Everglades and the Atlantic Ocean, the College of Law sits among 314 acres of greenbelt, creating a beautiful, tropical environment for mixing culture, ideas, perspectives, and people. The result is a passionate, highly engaged community, which works collaboratively on education, scholarship, public policy, and justice.
Innovative teaching and a 21st-century curriculum set the Shepard Broad College of Law apart from other law schools. Graduates here don't just earn a degree; they also encounter the real spirit and practice of law. Courses are taught by a highly visible and accomplished faculty made up of teacher practitioners. They are actively involved in the legal field as practicing attorneys, scholars, and judges.
Our unique combination of specialty programs, clinical education, international opportunities, and dual-degree offerings make NSU Law a best value and best fit for our students. Our students come from across the state, the nation, and the globe. Many are from Florida, but others come from states throughout the US and countries in Latin America and Europe. NSU Law stands rightfully proud of our welcoming, inclusive, global community.
LLM Program Details
The degree of Master of Laws (LLM) is a one-year full-time or two-year half-time program of study offering online, hybrid, or on-campus options. To qualify for the LLM degree, students must successfully complete at least 30 academic units. One upper-level writing course is required, and electives will comprise the remaining credits.
Online LLM
The most flexible option, the online LLM program of study allows legal professionals to take evening courses entirely online. The ability to hone vital legal skills from any location with Internet access permits professional students to attend classes after business hours without spending time and resources commuting to and from campus.
Hybrid LLM
LLM students may elect to take cross-listed JD courses both on campus and online. Most JD elective courses that are not subject to enrollment restrictions will be made available as LLM electives, allowing students to combine online LLM offerings with on-campus courses to result in a hybrid experience.
On-Campus LLM for Foreign Lawyers
The entirely on-campus LLM program is open only to foreign lawyers, with the option to complete the accelerated JD. Students in this track must earn admission into both the accelerated JD program and the LLM program prior to matriculation. Students must select this track at the time of fall registration. This track is offered only on campus and only with a fall start. All classes are taken with JD students, although the learning outcomes for the LLM program are different from the JD students' learning outcomes. An LLM does not qualify foreign-trained candidates to practice law.
LLM Program Eligibility
US applicants to the LLM program must have received a juris doctor degree from a law school that is a member of the Association of American Law Schools or approved by the American Bar Association and have two or more years of experience in the practice of law. Applicants from outside the US must have graduated from a law school that entitles them to practice law in their home country. Some professional experience following the completion of the foreign degree is preferred.
Library and Learning Resources
LLM students on campus and online benefit from the extensive physical and digital resources of the Panza Maurer Law Library, which continually adds new resources to its print and electronic collections. Currently, the Law Library houses 203,108 volumes consisting of 198,104 unique titles. Of these 203,108 volumes, 30,927 are e-books. The Law Library provides access for College of Law faculty, staff, and students to all the major legal databases (e.g., Bloomberg Law, BNA, HeinOnline, LexisNexis, ProQuest Congressional and Legislative Insight, Westlaw) as well as many smaller legal databases (e.g., Bermuda Law Reports, CALI, Fastcase, Loislaw). College of Law faculty, staff, and students also have access to the many other nonlegal databases offered by the other university libraries.
LLM students have access to NSU-wide resources, including the following:
canvas support (learning management system)
student computing assistance (Strategic Support Services)—a support unit that assists, guides, and facilitates technical support in regards to instructional and administrative technologies. A variety of communication approaches are utilized, including email, ticket submission, live chat, phone, social media, and application sharing.
Ask a Librarian—a suite of reference services designed to meet on-campus and off-campus students' needs. Students are able to come to a reference desk or use telephone, email, chat, or text to meet with a librarian on a one-on-one basis by appointment.
NSU library workshops—workshops on a variety of topics are offered throughout the year, face-to-face at all campuses and online.
Access to the physical and digital resources of NSU's five-story Alvin Sherman Library, Research, and Information Technology Center.