The Ohio State University Moritz College of Law
The information on this page was provided by the law school.

Official Guide to LLM, Master's, and Certificate Programs
---
Introduction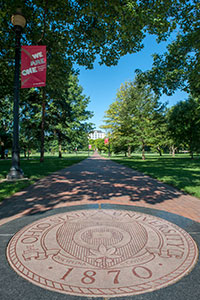 As a student at The Ohio State University Moritz College of Law, you'll get the best of both worlds: close interaction with classmates and faculty, individualized academic and professional development advising, and experiential learning opportunities at one of the nation's preeminent public law schools, all while being part of one of the country's largest and most comprehensive research universities with a wealth of resources to offer students. The Moritz College of Law is a small, tight-knit community: the LLM program is intentionally limited to 35 to 40 students. You'll receive the one-on-one attention you deserve in law school while taking advantage of the extracurricular, academic, and wellness support available both at Moritz and across the university. Ohio State hosts almost 7,000 international students within its total student body of 66,000 each year, and its history and diversity create a thriving campus life for all members of the Ohio State community.
The Moritz College of Law is located in Columbus, the capital city of Ohio and 14th-largest city in the United States. Students love Columbus because it too offers the best of both worlds: Fortune 500 companies, national hockey and soccer leagues, research institutes, and a thriving arts and culinary scene mean Columbus offers all the advantages of a large metropolitan area, but it maintains the friendliness and charm for which the Midwest is known. Two words describe Columbus: "open" and "smart." It's a technology and business center where innovation and entrepreneurship are born, and it is also a multicultural community. National Geographic recently explained "why all the cool kids love Columbus, Ohio," and in a LinkedIn.com article, Daniel White calls it the "best city in the world" because of its many awards and honors, like boasting the best library system, zoo, and science center in the country. It was also rated as one of the seven smartest cities in the world in 2015. Did we mention that the Ohio State University Marching Band is among the best in the land? Despite all these accolades, Columbus is still far more affordable than most large cities.
Law School Fast Facts
Founding: 1891, named in 2001 for Michael E. Moritz, an alumnus and donor
Average JD enrollment: 550 students
Average LLM enrollment: 40 students
Law school alumni: over 10,000
Faculty size: over 50
Student-to-faculty ratio: 11:1
Number of courses offered: over 150 each year
Physical Facilities
Moritz College of Law calls Drinko Hall home. All classes and most activities take place in Drinko, which is located on the southeast corner of campus and along High Street. Inside Drinko, the Moritz Law Library, one of the largest in the country, boasts 24-hour access to its nearly 700,000 volumes. Students receive subscriptions to the LexisNexis, Westlaw, and Bloomberg online research databases and can print in the computer lab. Drinko Hall also houses Lou's Café for students to gather or study, the Dinsmore & Shohl Student Commons for storing personal items and socializing, and provides access to the campus-wide wireless network. In addition to "smart" classrooms, students also have access to the Frank C. Woodside III Moot Courtroom for classes, clinics, and competitions; Saxbe Auditorium for events and presentations; and the Public Service Law Center.
Across the street from the college, the Ohio Union offers 318,000 square feet of restaurants, a market, study and meeting rooms, conference and auditorium spaces, and a dedicated prayer room. If you are interested in physical fitness, the university's Recreation & Physical Activity Center (RPAC) is one of the largest, most state-of-the-art university recreation centers in the world.
To see more of The Ohio State University Columbus campus, where the Moritz College of Law is located, take a virtual tour.
Housing
Limited on-campus housing exists for graduate law students, but there are many opportunities to rent a house or apartment in the neighborhoods surrounding campus. Visit University Housing or Off-Campus and Commuter Student Services for more information.
LLM Academic Concentrations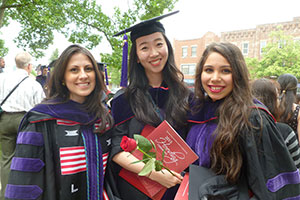 At Ohio State, LLM students have the option to enroll in courses that will qualify as a specialization in a selected area of law. By taking a minimum of 12 semester hours of related courses, students earn a transcript designation for a concentration in that area.
Six concentration areas are predesigned to meet the needs of many LLM students:
Corporate Law: LLM students who wish to focus on business law can take advantage of dozens of courses and extracurricular activities, like the Law, Finance, and Governance program, in the area. Basic courses like Contracts will allow LLM students to learn what is involved on the American side of cross-border transactions. More advanced courses focus on corporate structure and governance, securities regulation and public offerings, corporate takeovers and mergers, foreign investment, corporate finance, and other challenges. In addition, the college welcomes some of the top American judges and practitioners to campus as part of its Distinguished Practitioners in Residence program in Business Law. Previous speakers have included partners from major international firms who are practicing in areas like mergers and acquisitions.
Criminal Law and Procedure: Criminal law faculty members have argued before the US Supreme Court, clerked for Supreme Court justices, and have worked at some of the most prestigious firms and prosecutor's offices in the nation. Professor Joshua Dressler has authored criminal law casebooks that are used in more than half of all American law schools, and Professor Douglas Berman is one of the nation's leading experts in sentencing law. The college offers a number of seminar courses that focus on international criminal law, in addition to those that focus on the intricacies of the American criminal justice system.
Intellectual Property and Information Law: Students interested in intellectual property may study basic courses, and then expand their studies with courses that delve more deeply into the subjects of copyright, patent, trademark, and international intellectual property, along with other specialized topics. Students are also encouraged to participate in the Program on Data and Governance as part of their extracurricular activities.
International and Comparative Law: Pursuing a concentration in international and comparative law courses will provide students with a background in private and public international law concepts. Each faculty member brings a unique, in-depth perspective to the questions faced by practitioners and government officials alike. Focusing on the private sector, Professor Daniel C.K. Chow is an expert on China and counterfeiting, international trade, and international intellectual property. One of the foremost authorities on the Palestinian conflict from the Palestinian viewpoint, Professor John Quigley offers courses focusing on human rights, conflict in the Middle East, and a seminar on African law. There are also a number of internationally focused student organizations open to all students.
Dispute Resolution: Our nationally regarded Program on Dispute Resolution provides students the opportunity to both learn and practice alternative dispute resolution techniques. The faculty's passion for the subject and their significant experience in other countries inform their teaching. For example, Professor Amy Cohen, who teaches international alternative dispute resolution, has taught in Italy, and in Nepal and India as a Fulbright Scholar. She has also worked on development initiatives in Nepal, Thailand, and Ghana. Professor Ellen Deason, former clerk to US Supreme Court Justice Harry Blackmun and former legal assistant in the

Iran-United

States Claims Tribunal in The Hague, offers courses in comparative dispute resolution and international business arbitration.
Labor and Employment Law: The Moritz College of Law has several faculty members focused on labor and employment law as well as equality in the workplace. Many are internationally recognized for their expertise. Professor Camille Hébert focuses her research primarily on employee privacy and employment discrimination. Additionally, Professor Marc Spindelman's expertise on sexual orientation law and Professor Ruth Colker's pioneering work on disability discrimination law provide students the opportunity to evaluate workplace issues from a human rights standpoint.
Customized: At Moritz, we offer a wide range of courses designed to build a solid foundation in understanding the American legal system. While the above concentrations have historically been the most popular, LLM students may design a customized concentration in consultation with the assistant dean.
Scholarships
The Moritz College of Law offers a variety of generous scholarships to incoming students, including the Moritz LLM Scholarship, China Excellence Scholarship, and regional scholarships. All applicants will be automatically considered for all applicable scholarships.
The American Law and Language Program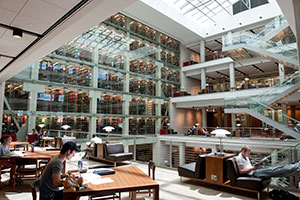 The American Law and Language Program is a three-week, noncredit, nondegree summer program designed to provide individuals who have studied, or are currently studying, law outside of the United States with a broad exposure to major concepts in US law and American legal training. This program, which is held in late July and early August, is a wonderful resource for incoming Moritz LLM students to gain hands-on preparation for their master's studies, as well as for practicing attorneys, judges, business law professionals, and those preparing to join any LLM program in a US law school.
Experiential Learning
LLM students are encouraged to participate in various experiential learning opportunities, including the Mediation and Legislation Clinics, where students get a chance to practice classroom skills working in actual cases with real clients. In addition, LLM students are able to participate in almost all of the moot court and negotiation competitions at Moritz.
Student Services and Organizations
At Moritz, you will earn your degree in a learning environment that is second to none. LLM and JD students take classes together and enjoy close contact with professors in a collegial environment. The college offers nearly 50 student organizations, with many structured around career fields, public/volunteer service, ethnic identity, and hobbies. The staff of the LLM office provides lunchtime sessions on studying and exam preparation, career services topics, and US life and culture; we also schedule fun activities outside of class. Our office provides a "home away from home" where LLM students can feel free to seek advice on any topic.
Career Services and Postgraduation Plans
The LLM program has a dedicated staff member fully devoted to career and professional development for our students. The services start before our students even reach Columbus, as we communicate with incoming students to learn about their interests and goals. Each LLM student benefits from personalized attention and career guidance. Group and individual coaching is provided on US expectations for résumé and cover-letter writing, interviewing, networking, professional etiquette, researching job opportunities, registering for bar examinations, and optional practical/curricular training. The program also organizes several networking events for current students and local lawyers to mingle and connect, and encourages students to participate in programs like Mentoring and More @Moritz.
Special Programs
Washington, DC Summer Program: LLM students have the opportunity to take part in the Washington, DC Summer Program, where up to 20 Moritz students engage in substantive externships in DC accompanied by a high-quality academic program. Students work in DC for at least seven weeks in the summer (following the completion of their LLM degrees), take classes, and are supervised by the

codirectors

of the program, who are also Moritz law professors.
Oxford Summer Program: LLM students are able to enroll in our five-week summer law program at the University of Oxford in England following the completion of their LLM degrees. Students can earn up to six credits (and a certificate of participation) and study with faculty from both the University of Oxford and The Ohio State University Moritz College of Law. Several field trips and guest speakers are scheduled throughout the program, and students typically travel to close European destinations during their stay in Oxford.
Public-Interest Externship Program: LLM students interested in externship opportunities with nonprofit organizations may benefit from enrolling in this program, thereby taking advantage of the relationships established by Moritz with a host of nonprofit organizations. Students are able to gain practical legal experience in an academic setting that monitors the quality of the placements. This program can be completed either during the academic semesters or during the summer following the completion of LLM requirements.
Application Information
Applications are accepted on a rolling basis between September 15 and April 15. All applications received by February 1 will receive priority consideration for scholarships. Please see the Application Process section of our webpage for detailed instructions.