Quinnipiac University School of Law
The information on this page was provided by the law school.

Official Guide to LLM, Master's, and Certificate Programs
---
Introduction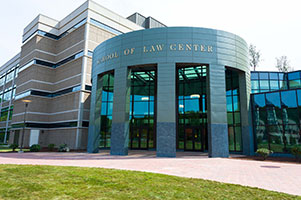 Excellent law schools share many common traits—faculty renowned for their scholarship and commitment to teaching; academically rigorous courses; loyal, successful alumni; and motivated, focused students. All of these are essential components of Quinnipiac Law's identity. However, what sets Quinnipiac apart is its personal, student-centered approach to the law school experience. Contributing to this identity is a favorable 11:1 student-to-faculty ratio, the extraordinary accessibility of the faculty, and an environment that both challenges and supports its students as they prepare for careers in law.
Quinnipiac Law is at home in an impressive new facility on the university's North Haven Campus, the emerging center for graduate study at Quinnipiac, designed for professional study and interdisciplinary collaboration. The law school is located in the same state-of-the-art complex as the university's Frank H. Netter MD School of Medicine and a variety of other graduate disciplines. Set among the hills and woodlands of Connecticut, yet only 75 miles from New York City and close to New Haven and Hartford, Quinnipiac provides an environment for legal study that is both dynamic and beautiful.
Faculty
Our faculty's academic credentials span the nation's leading institutions from Harvard, Yale, and Berkeley to Chicago, Michigan, and Columbia. They combine excellence in scholarship and teaching with exceptional accessibility. The care with which faculty members demonstrate their interest in each student's progress and success is a distinguishing characteristic of Quinnipiac Law. Most faculty have an open-door policy and generously share their expertise, insight, and time. The low student-to-faculty ratio allows students to work closely with faculty, and this translates into a different kind of law school experience.
LLM in Health Law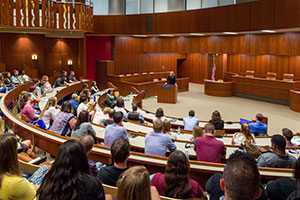 Our LLM in Health Law can provide the competitive edge needed to become an associate at a leading national law firm that specializes in health law, or to work in a hospital or large health care system in government or in the insurance or pharmaceutical industries.
The Health Law LLM provides an opportunity for individuals who have already earned their JDs to receive specialized training and gain expertise in the health law field. It can be completed on a full- or part-time basis and is designed to permit both junior and experienced lawyers to enhance their knowledge of health law and demonstrate their commitment to that field of practice.
Admission is limited to graduates of ABA-accredited law schools with strong records of academic achievement and/or achievement in practice. Only a handful of students are admitted each year.
Application Process/Requirements for LLM
Admission application
Personal statement
Official law school transcript(s)
Two letters of recommendation
Résumé
Application for admission and accompanying documents should be submitted approximately two months prior to the entering semester.
LLM candidates are required to complete 24 credits, at least 18 of which are earned in designated health law courses. Of those 18 credits, 3 are in a required advanced research/thesis course that culminates in the writing of a master's thesis of length and quality suitable for law review publication.
Six of the 24 credits may be earned in non-health law courses, subject to the approval of the program director. Students in the LLM program may not take courses that substantially duplicate those completed in their JD program studies. LLM candidates must maintain a 2.80 GPA.
Tuition for the LLM program for the 2016–2017 academic year is $1,650 per credit hour.
Center for Health Law and Policy
With a focus on the constantly evolving areas of state and federal health care policy, the Center for Health Law and Policy is dedicated to the study and analysis of these complex issues and provides the focus of activities between the law school and the university's new Frank H. Netter MD School of Medicine.
Library and Physical Facilities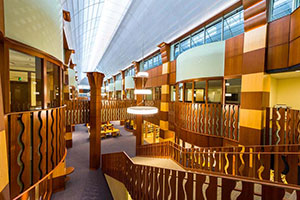 The new Quinnipiac School of Law Center features innovations and advanced technology designed to reflect the most up-to-date thinking in legal pedagogy, including a collaborative classroom with digital multimedia capabilities, an abundance of team study and seminar rooms, and a fully equipped visual persuasion editing studio.
The law school's location on a professionally focused graduate campus affords rich opportunities for interdisciplinary collaboration between the School of Law and the university's medical school, as well as with other graduate programs, including health sciences, nursing, education, and social work (MSW). Several members of the Quinnipiac Law faculty hold joint appointments with the medical school. The law school also offers joint programs with Quinnipiac's School of Business, including the JD/MBA, JD/MBA in Health Care Management, and a Health Care Compliance Certificate, which trains students to be health care compliance officers.
The Quinnipiac School of Law Library provides comprehensive access to numerous e-books and electronic databases such as Bloomberg Law, Hein Online, LexisNexis, Westlaw, and other web-based services. The law library's extensive hard-copy and microform collections afford a wealth of information for users. The intellectual center at the heart of Quinnipiac University's new School of Law facility, the law library features a soaring three-story atrium, reading rooms designed for quiet research and study, space for reflection and collaboration, and the Library Commons, a gathering space for law school and other professional groups. The law library's seasoned and welcoming staff deliver excellent service in meeting the legal and other research needs of its users.
In addition to considerable academic resources, Quinnipiac's North Haven Campus features great shared amenities, a spacious dining commons, a bookstore, ample parking, and easy access to highways, restaurants, and shopping.
Quinnipiac University also has two other campuses with many features available to law students: the beautiful Mount Carmel Campus, set at the base of Sleeping Giant State Park in nearby Hamden, and the York Hill Campus, with breathtaking views, a full-service fitness center, and the TD Bank Sports Center, home to several of our men's and women's NCAA Division I teams, including our nationally recognized men's hockey team.
Accreditation
The law school is fully approved by the ABA and is a member of AALS. Full-time day and part-time evening programs are offered beginning each fall.