Santa Clara University School of Law
The information on this page was provided by the law school.

Official Guide to LLM, Master's, and Certificate Programs
---
Introduction
Santa Clara Law offers an exceptional environment in which to study law. Situated on a lush campus centered around a historic California mission, Santa Clara Law is located in the heart of the Silicon Valley, one of the most vibrant and exciting economies in the world. Located just 40 miles south of San Francisco, Silicon Valley is home to leading law firms as well as companies such as Google, Apple, eBay, Intel, and Yahoo!.
Santa Clara Law is consistently recognized as among the nation's best law schools for its intellectual property curriculum and program, as well as for being one of the most diverse law schools in the country. The global law program includes more summer-abroadopportunities than any other law school in the nation. Additionally, Santa Clara Law's Center for Social Justice and Public Services has allowed students to actively serve the community.
Physical Facilities
In March 2018, Santa Clara Law moved into its new home, the Howard S. and Alida S. Charney Hall of Law, a 96,000-square-foot, technologically advanced, eco-friendly building located at the gateway to the Santa Clara University campus.
Collaboration and connectivity are two strong themes that resonate throughout Charney Hall. The building's location, adjacent to the nationally known Leavey School of Business and the respected Markkula Center for Applied Ethics, places Santa Clara Law squarely in the campus professional neighborhood, and encourages interdisciplinary collaboration among students of business, law, technology, social justice, and ethics.
With flexible learning spaces and sophisticated classroom technology, Charney Hall allows Santa Clara Law to continue to evolve its programs and offerings to keep pace with changes in the legal field, while supporting a high-achieving student body and attracting exceptional faculty.
An on-campus fitness center and swimming pool are available for use.
Housing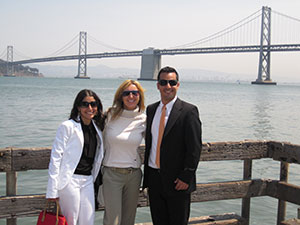 On-campus housing is available for graduate and law students. Interested students are encouraged to make arrangements quickly, as spaces fill up. Graduate and law student housing is located in university-owned complexes close to the Santa Clara University campus. For more information, students can contact the Housing Office:
Phone: 408.554.4900
Email: housing@scu.edu
LLM Programs/Areas of Specialization
Santa Clara Law offers three LLM programs for law school graduates in the areas of United States Law, Intellectual Property, and International and Comparative Law. To be eligible to apply for admission, an applicant must have completed or be in the process of completing a primary degree in law. The primary degree in law must be completed by the time the applicant plans to start enrollment in the LLM program.
United States Law
The LLM in United States Law is a program offered to law graduates who have received a primary degree in law from an institution outside of the United States. The program assumes completion of a minimum of two semesters of study at Santa Clara Law. Within this LLM program, students may elect to specialize in Intellectual Property Law, International and Comparative Law, or Human Rights Law. Students are admitted to start in the spring or fall only.
Intellectual Property Law
Santa Clara Law's LLM in Intellectual Property is available to students who have received their legal training within the United States. It allows students to gain exposure to many subjects within the area of intellectual property. Students who have an interest in high-tech law and an educational/professional background in science and math have an opportunity to continue their work in the areas of patent law, biotechnology, or mass communications. Students are admitted to start in the fall and spring semesters.
International and Comparative Law
This program provides students with an opportunity to experience the evolving legal culture of the world from the vantage point of our overseas programs as well as from the perspectives of the Santa Clara Law faculty, who represent a range of experiences in the area of international law. Students will complete this program after finishing coursework at Santa Clara Law as well as coursework within one of Santa Clara Law's summer/semester study-abroad programs. Students are admitted to start in the fall and spring semesters.
Application Requirements
Application fee: no fee.
Official transcripts for all previous academic work through the LSAC LLM Credential Assembly Service are required.
Personal statement (three pages maximum).
Résumé or CV.
Letters of recommendation are strongly recommended but not required.
A limited number of merit scholarships is available.
Graduation Requirements
24 units (minimum).
At least two semesters in residence at Santa Clara Law School. Students must graduate within two academic years (maximum) after starting the LLM program.
Completion of a writing requirement. Original research paper to be written for a two- or three-unit law school course or a two- or three-unit directed study under the supervision of a law school faculty member.
Students may attend on a full- or part-time basis.
Contact Information
For more information, please visit Santa Clara Law Admissions, or contact us:
Phone: 408.554.5048
Fax: 408.554.5047
Email: llmadmissions@scu.edu
Student Services and Organizations
Santa Clara Law provides a community-oriented setting where law students, faculty, and staff are able to come together, creating an energetic learning environment. All students at Santa Clara Law are members of the Student Bar Association (SBA). The SBA Executive Board consists of law students who are selected by the greater law student population to represent their interests to law school and university committees and to organize and plan law school social, educational, and service-oriented events.
There are over 30 student organizations that students are free to join at any time during the academic year. Participation in a student group will allow the law student to connect with other students with shared interests as well as network with law faculty and legal practitioners.
Career Services
All students at Santa Clara Law are welcome to utilize the services of the professional staff of the Office of Career Management. This team's goal is to assist students in strategizing and planning their postgraduate employment search. The Santa Clara Law career management team maintains connections with many law firms, companies, and alumni in order to facilitate connections that current students may make with individuals in their chosen field.