Southwestern Law School
The information on this page was provided by the law school.

Official Guide to LLM, Master's, and Certificate Programs
---
100 Years of Innovative Legal Education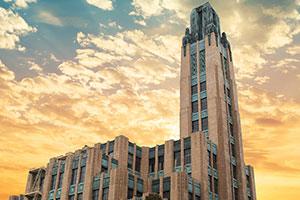 With a long-standing emphasis on diversity, public service, and innovative programs, and a mid-city campus featuring a world-renowned Art Deco landmark, Southwestern Law School reflects the vibrancy of Los Angeles—a city that reflects our shared global future—providing an ideal setting for law study. Founded in 1911 as an independent, nonprofit, nonsectarian institution, Southwestern is fully approved by the ABA and is a member of the AALS. The second oldest law school in Los Angeles, Southwestern has long been providing exceptional legal education programs in one of the most culturally stimulating and diverse cities in the world. It is the only law school to offer four JD courses of study that differ in scheduling and instructional approach, including traditional full- and part-time programs as well as a unique two-year alternative curriculum. Southwestern's 10,000 alumni include prominent public officials—from members of Congress to mayors, and over 200 judges—as well as founders of major law firms and general counsels of multinational corporations. The law school has strong ties to the legal, business, and civic sectors, and its Biederman Entertainment and Media Law Institute is closely linked to the entertainment industry in Hollywood and internationally.
A History of "Firsts"
Southwestern has been at the forefront of legal education since its inception. It was one of the first law schools to encourage the enrollment of women and minorities, the first law school on the West Coast to use the case method of instruction, the first law school in the country to offer an accelerated two-year JD program, one of the first law schools to design a JD program for students with child- or elder-care responsibilities, the first law school in the country to offer an LLM in entertainment law, and the first law school in the country to offer a choice of three advocacy tracks to first-year students, among many other "firsts." Southwestern has been recognized for curricular innovation by the Carnegie Foundation for the Advancement of Teaching, among other entities.
Physical Facilities
Southwestern Law School occupies nearly two city blocks in the mid-Wilshire district of Los Angeles, minutes from downtown. Surrounded by major law firms, corporate headquarters, and Superior Court facilities, the law school is less than a half hour from the quiet canyons and beautiful beaches along the Pacific Ocean.
The campus, which fronts the legendary Wilshire Boulevard, is one block from the nearest Metro station and easily accessible by several major freeways. This unique location enables Southwestern students to live in and explore the diverse and exciting neighborhoods throughout the city. While it is situated amidst an urban backdrop, the Southwestern campus is decidedly tranquil. The green, park-like Promenade and Commons invite study and discussion, and quiet terraces with city views are scattered throughout the property.
The centerpiece of the campus is the Bullocks Wilshire Building, a 1929 Art Deco landmark that has been restored and converted into a dynamic educational facility. The five-story structure holds the school's award-winning Leigh H. Taylor Law Library, the state-of-the-art Julian Dixon Courtroom and Advocacy Center, technology-enhanced classrooms and seminar rooms, a dining area, student lounges, a fitness center, and administrative offices.
Opposite Bullocks Wilshire is the six-story Westmoreland building, which houses additional classrooms, seminar rooms, and administrative offices. Adjacent to the Westmoreland building is the newly built student housing. The campus also includes multilevel and surface parking lots. A vibrant blend of beauty, modernity, and tradition in the heart of a thriving metropolitan area, the Southwestern campus is an inspiring setting for the study of law.
Housing
Southwestern offers 133 recently built, fully furnished, state-of-the-art, on-campus apartments for our students -The Residences @7th. A limited number of units will be made available to LL.M. students. Los Angeles also offers a wide variety of housing choices for students. Many students rent off-campus apartments or homes within a 30-minute drive from the campus. Depending on the area, rent varies for a studio, one-bedroom, or two-bedroom apartment.
LLM Programs/Areas of Specialization
Southwestern Law School offers two master of laws degrees:
General Studies (Individualized Program)
Entertainment and Media Law
Master of Laws in General Studies (Individualized Program)
Southwestern offers a stimulating General LLM Program (Individualized Studies) for students who have already earned a law degree and are interested in furthering their legal education. The program is, by design, small and selective, preferring applicants to have a relatively high degree of English proficiency and professional accomplishment upon entry. The program allows students to choose their own focus of study—from American legal systems to international law to technology innovation and commercialization—in line with their individual personal and professional goals.
Students will receive an in-depth education in an intellectually challenging yet collegial environment from faculty who are established authorities in a wide range of legal topics. Admitted students will work closely with faculty to develop a detailed course of study tailored to their own interests from a comprehensive selection of over 150 electives and core courses. LLM students will construct a specific course of study in consultation with a faculty advisor while studying alongside American and international peers in a cosmopolitan and diverse setting.
You may choose a specialization in Advocacy and Dispute Resolution or International Business and Negotiation, or develop your own area of concentration. Some possible areas are
American Law and Legal Systems
Business Enterprise Organization and Practice
Constitutional Law
Contracts and Commercial Law
Corporate Securities Law
Criminal Law and Practice
Employment and Labor Law
Entertainment, Media, and Intellectual Property Law
Family and Juvenile Law
International and Comparative Law
International Human Rights
Jurisprudence and Legal History
Litigation/Civil Practice/Dispute Resolution
Public Interest/Civil Rights/Civil Liberties
Real Property/Environmental Law/Land Use
Technology Innovation and Commercialization
Torts and Compensation Systems
Trial Advocacy/Litigation
Contact Information
For additional information, please visit the General LLM (Individualized Studies) website, or contact
General LLM Program
Southwestern Law School
3050 Wilshire Blvd—W616
Los Angeles, CA 90010
USA

Phone: 213.738.5707
Fax: 213.383.1688
Email: llmgeneral@swlaw.edu
Master of Laws in Entertainment and Media Law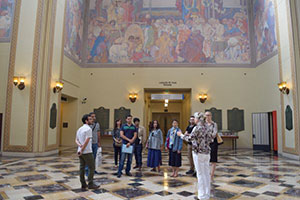 Southwestern was the first law school to establish a post-JD program of study leading to the Master of Laws (LLM) in Entertainment and Media Law, designed for practicing attorneys and new law graduates who have an interest in expanding their knowledge of these industries.
Southwestern has had a long and intensive involvement with the entertainment and media industries in the Los Angeles area. Located at the center of the "Entertainment Capital of the World" and the "Digital Coast," the law school has an outstanding entertainment- and media-oriented faculty. Southwestern graduates occupy important positions within a broad range of entertainment and media companies and with law firms specializing in the representation of entertainment clients. Recognizing the growing interest in this area around the country, Southwestern launched the Biederman Institute to provide a broad-based entertainment curriculum for law students as well as information and assistance to practitioners.
Curriculum
Southwestern Law School's Donald E. Biederman Entertainment and Media Law Institute offers the most comprehensive entertainment and media law program in the United States. Our extensive course offerings (over 60 courses), international programs, externship and practicum opportunities, and other cocurricular activities are specifically designed to prepare graduates for the practice of law in creative industries such as film, television, music, theater, advertising, professional and amateur sports, the news media, and the Internet.
Experts in the Classroom
The Biederman Institute faculty brings extensive entertainment and media expertise to the classroom. Our full-time and adjunct professors include current and former practitioners as well as leading scholars in the law and business of these industries.
Contact Information
For more information, please visit the Biederman Institute website, or contact
Tamara D. Moore
Associate Director, Biederman Entertainment and Media Law Institute
Southwestern Law School
3050 Wilshire Boulevard—BW333
Los Angeles, CA 90010
USA

Phone: 213.738.6602
Fax: 213.738.6614
Email: institute@swlaw.edu
Credit Hours Requirement
To earn the LLM degree, a candidate completes 24 credit hours in designated courses. Students enrolled in the LLM program must attain a cumulative grade-point average of 2.33 to earn the LLM degree. Students who earn 24 credits with a cumulative grade-point average of 2.0 or greater, but less than 2.33, will be awarded a Certificate of Completion.
Admission
Southwestern's master of laws degree program is a highly selective and rigorous course of study designed to immerse graduate students in entertainment, media, intellectual property, sports, and art law. Enrollment is limited to applicants who have attained a JD degree from a law school that is a member of the Association of American Law Schools or an equivalent degree prior to application for the program. Graduates of other law schools approved by the American Bar Association, and graduates of law schools outside the United States, may be considered for admission on the basis of exceptional credentials.
Admission is determined by the applicant's potential for distinguished performance in—and contribution to—the program. The applicant's academic record, especially in law school, is of particular importance. Additional factors may include the applicant's professional experience and accomplishments, the institution awarding the baccalaureate and law degrees, recommendations, areas of interest, diversity, and geographic factors.
Generally, successful applicants will have graduated within the top quarter of their law school class and performed at an honors level during their last two years of baccalaureate work. The objective of the admissions policy is to fill each class with the best students from an applicant pool consistent with the high-quality standards of the program and the diversity of Southwestern.
The majority of students will be admitted to the campus-based program in the fall semester, but students may begin the program in the spring semester or the summer session, subject to the approval of their course load and course selection.
Pre-LLM Program: American Legal Learning for Internationally Educated Students (ALLIES)
The transition to studying law in America can be quite challenging. The obstacles are not limited to language barriers. The classroom dynamic and the evaluation process for grading is often different at American law schools than at law schools in other countries. This program is designed to assist students with making the transition to studying the American legal system while maximizing their opportunities for success. Students will learn the process for class preparation, outlining, and final exams in a supportive, small-group environment. The program begins two weeks before regularly scheduled classes in the fall and is highly recommended for all foreign-educated students.
Application Process
To apply for admission to Southwestern's LLM programs, prospective students must submit the following:
Completed application form
Application fee of $60
A personal statement
At least two letters of recommendation
A current résumé or CV
Official transcripts from all law schools (including class rank) and other colleges and universities attended by the applicable deadline. For more information, see the application for the General LLM or the Entertainment Law LLM program.
International Students must also include

Credentials evaluation report
Language test scores (TOEFL or IELTS)
Tuition/Financial Aid
Tuition for the LLM program is charged at a per-unit rate established by Southwestern. Students who are US citizens or permanent residents of the US and are enrolled in the LLM program are eligible to apply for private educational loans.
Tuition for the 2018–2019 academic year is $1,798 per unit, which equates to approximately $43,152 for full-time students or $21,576 for part-time students for the first year.
Scholarships
Southwestern awards LLM program scholarships each semester, providing partial tuition to entering LLM students. Scholarship determination is based on the admission application, including an applicant's interests and goals as stated in his or her personal statement, professional experience and law school grades, letters of recommendation, and other factors the admission committee may wish to consider. No additional materials are required. All admitted students will automatically be considered for the scholarship.
Student Life
Southwestern provides the programs, connections, and environment to ensure success as a law student and enjoy life at the law school. LLM students participate in many of the cocurricular activities that keep the campus buzzing and the students connected to the community. More than 35 student organizations, along with career services, diversity affairs, and other resources, offer academic and career guidance, social and professional networks, and community involvement. Through these programs and services, Southwestern students deal with contemporary legal issues, gain exposure to members of the bench and bar, and expand their future opportunities as lawyers and leaders.
Career Services
Southwestern's Career Services Office (CSO) provides career planning and job counseling services for JD and LLM students and alumni. Throughout the year, the office assists students by offering a variety of career planning workshops and seminars, reviewing student résumés, videotaping mock interviews, and maintaining a career resource library and job listings. In addition to working with many local and national legal offices, the office actively participates in professional legal associations. The Career Services Office also hosts the successful On-Campus Interview Programs each fall and spring.
The Career Services Office staff is available to help students and recent graduates
identify and evaluate career options and goals;
learn about available practice areas;
prepare for and conduct a job search; and
locate potential employers through on-campus recruitment programs, listings of current job openings, and the student's or graduate's independent employment inquiries.