Syracuse University College of Law
The information on this page was provided by the law school.

Official Guide to LLM, Master's, and Certificate Programs
---
The Master of Laws (LLM) in American Law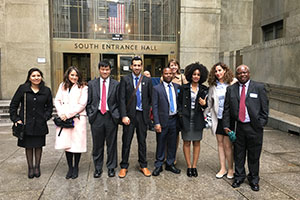 This full-time program is suited for candidates who have obtained a first degree in law (LLB or undergraduate degree in law) from a foreign law school.
Diversify your study of American law through courses that will prepare you to sit for the New York Bar Exam, or specialize your studies in areas such as human rights law, technology transfer law, national security law, comparative disability law, and much more.
We offer conditional admission to students seeking to develop their English proficiency at Syracuse University's English Language Institute. Our six-week Legal English course, offered in the summer, will teach legal vocabulary, writing, and the "language of the law."
All candidates to the LLM program are considered for an LLM Merit Scholarship. Awards generally range between 10–50 percent of LLM program tuition. There is not a separate application to be considered for a scholarship.
LLM Program Curriculum
The College of Law's 24-credit LLM in American Law program can be completed in two semesters. Candidates may enroll in either the fall or spring semester.
In the first semester, LLM students are required to take three courses tailored specifically for the program:
Introduction to the American Legal System (3 credits)
Introduction to US Legal Writing (2 credits)
International LLM Skills (1 credit)
Students are also required to take Professional Responsibility (3 credits) in either semester. Students in the LLM program must also fulfill a writing requirement, allowing the student to engage deeply with a faculty member, either through independent study or one of the many seminar courses offered, to produce a significant research paper.
Watch our video and visit our website for more details.
LLM Student Profile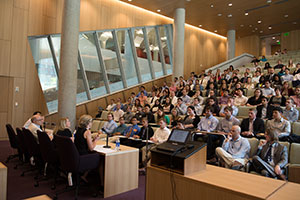 The College of Law LLM program has hosted students who represent the legal education institutions of Saudi Arabia, China, South Korea, India, Pakistan, Canada, Turkey, Russia, Tajikistan, Azerbaijan, Syria, Jordan, Jamaica, the Dominican Republic, Egypt, Cambodia, Ghana, Kenya, Nigeria, Togo, Ethiopia, Sudan, South Sudan, Brazil, Chile, Argentina, Peru, the United Kingdom, and the Kurdish region of Iraq. Students range in professional experience from recent graduate to experienced practitioner.
The LLM program is listed among approved graduate law programs by various foreign government ministries and nonprofit sponsoring organizations, such as Fulbright and the Organization of American States.
Law School Enrollment
Total full-time JD and LLM student enrollment: 600 (approximately)
Physical Facilities
Opened in August 2014, the 200,000-square-foot Dineen Hall offers a distinctive five-story, state-of-the-art facility designed to meet the personalized needs of law students and create a community dedicated to the pursuit of knowledge and advocacy.
Cosmopolitan Setting in a Medium-Sized City
Syracuse is located in the center of New York State, approximately 250 miles northwest of New York City. Situated at the top of the famed "SU Hill," the College of Law sits on the 200-acre main campus and commands a panoramic view of downtown Syracuse and the Onondaga Valley.
The perfect setting to pursue the rigors of legal education, Syracuse offers the best environment to feel immersed within the campus of a major research university without the distractions and costs of a big city. Syracuse is a robust community with a wealth of cultural activities. The area is situated amid some of New York State's most spectacular scenic and recreational areas.
Housing
The LLM admission team works diligently to assist LLM candidates in their search for affordable, safe, comfortable, and convenient housing located close to the Syracuse University main campus.
One such option is Campus West Apartments, located just one block from Dineen Hall. These apartments include everything a Syracuse Law student needs: fully furnished accommodations, a computer center, a modern fitness room, and retail space, including a convenience store. Other amenities include convenient access to public transportation, community events, and community-wide wireless access. For information on additional housing options, please contact the LLM admission office.
Student Services and Organizations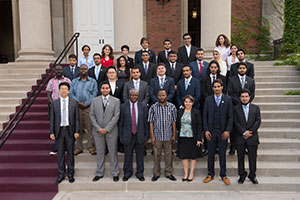 LLM students are a part of the law school community. The College of Law encourages LLM students to participate in a variety of pro bono service initiatives, extracurricular activities, community service opportunities, and student organizations alongside their JD colleagues. Over 30 recognized student organizations give students a variety of opportunities to get involved in endeavors that supplement their academic pursuits and make valuable connections.
Our LLM students are supported through the coordinated efforts of our Office of International Programs, the Office of Student Life, and the Office of Career Services. Each LLM student is provided with a personal faculty advisor. The role of the faculty advisor is to provide advice on course selection, academic questions, and other concerns. LLM students are also placed in an LLM Mentor Group with a faculty member that meets regularly throughout the semester. Finally, members of the JD class serve as student mentors to LLM students, providing peer-to-peer advice that is helpful to international students during the LLM year.
Resources for International Students
Syracuse University offers specialized support for international students through the Slutzker Center for International Services. Syracuse University is home to over 20,000 undergraduate and graduate students, 4,000 of whom are international students.
Application Details
Application deadline: May 15 for fall enrollment; November 15 for spring enrollment.
Application requirements:
Completed LLM application
Transcripts (translated into English) from all schools attended
Personal statement
Résumé/CV
Two (2) letters of recommendation
Copy of passport face page
Proof of English proficiency. Applicants are strongly encouraged to apply with a TOEFL/IELTS score. Applicants are expected to demonstrate sufficient English language proficiency before enrolling in the LLM program.
Tuition and Fees
2017–2018 academic year tuition: $50,490
Associated fees (approximate): $2,050
Contact Information
For more information, visit LLM Admissions & Program Information. LLM program questions should be directed to
Syracuse University College of Law
Office of Admissions and Financial Aid
Dineen Hall, Suite 100
950 Irving Avenue
Syracuse NY 13244-6070

Phone: 315.443.1962
Fax: 315.443.9568
Email: llmadmissions@law.syr.edu